Suzanne Wright, the co-founder of the organization Autism Speaks, died at her home in Connecticut Friday, the group announced. She was 69.
"What Suzanne Wright has done to raise awareness of autism is immeasurable," Autism Speaks Chairman of the Board of Directors Brian Kelly and President and CEO Angela Geiger said in a statement.
"Suzanne sparked a global conversation with one question: How can we help people with autism live their best possible lives?" they said.
Wright died following a nine-month battle with pancreatic cancer, the organization said. She was surrounded by her family at her Fairfield home when she died.
Wright founded Autism Speaks with her husband, former NBC CEO Bob Wright, in 2005.
The organization funds research into the causes, prevention, treatment and a cure for autism. Autism Speaks says it has committed more than $570 million since its founding, most dedicated to science and research.
Bob and Suzanne Wright founded the group after their grandson, Christian, was diagnosed with autism when he was 2 ½ years old.
Suzanne Wright fought for the United Nations to establish World Autism Day, and the international body did so in 2007, marking April 2 as dedicated to awareness.
She recalled in a 2009 interview convincing Qatar's Her Highness Sheikha Mozah that autism was not just affecting American children. "I said to her it's happening in my country, we're looking at the same children, all these autistic children," Wright said.
"When you have the U.N. sanction it, it means a lot," Suzanne Wright said in the 2009 interview.
"They don't agree on a lot of stuff, but they certainly agreed on that — to think that this little boy, Christian, my grandson, was changing not only how people look at autism in our country but now in the world."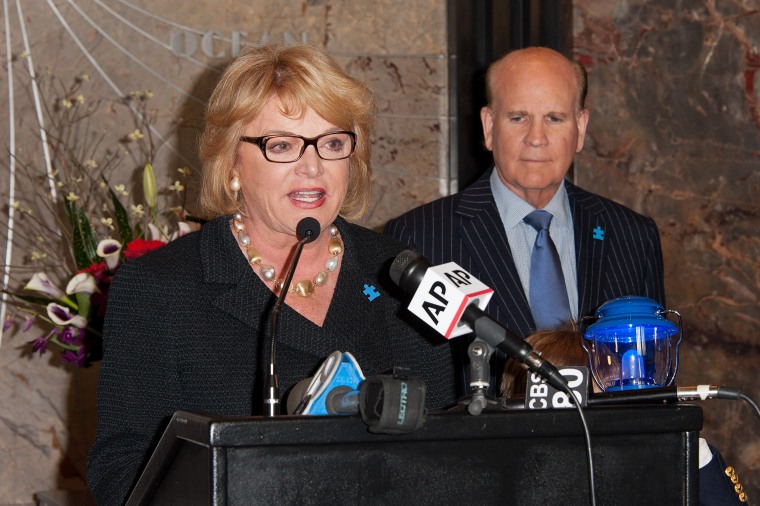 Autism Speaks said Friday that even after the cancer diagnosis, "her determination never wavered."
Suzanne Wright addressed the United Nations on World Autism Awareness Day eight times, and in 2014 she spoke at the Vatican's first conference on autism, the organization said.
"For more than a decade, she has been a tireless advocate on the national and international stage: at the United Nations, on Capitol Hill, at Autism Speaks Walks nationwide, and in personal letters of support to individuals and families affected by autism," the group said.
Bob Wright in March told the TODAY Show his wife's involvement in Autism Speaks was crucial, especially in its early days. The organization said Suzanne Wright helped create the group's widely-recognized blue puzzle piece logo.
"It was critical, couldn't have done it without her," Bob Wright said in March. "She was the one that went to the schools, and she was the one that went to a lot of people to really encourage them to get involved," he said.
Suzanne Wright also served as board of directors for Make-A-Wish Metro New York; the Laura Pels Foundation; the Inner-City Foundation for Charity Education, and the Philadelphia-based Champions of Caring Project, Autism Speaks said.
Time in 2008 named Bob and Suzanne Wright in its Time 100 list of the world's most influential people for their work advocating for autism awareness. The magazine said they raised millions and "successfully lobbied the United Nations to place autism on the global health agenda."
Born in the Bronx in 1946, she was raised in West Hempstead, Long Island, and met her future husband at a dance at College of the Holy Cross, where Bob was a student; they married in 1967. She would later earn a Bachelor of Arts degree from Sarah Lawrence College in 1998. She earned numerous awards for service and advocacy over the course of her life, Autism Speaks said.
Wright is survived by her husband; her sister Jayne Tobin, her brothers James and Dennis Werner and three children, Catherine Anne, Christopher James, and Maggie Suzanne, and six grandchildren.