Singer Ava Max said an audience member attacked her during her performance Tuesday in Los Angeles.
"He slapped me so hard that he scratched the inside of my eye," Max, the "Sweet but Psycho" singer, said of the attack at the Fonda Theatre.
Max, 29, detailed the onstage incident Wednesday on Twitter.
"He's never coming to a show again," she wrote, punctuating her feelings with red angry-faced emojis. Max also thanked fans "for being spectacular tonight in LA though!!"
It's not clear how the man got onstage.
A spokesperson for Atlantic Records, Max's record label, said Wednesday there would be no further comment beyond Max's tweet.
The singer Bebe Rexha was hit by a phone at her performance Sunday in New York City.
Nicolas Malvagna, 27, is accused of hurling the phone at Rexha, 33, Sunday night at Pier 17.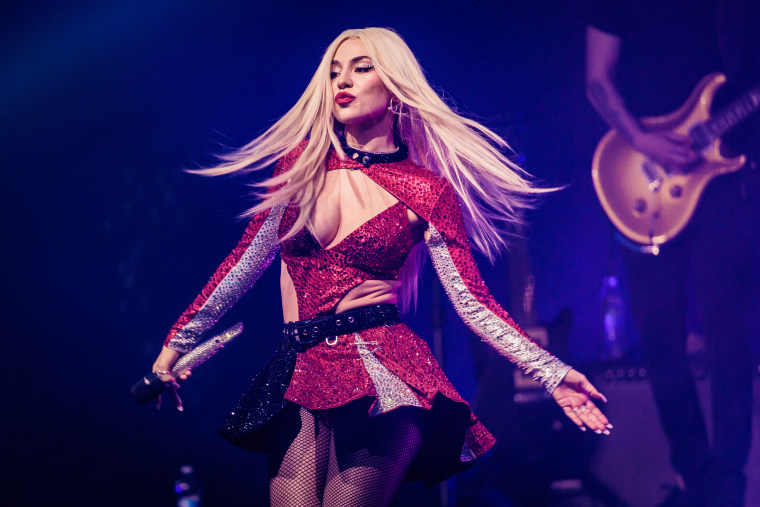 He said he threw it because he thought "it would be funny," according to a criminal complaint.
Malvagna was arraigned Monday in New York City on misdemeanor charges of harassment and assault. He pleaded not guilty, said his attorney, Todd Spodek.
"As a fan, Mr. Malvagna's sole intention was to have Ms. Rexha take photos with his phone, and return it as a keepsake," Spodek said in a statement. "It was never his intention to injure Ms. Rehxa."
Video shared on social media by a concertgoer shows the phone hitting Rexha near an eye. She covers her face and collapses to the ground as crew members rush onstage.
The criminal complaint says the incident caused Rexha "redness, swelling, bruising, and a laceration to her eye and substantial pain."
Rexha was taken to a hospital, police said.
In a photo she posted on Instagram, she appears with a bruise on an eyelid and a cut and bandages near an eyebrow.
"Im good," the caption says.