Editor's Note: This is part three of a series. See part two: Meet the Flood Insurance 'Robin Hood' Who Saves Condo Owners Millions
DRY HOLLOW ROAD, Pa. — A creek winds along this paved road in central Pennsylvania, one branch shooting uphill and another cresting through empty fields. Or so Federal Emergency Management Agency maps say.
According to locals, the creek doesn't exist.
The first that residents heard of the supposed stream on Dry Hollow Road, known in this area of bucolic hills and farms for how dry it is, was when they received notices from their banks that they had to buy flood insurance. Recently-redrawn FEMA maps, formalized in October 2012, showed this part of town in a "special flood hazard area," upgraded from a lower risk one that didn't require coverage. "All of us were pretty upset about it," said Don Fix, an engineer living off Dry Hollow Road paying $430 in insurance. "It's like they're stealing from you."
The question, his wife Stacy asked, is, "Where is the water?"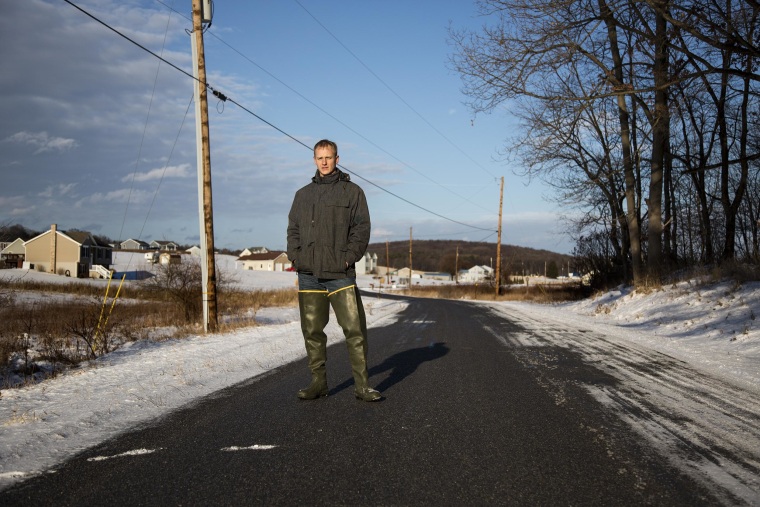 As FEMA has moved to update its decades-old flood maps, experts have cheered the effort. Using the latest in mapping technology such as laser beams (LiDar) and computer modeling will account for climate change, they say, and will lessen the blow of devastating storms by compelling homeowners to reduce their risk. But critics caution that the maps, which are used to determine flood insurance premiums, are tough to challenge and in some cases are ensnaring homeowners who shouldn't be in a flood zone. And though FEMA intends for everyone to pay their share, some businesses have found a way to move waterfront condos from high-risk zones into cheaper insurance brackets, while homeowners who can't access such services have little choice but to buy coverage.
FEMA's map overhaul covers America's populated 1.1 million miles bordering rivers, lakes, coasts and other flooding sources. So far the agency has surveyed nearly half of its target area, mapping about 3,800 communities. Some 8.6 million homes, or 6.5 percent of the nation's housing stock, are in flood zones, according to FEMA.
"Mapping and identifying flood hazards enables informed, smart development and encourages communities to adopt and enforce minimum floodplain management regulations," FEMA chief Craig Fugate told Congress in mid-September.
The maps have come under growing scrutiny since 2012 for their role in determining flood insurance provided by FEMA's National Flood Insurance Program, which is $24 billion in debt and is eliminating some subsidies that kept premiums below market rates.
People with mortgages on homes in flood zones must have coverage. The new maps placed some 520,000 residences into flood zones from 2005 to 2011, while taking nearly 570,000 out. Some homeowners have appealed the designations, questioning how they've landed in flood zones when they're nowhere near water or have never flooded.
Officials in Warriors Mark, the community of 1,800 where Dry Hollow Road winds a few miles among sparsely-populated lots, said they didn't know the maps would trigger such big changes in flood zone designations and insurance rates.
Stewart Neff, chairman of the town's board of supervisors, said they received the proposed maps in October 2010. FEMA said they had 30 days to verify non-technical items such as street and creek names, and the town would then have 90 days for appeals.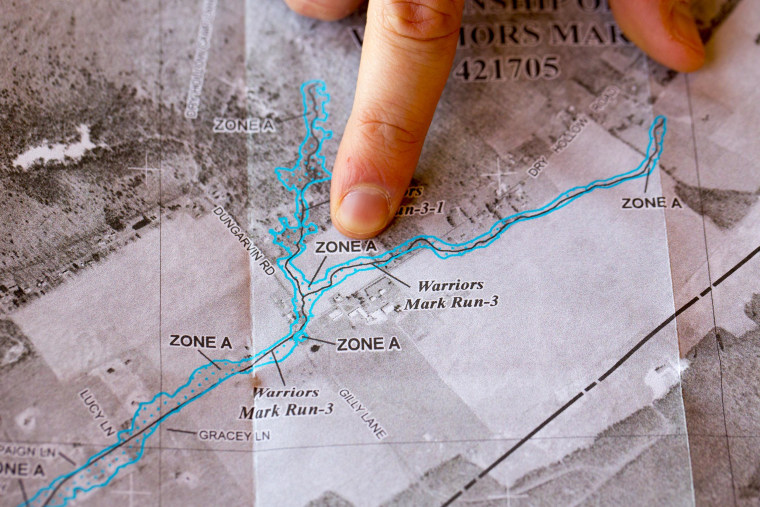 Trying to make sense of the revisions was hard, said town officials, who couldn't tell which properties were new to flood zones since the previous FEMA map from 1989 provided little detail to compare against.
The maps didn't arrive with a notice, "Warning, you better check this or some of your residents are going to incur additional flood insurance,'" said town solicitor Lee Oswalt. "The federal government really didn't make people aware of the potential consequences."
The impact was soon revealed when mortgage holders told homeowners they had 45 days to buy flood coverage.
"I'd like to strangle somebody over $300 a year," Fred Diehl, a Dry Hollow resident, said of his flood insurance bill, "because this is something that should have never happened."
Appealing the maps could run into the tens of thousands of dollars—prohibitively expensive for a small town. Neff, a college security officer, said he told residents they could make challenges on their own.
"I'm afraid I was somewhat naïve on this," he said. "I wasn't prepared to analyze this map."
When asked about the Warriors Mark case, FEMA said the line seen on the map of Dry Hollow Road would normally correspond with a river (and was labeled a "run"). However, the designation in this case was intended to signify the lowest elevation in the area, or a depression in the earth such as a ditch, where water would accumulate in the 1 percent chance of annual flooding—which the maps are required by law to represent, the agency said.
There doesn't need to be standing water to have a flood risk, according to FEMA, noting that LiDAR provides excellent data. Thus Dry Hollow's "large drainage areas" were mapped into the special flood hazard area, the agency said.
Dry Hollow resident Don Fix called FEMA's rationale "ridiculous." There are ditches at points along the road, but "I'm pretty sure I don't live in a crater," he said.
"Every road has a ditch pretty much," he said. "I think everyone who lives next to a road is going to be in a flood zone, right?"
Fix and other residents said they haven't experienced flooding, and a local geologist said the rock under the soil in the area was fractured limestone—which means that water swiftly drains and doesn't accumulate on the surface.
FEMA said homeowners could provide such information in an appeal. But making an individual challenge isn't easy or cheap.
People in situations like the Dry Hollow residents would have to pay from $1,000 to $5,000 per household—or even more—depending on the extent of the surveys or engineering studies needed for their appeal, according to experts at an area engineering firm, P. Joseph Lehman Inc. Mark Colussy, the local county planning director, had wanted to do a larger appeal to remove the whole area in question on Dry Hollow Road—an exercise that would generally cost $15,000-$20,000 at a minimum, the Lehman experts said. But proving the area shouldn't be in a flood zone, despite the favorable geology and the fact there is no water along Dry Hollow Road, is daunting, Colussy said.
"There is no process out there without spending lots of money to basically prove that and that's the problem," he said. "FEMA is just such a big animal, it's difficult to go up against them."
Are you in a flood zone? Check on FEMA's national map
Not all homeowners would have to pay so much as those on Dry Hollow Road. Appeals based on home elevations can run from a few hundred dollars to more than $1,000. Richard Wettersten, 82, paid $750 last spring to measure his home's elevation in Wahkon, Minn., near Milles Lac Lake.
His bank had given him one week to get flood insurance or his home equity loan would be considered in default, though his residence of 19 years had never flooded.
The result was as Wettersten suspected: his house was more than one foot above the flood line. Within a week, he had secured FEMA's approval to remove his home from the flood zone.
"You're guilty until proven innocent," he said.
Some 89 percent of the 30,000 flood map amendments sought annually are successful, FEMA said. But Fugate said those who make such appeals must pay for the work, telling Congress his program didn't have the money for it.
While some surveyors said the appeals process can go smoothly, Marc Roy, a former FEMA official, noted it also "breeds attrition," wearing homeowners out "financially and time-wise."
And some don't even get to the appeals stage. Paul Weamer, 41, and wife Ruthann, 40, bought their home in Coburn, Pa., in 2007 because it was near a good fishing stream but was certified as never having flooded since being built in 1951.
But in 2009, FEMA mapped one corner of their home's wet basement, which only contained bathroom pipes, into a flood zone.
The Weamers paid for an elevation survey and asked FEMA and local officials what they could do to get that corner out of the flood zone. They got conflicting advice and eventually gave up, buying insurance.
"It just seemed like the whole thing's rigged against you," said Paul Weamer, who pays $425 for coverage. "If somehow you end up in FEMA's sights, there's not much you can do to get out of that, other than pay."
The big fear for homeowners is that being in a flood zone will diminish the value of their homes.
That was the case for Laura Metcalf, a 40-year-old mother of four, when she tried to sell her home in Carlisle, Ohio, last fall. She had a buyer offering $85,000 for her home when the annual flood insurance estimate came in at $6,700, causing the deal to collapse.
Metcalf didn't know about the changes to the 2012 flood map changes since her home had never flooded and she wasn't required to have insurance. Now she worried about her family's predicament: They had paid a deposit on a new home and were paying for two residences. Over time, the family exhausted their savings.
Help came in January when another buyer offered her $50,000 and she accepted. The Metcalfs' new home is on a hilltop.
"I feel like I can breathe now, even though I lost a lot of money," she said. "I don't have to worry about it anymore. I'm out of Carlisle, out of the flood zone."
Want to see FEMA's progress? See the mapping effort nationwide
Advocates of FEMA's mapping say they hope the benefits of having updated maps don't get lost amid the occasional errors or debate over insurance hikes.
"The new flood mapping that's done is light years ahead of where we were 30 years ago," said Chad Berginnis, executive director of the Association of State Floodplain Managers. "Most of that is because the technology has changed so much."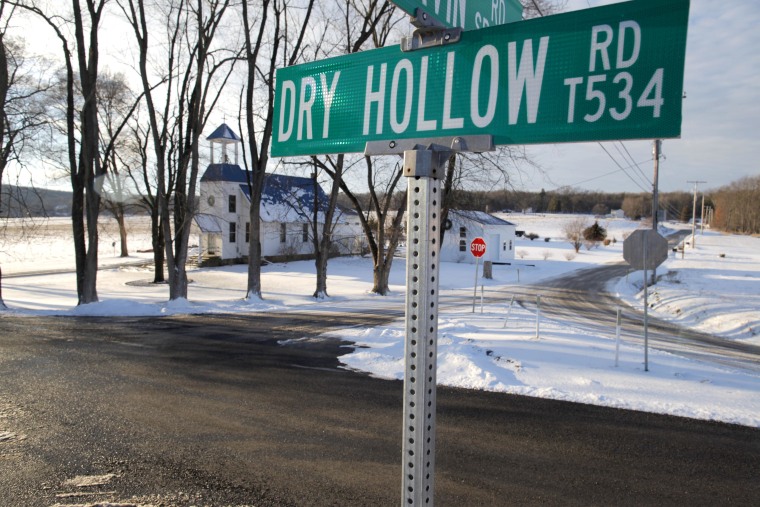 But he said his organization has a "profound concern" about the mapping budget, which has been slashed 60 percent—from $220 million in 2010 to $90 million in 2013—while half of the work remains to be done.
Mapping expert David Maidment agreed that FEMA has made significant progress on revising its maps but said the agency has much work to do to rid them of inaccuracies, especially in rural areas that often get less extensive studies because of the cost.
"Things are heading in the right direction," said Maidment, a professor of civil engineering at the University of Texas, Austin. "It's just that the scale of the issue is so much larger than the degree of resources that we've still got to devote to it."
Stories of map inaccuracies weren't isolated cases.
"It's a big, big issue," he said. "There's no doubt about it and it's not going to go away soon."
As Congress debates legislation to ease the increase in flood insurance premiums, help may be on the way for some homeowners, but many remain stuck.
Burt Ford, 65, and wife Paula, 57, live uphill from a 28,000-acre lake in the central-Texas town of Frankston and are about 10 feet higher than the spillway, a channel for excess water.
But the base of their home's lowest point, a patio, is a few inches below the FEMA flood line. Their surveyor said they didn't have grounds to appeal. Their home has not flooded in the decade they've lived there. Yet they're paying $1,700 a year for flood insurance.
"You would think if it floods you might as well get the ark out," Burt Ford said of the new maps.
Still, there is no choice.
"I'll just have to do whatever they tell me," he said. "I have to pay."
------
Read part one: Why Taxpayers Will Bail Out the Rich When the Next Storm Hits
Share your information
Are you experiencing changes to your FEMA flood maps or NFIP insurance premiums? What has the impact been? Share your story with reporter Miranda Leitsinger.