The brown-eyed, brown-haired girl who was found dead on a Boston beach on June 25 was likely a local, investigators learned last week in their first big break in the case.
The girl, who investigators call "Baby Doe" as they search for clues about her identity, was found on Deer Island in the Boston Harbor. She was dressed in white pants with black polka dots, wrapped in a trash bag that contained a soft zebra-print blanket.
Results of an analysis of pollen that coated Baby Doe's pants and blanket gave some focus to the case, which has generated intense attention — but no concrete leads.
"The amount and the types of pollen that were on those items suggest that she was from the Boston area," Jake Wark, spokesman for Suffolk County District Attorney Dan Conley, told NBC News. "That's somewhat reassuring, because that's been a theory from the start."
Hundreds of tips, from about 30 states and three or four countries, have poured in about the child, who Wark calls "our little girls." None of the tips have panned out. A DNA sample hasn't turned up any information.
RELATED: Authorities Launch New Billboard Campaign to Identify 'Baby Doe'
Because Baby Doe's body was only in the early stages of decomposition, detectives didn't think that she had been killed long before she was found. The pollen analysis — which police reviewed with the chief arborist of Boston's Arnold Arboretum, who agreed with the findings — buoyed suspicions that Baby Doe was placed on Deer Island, rather than the idea that she washed up there after drifting from a faraway coastline.
"At least it's a geographic location that we can target, as opposed to the entire world," Wark said, adding that Deer Island is "the kind of place that an outsider wouldn't know too well."
Investigators desperately want to identify the child, believed to be about four years old. But as they knock on doors of families with little girls matching Baby Doe's description, they also hope to be greeted by kids who are very much alive, Wark said.
"In one respect, they hope they've identified this little girl. But on the other hand, if they did, that would mean the child they are looking for is dead," he said.
During dozens of well-being checks, investigators have encountered little girls riding their bikes or playing with dolls. But they haven't found the family of Baby Doe.
RELATED: 'Baby Doe' Discovery on Deer Island in Boston Harbor Mystifies Authorities
"There's this cognitive dissonance of being happy that this child is alive, but being disappointed that we're no closer to identifying our Baby Doe," Wark said.
The body of the girl, who weighed about 30 pounds, was discovered by a woman walking her dog on Deer Island, a peaceful area with a view of the city skyline where retirees enjoy afternoon strolls, Wark said.
Baby Doe had pierced ears and appeared to be well-nourished. An autopsy failed to identify a cause of death.
RELATED: Authorities Launch New Billboard Campaign to Identify 'Baby Doe'
Investigators now await the results of a second form of testing. The test looks at isotopes, a type of atom that exist for long periods of time in teeth and hair. Samples are being analyzed from Baby Doe, and should tell investigators about the water that she drank and bathed in.
"Whether it will be more specific than the pollen, we just don't know yet," Wark said. "It's significantly more complex, and I think there's a limited number of labs that can do it."
It's not clear when those results will be in. In the meantime, authorities are hoping the 84 billboards they put up in 50 locations might give them more leads. The case has also generated a huge amount of attention on social media.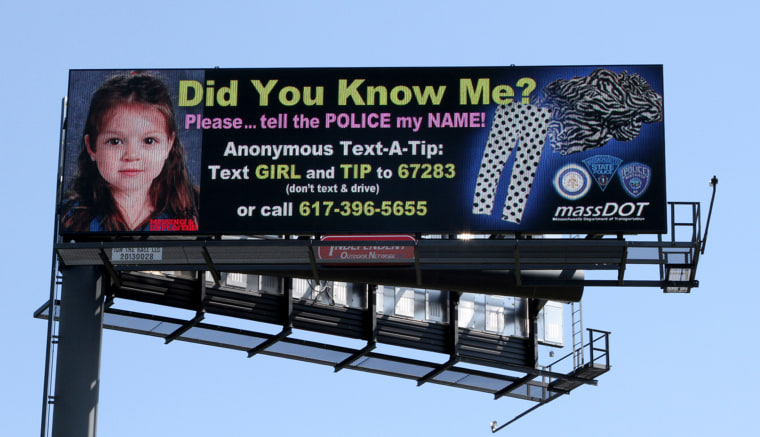 The case has stumped authorities.
Boston has a "couple of bodies that are pulled from the water each year. Often times, they're homeless guys," Wark said. "It's astounding to me that it's easier to identify a homeless person with no identification than a four-year-old child that you know someone is looking out for."
It's reminiscent of another high-profile case: Baby Hope, a four-year-old whose body was found in a cooler in New York in 1991. It wasn't until two years ago that police were able to identify her as Anjelica Castillo.
Wark is hopeful the trail to identifying Baby Doe won't go cold.
"This is a girl who had a favorite color," he said based on her black-and-white pants and the zebra fleece blanket found by her. "Somebody got her those things, and then placed them with her in death. It's not a girl with a bunch of broken bones. It's not a girl who was emaciated and malnourished by somebody who didn't care about her.
"Somebody did care about her, and still, we are completely unable to determine who she was."