The idea that women play top-level sports, too, still seems to confound some people.
The Women's World Cup, which wrapped up Sunday with a spectacular 5-2 U.S. victory over Japan, sparked inspiring scenes of celebration around the world — and highlighted the uneven playing field women athletes still have to deal with.
The latest own goal came Monday, when the English Football Association, or FA, apologized for a tweet congratulating its third-place Lionesses that was widely panned as patronizing and sexist.
It read: "Our #Lionesses go back to being mothers, partners and daughters today, but they have taken on another title — heroes."
The tweet was soon deleted, but not before it was widely preserved: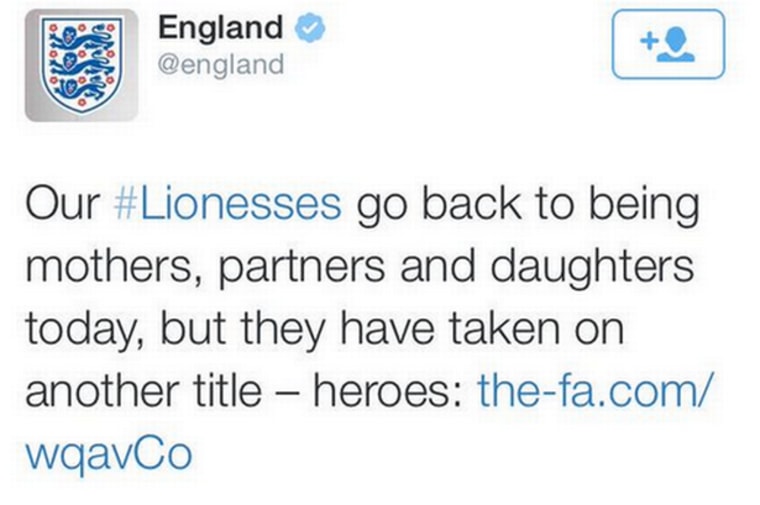 Reaction was swift and outraged:
In a statement, the FA blamed "unfortunate phrasing," saying the tweet linked to a fuller "homecoming feature attempting to reflect the many personal stories within the playing squad as has been told throughout the course of the tournament."
It added: "However, we understand that an element of the story appears to have been taken out of context and the opening paragraph was subsequently revised to reflect that fact."
The author of the offending tweet, James Callow, the FA's content editor, used his personal account to make amends and explain:
It's by no means the only slight the women's teams suffered during the tournament:
More than 30,000 people had signed an online petition Monday afternoon demanding that the women's teams be paid on par with the men's teams after it was pointed out that the total payout for the Women's World Cup was $15 million — compared with $576 million for last year's men's tournament.
The U.S. women were awarded $2 million for winning their world championship, while teams that were eliminated in the first round of the men's tournament got $8 million.
But even before the first ball was kicked in Canada, FIFA, soccer's scandal-plagued world governing body of soccer, was denounced for forcing the women's teams to play on artificial turf — which isn't allowed accepted in top-level men's tournaments.
The U.S. players briefly even sued, with their lawyer saying, "FIFA and CSA [the Canada Soccer Association] never would have forced a men's World Cup onto plastic pitches."
Then FIFA essentially ghettoized the women in its online promotion, refusing to tweet the tournament at its standing World Cup account, @FIFAWorldCup, which continued to talk about the men throughout the tournament. Instead, it relegated the women to a gender-specific "FIFA Women's World Cup" account, at the alphabet-soup handle @FIFAWWC (there is no equivalent gender-specific account for the men).
While @FIFAWorldCup did retweet its women's account, its permanent World Cup account sent just one original tweet on Sunday, the day of the women's final:
Then there was this: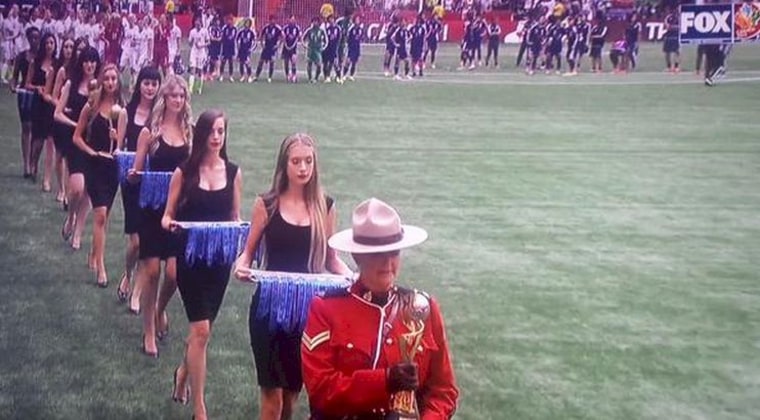 That's a parade of young women in slinky black dresses and high heels carrying out the medals for the post-game ceremony — a disconnect that led to almost universal disbelief and derision: