Backpage, one of the world's largest classified web sites, shut down its adult ad section for U.S. users Monday after a damning Senate report accused it of masking criminal activity including child sex trafficking and prostitution.
The Texas-based web portal posted a red banner headline over its adult listings with the word "CENSORED," adding in a statement that it had removed the section "as the direct result of unconstitutional government censorship."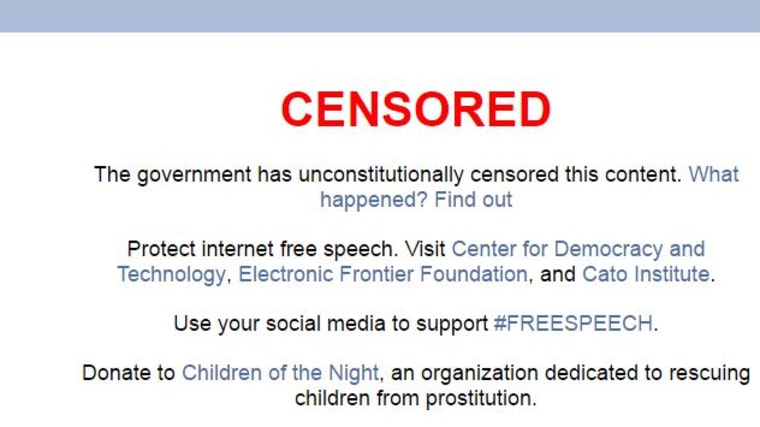 It follows efforts by government officials to close a service they contend promotes prostitution and human trafficking.
The bipartisan Senate Investigations Subcommittee report, which was published late Monday, said Backpage has "knowingly concealed evidence of criminality by systematically editing its adult ads" for up to a decade.
It said executives instructed moderators to edit the text of ads "to conceal the true nature of the underlying transaction" by filtering out terms including "lolita," "teenage," "rape," "young," "amber alert," "little girl," "teen," "fresh," "innocent," and "school girl."
It also accused Backpage of often refusing to act swiftly in response to complaints about particular underage users, "preferring in some cases to interpret these complaints as the tactics of a competing escort."
"Backpage knows that it facilitates prostitution and child sex trafficking," the report said.
In its statement, the website said government tactics "including pressuring credit card companies to cease doing business with Backpage" left it with "no other choice but to remove the content in the United States."
"This will not end the fight for online freedom of speech. Backpage.com will continue to pursue its efforts in court to vindicate its First Amendment rights and those of other online platforms for third party expression," it said.
Senator Rob Portman (R-Ohio) and Claire McCaskill (D-Mo.) later denied the report was an attempt to curb internet freedoms. "Backpage's response wasn't to deny what we said. It was to shut down their site. That's not 'censorship' — it's validation of our findings," they said in a statement, according to Reuters.
Carl Ferrer, the CEO of the portal was arrested in Texas in October on allegations of sex trafficking and pimping involving underage victims. Court documents allege the site knowingly took money from underage prostitutes.