MIAMI — Hurricane Dorian killed four members of Cleora Patricia Burton's family in the Bahamian city of Freeport, damaged her home and left her and her two children with no water, electricity or sense of security.
So when she heard a cruise ship was taking people off the island of Grand Bahama to the United States, she made a decision to leave and go to South Florida, as thousands of other Bahamians faced an uncertain future in the wake of the mass destruction caused by the Category 5 storm.
"What are we going to do? Where are we going to go? How are we going to survive this? That's why we came," Burton, 55, said from Christ Episcopal Church, founded by Bahamian settlers, in Miami's Coconut Grove neighborhood. She and her children, Hannah, 16, and Blair, 21, are living with a cousin who brought them to the church that day before a noon service.
"We don't know what's going to happen tomorrow," she said. "We don't know how we're going to go home. Are we going to get back?"
Miami and the Bahamas share a rich history going back to before the city's founding, and as Bahamians displaced by Dorian have come to South Florida, the Bahamian community there has come together in worry for loved ones, a passion to help rebuild and prayers for the islands' recovery.
Christ Episcopal Church has served as a donation center during the relief effort, and throughout the day on Wednesday people came in and out with donations for relief efforts and asked how they could volunteer to help.
"We've been here collecting every day," the Rev. Jonathan Archer, the church rector, said. "The level of devastation and loss of life there is immeasurable."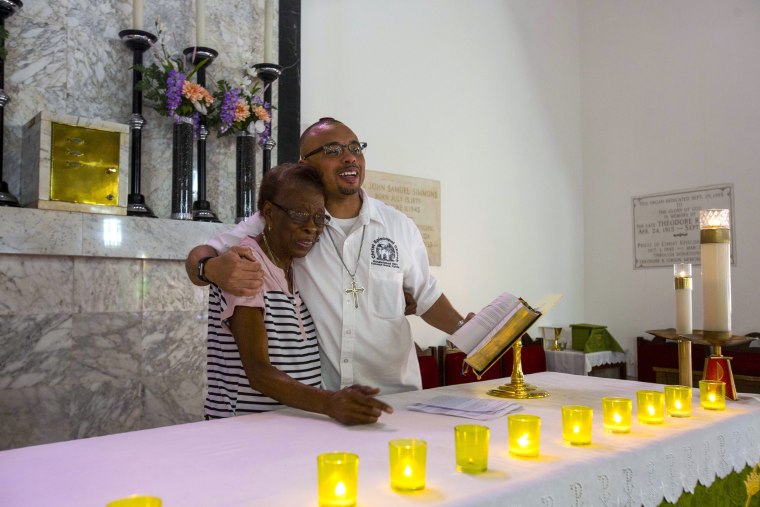 A little more than a week ago, Hurricane Dorian ravaged Grand Bahama and the Abaco Islands as the strongest hurricane to hit the Bahamas on record, wreaking havoc across the area in a sustained 48-hour assault. At least 50 people were known to have been killed, but Bahamian Prime Minister Hubert Minnis said Wednesday night that the death toll was expected to rise significantly.
About 1,300 people were registered as missing as of Thursday afternoon, according to Bahamian officials.
Burton said her stepdaughter had "lost her entire family" — including her husband and three children — in the storm. Burton's godchild was among those who died. Her stepdaughter was badly injured and remains in an intensive care unit in the Bahamian city of Nassau.
"It's been really hard for us," she said.
Last week, the Burtons were among some 1,400 Bahamians who boarded the Bahamas Paradise Cruise Line's Grand Celebration ship in Freeport, bound for West Palm Beach.
Burton said thousands of people arrived at the port on Saturday, desperately seeking to board the ship.
"It was chaos down there," he said. "It was a mad exodus."
Hannah said there was confusion at the port and miscommunication as people tried to figure out if they could leave on the ship.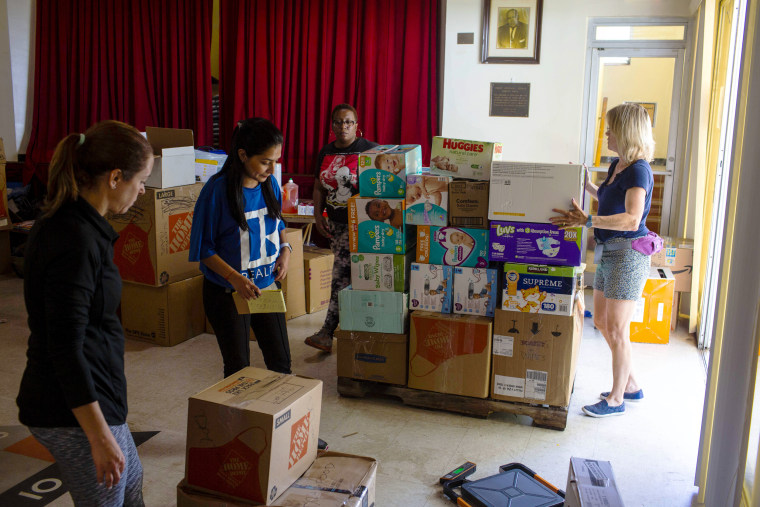 "There were so many people, when someone tried to announce any type of news you wouldn't be able to hear it," she said.
Burton said her family arrived around 9:30 a.m., but did not board the ship until the evening. While the ship's crew tried to tend to those waiting, the heat was stifling.
"My mom started to not feel good. She was feeling weak because we were out there like the whole day," Hannah said. They gave her mother a wheelchair and some water, she said, and eventually the family was allowed onto the ship.
Once aboard, they were fed and everyone was given a cabin and amenities, they said.
According to Customs and Border Protection, Bahamians who travel to the U.S. by vessel are required to have a valid passport and travel visa. They may apply for admission to the U.S. without a visa if they are on a flight where CBP completes immigration inspections in Nassau or Freeport, or if they have no criminal record or legal ineligibility as defined by U.S. Citizenship and Immigration Services. They may also apply for entry without a visa if they are traveling for business or visiting for short durations
Burton and her family have visas and did not have problems getting into the U.S., but those without visas have to provide a police certificate issued within the last six months as proof they don't have a criminal history, something Bahamians said was incredibly difficult to access in the aftermath of the storm.
"Can you imagine? Everything is down. Nobody's really in office at that point so people were getting frantic," Burton said.
The Trump administration will not grant temporary protected status to Bahamians displaced by the hurricane, an official told NBC News on Wednesday. The status would have allowed Bahamians to work and live in the U.S. until it is deemed safe to return home. The same status is currently granted to over 300,000 people living in the U.S. from 10 countries, including the victims of Haiti's 2010 earthquake.
This week, President Donald Trump said the U.S. needs to be "very careful" in who they let into the country.
"Everybody needs totally proper documentation because the Bahamas had some tremendous problems with people going to the Bahamas that weren't supposed to be there," Trump said. "I don't want to allow people that weren't supposed to be in the Bahamas to come into the United States, including some very bad people and some very bad gang members and some very, very bad drug dealers."
The Rev. Nathaniel Robinson, the pastor at another Coconut Grove church assisting relief efforts, said he believed "our country needs to open up our doors" to those displaced by the hurricane.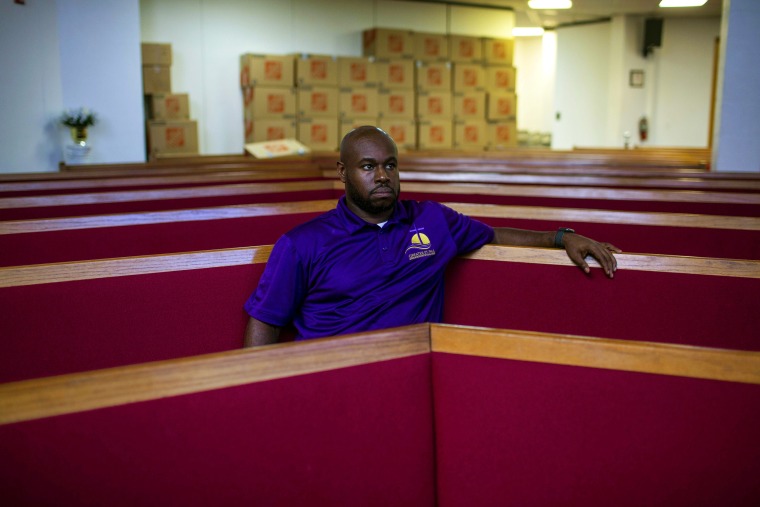 "We need to provide aid and care," he said from Greater St. Paul African Methodist Episcopal Church. "If you lose everything, how can you prove anything? You don't have the paperwork, you don't have visas."
Many congregants of both churches had close ties to the Bahamas and some were still worried about loved ones who stayed behind.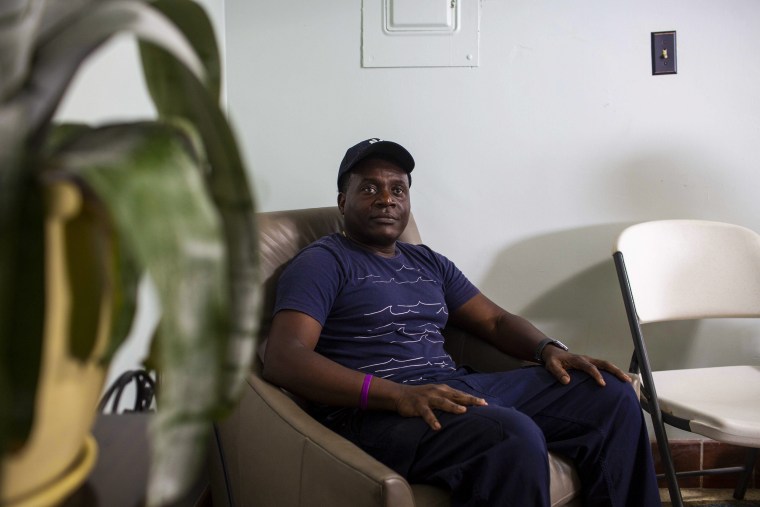 Kenneth Edgecombe, 52, said the last time he heard from his sister Janet in Freeport was through a WhatsApp message saying there was heavy flooding in the area and she needed to leave her home.
"There were some tense hours, but we're Bahamian so we pray a lot," he said. "You have to believe."
Edgecombe said he has since heard that his sister is safe and is hopeful he will hear from her again soon.
Tia Gibson, who has also been contributing to the relief efforts, said she had 19 family members in Freeport who had to leave their homes. Several of the houses were destroyed.
"It was really just waiting and hoping to hear from them," said Gibson, 43, from Christ Episcopal Church.
Gibson had tears in her eyes as she discussed the deaths on the island and how some people may never get to properly bury their loved ones.
"In the Bahamas we're all family in some way. It saddens our hearts to know so many people have lost their lives," she said.
"This is why I'm here. There's nothing I can do. I can't be there. To be here, to give up my time and commit to helping them get things they need to rebuild," she said. "I just want to help."