LOS ANGELES — Najee Ali watched the first flares of unrest in South Central Los Angeles from home, heeding his better instincts to stay out of trouble after four police officers were cleared in the beating of Rodney King.
He changed his mind when a group of black men pounded a white trucker unconscious live on TV.
Ali felt sorry for the victim, but he also felt moved by the countless other beatings, killings and daily injustices heaped upon the black community. He got in his car and drove into the heart of the fury, ready to smash and burn anything that represented society's boots on the necks of African-Americans.
He saw rage and sadness in neighbors' faces, gang members pooled in the streets, women banging pots and pans, and cops looking frightened.
"If you were non-black on that day, there was no compassion for anybody except for black people," Ali recalled.
That was 25 years ago today.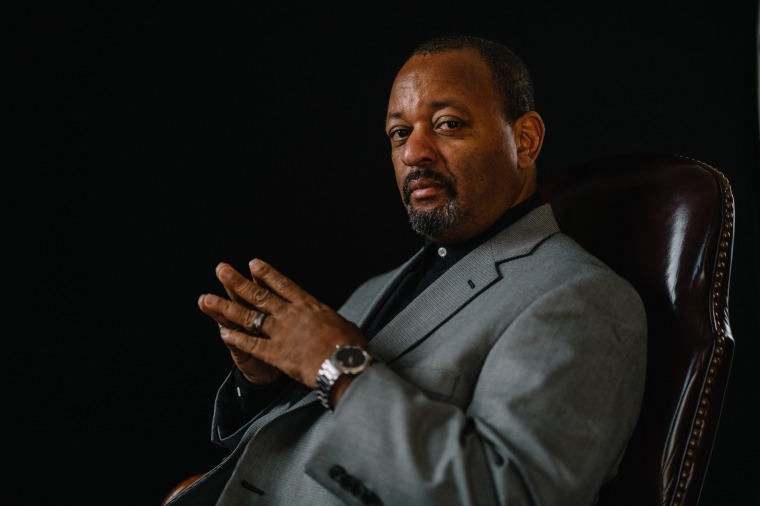 Ali, a former gang member in and out of jail who struggled with drug addiction, has changed. He took a new religion and a new name and became a community activist.
The area where five days of mayhem left more than 50 dead and $1 billion in property damage has also changed. In many ways, it's unrecognizable.
Once the cultural cradle of black Los Angeles, the community is now predominantly Latino. The sense of police occupation has eased. Crime is down. Racial tensions have improved. The neighborhood has been renamed South Los Angeles, an attempt to erase the riots' stigma. There are signs of more change, too, including a new rail line and housing developments promise to lift the area from decades of economic isolation.
But ghosts of old L.A. still linger, as the boundaries around the city's traditionally black neighborhoods continue to shrink — and there are fears that the displacement will continue, this time in the form of gentrification.
"Things have not changed in terms of lack of jobs, lack of job training, pockets of extreme poverty in certain areas and access to adequate schools and healthcare is still troubling," Ali said on a recent afternoon, standing on a South Los Angeles street corner. "As well as the continued unjust murders and abuse at the hands of law enforcement since '92."
Many in L.A. refuse to call what took place over those few days in 1992 a riot. They'll refer to it as a rebellion or an uprising, an organic, violent response to the state sanctioned violence that had routinely been used against African-Americans long before the first window was shattered.
"A riot is the voice of the unheard," Ali said, paraphrasing Dr. Martin Luther King Jr. "And we still have a lot of voices in South Central L.A. that are not being heard."
"You had a problem in a community that kept being ignored and kept being ignored and then the people just said, 'You ain't going to ignore us no more.' You've seen that firestorm pop up all over our nation. So we can easily go back there if we forget what we did wrong." — Najuma Smith-Pollard
This is the multilayered story of South Los Angeles: site of the most destructive civil disturbance in U.S. history, emblem of the country's racial divide, a place where generations of immigrants have pursued the American dream, and now, after decades of despair, it stands at a new crossroads.
It is also a case study in America's fraught relationship with its minorities and police, how quickly that distrust can turn violent, and how long it can take to heal.
The lessons of Los Angeles continue to reverberate, from the unrest that followed the 2014 killing of Michael Brown in Ferguson, Missouri to the rioting that engulfed Baltimore after the 2015 death of Freddie Gray, both African-American men.
"Mike Brown was to Ferguson what Rodney King was to L.A.," said Najuma Smith-Pollard, a program manager at the University of Southern California's Cecil Murray Center for Community Engagement. "You had a problem in a community that kept being ignored and kept being ignored and then the people just said, 'You ain't going to ignore us no more.' You've seen that firestorm pop up all over our nation. So we can easily go back there if we forget what we did wrong."
South Los Angeles: A Study in Contrasts
By certain measures, it remains a neighborhood in crisis. Many of the burned-out lots have yet to be rebuilt. Unemployment rates are much higher, and household incomes remain far lower, than the rest of Los Angeles County. Housing insecurity continues to plague the community, along with chronic health problems and the impact of mass incarceration. Affordable housing is hard to come by. Access to quality food is limited.
African-American families have moved out of the city in droves, searching for better opportunities or safety from police or community violence, a sort of reverse migration from the one that drew millions of blacks out of the South generations ago.
Immigrants from Mexico and Central America continue to arrive. The black residents who remain have become concentrated on the west side of South Los Angeles. Many of their Latino neighbors, meanwhile, quietly live on the edge of poverty. The undocumented among them often do not seek out medical care or other types of help, and tend not to engage in civic causes. Poor Latinos represent the vast majority of clients at the neighborhood's community health clinics.
Still, there is a palpable sense of pride among long-time residents, black and Latino, largely based on their long history of shared struggle, with race less of a divide.
"Economically, the poverty rates are pretty similar to what they were in the '90s. What's different is that there was a sense in the '90s of falling into an abyss," said Manuel Pastor, a sociology professor at the University of Southern California. "Now there's much more of a sense of things beginning to turn around."
The Seeds of Rebellion
For as long as most can remember, there was a divide in Los Angeles that kept most African-Americans ─ where they lived, socialized and went to school ─ south of the Santa Monica Freeway. Those unofficial boundaries were first enforced by residential covenants, de facto segregation, billy clubs and bullets.
The racial tension escalated throughout the early half of the 20th century, as more blacks arrived from the South seeking jobs and resources that whites were determined to keep. The notoriously brutal LAPD acted as the enforcers.
"The issues in Los Angeles back then were pretty much the same as they were in '92," said Bernard Parks, whose family moved to South Central from Texas in the 1940s and who spent 39 years in the LAPD, rising to chief, before becoming a city councilman. "There was also deep mistrust of the police."
The anger exploded on August 11, 1965, after a highway patrolman pulled over a black man suspected of drunken driving. As the officer tried to arrest the man, they scuffled. A crowd of onlookers grew angry, then violent, touching off a riot that raged for five days across South Central, leaving 34 people dead and $40 million in property destroyed.
Nearly three decades later, South Los Angeles would erupt again.
Sparks and Tinder
With any riot, there is the spark, and there is the tinder. In the case of South Los Angeles, the spark was the April 29, 1992 acquittal of four police officers in the videotaped beating of King. But that was not the cause.
The verdict was the tipping point for grievances that had been building in South Central for decades, dating back to Watts. The loss of low-skilled labor and manufacturing jobs through the 1970s struck minority communities particularly hard. In the late 1980s and early 1990s, crack cocaine and gang violence decimated already fragile communities.
As murders rose to record levels, the people of South Central felt under siege ─ not only by criminals, but also the police who were supposed to be helping them. The predominantly white department came to resemble an occupying army, focused on gang roundups, street searches and extreme use of force, mostly on the backs of black people.
"The fear factor in the city in the late 1980s was just incredible," Parks said. "People who initially thought because of crack cocaine and PCP there needed to be this visible police presence, taking people off the street. But all of a sudden people got tired of this kind of police activity. People became disgruntled, saying, 'Why are so many police concentrated in certain neighborhoods? Why are certain police activities only happening in certain neighborhoods?' That became the tension in the city."
The neighborhood was also at odds with itself. Longtime black residents saw their neighborhoods, and jobs, under threat from Spanish-speaking newcomers. A growing number of businesses were owned by immigrants from Korea. Many black residents, who relied on the liquor stores for daily groceries, felt taken advantage of by the Koreans. Some black customers accused the shop owners of following them around to make sure they didn't steal anything, and of spitting racial slurs at them.
Mimi Song, a Korean immigrant who owned a small chain of grocery stores that catered to Latino residents, said she attributed much of the tension to cultural and linguistic divides.
"I really believe there was a lot of miscommunication involved," Song said. "Because we don't understand each other culturally, we might disrespect each other a little bit. That's the way it was."
Two weeks after the King beating, 15-year-old Latasha Harlins went to a South Los Angeles liquor store owned by Korean immigrant Soon Ja Du. Du thought Harlins was trying to steal a bottle of orange juice. The two scuffled. When Harlins turned to leave, Du shot her in the back of the head. The entire incident was captured on video. When police arrived they found the girl dead, clutching $2 for the bottle of orange juice.
"That pretty much told me at a certain age that as a young black girl at the time, my life doesn't mean anything," said Tybie O'Bard, one of Harlins' closest friends.
A few months later, a black man shot and killed a pair of liquor store employees on Central Avenue during a robbery. The victims were recent Korean immigrants. A few days after that, an unarmed African-American man, 42-year-old Lee Arthur Mitchell, was shot dead by a Korean who suspected him of trying robbing his liquor store after coming up short on a bottle of malt liquor.
The black community responded with protests and a boycott of Korean-owned businesses. A short-lived truce was shattered after a judge went against prosecutors and sentenced Du to probation, sparing her a lengthy prison sentence despite having been found guilty of manslaughter.
A Verdict and Violence
Then came King.
On March 3, 1991, a drunken Rodney King led police on a car chase that ended with him on the ground, absorbing blows from baton-wielding officers. A bystander pulled out his video camera and recorded the beating. Soon the footage was on every television newscast in America, opening the nation's eyes to police violence and validating black Angelenos' claims of abuse.
"The acquittal was a shock, an insult, and seen as the final straw for many blacks that the LAPD could almost literally get away with murder if the victims were black." — Earl Ofari Hutchinson
The following spring, on April 29, 1992, after the trial venue was moved to suburban Simi Valley ─ where many white LAPD officers lived ─ a jury declined to convict the four cops who beat King. The verdict stunned the public, which largely assumed the videotape proved their guilt. A crowd of furious protesters formed outside the courthouse, then in front of LAPD headquarters.
"The acquittal was a shock, an insult, and seen as the final straw for many blacks that the LAPD could almost literally get away with murder if the victims were black," said Earl Ofari Hutchinson, founder of Los Angeles Urban Policy Roundtable.
Tempers first boiled over at the corner of Florence and Normandie Avenues, where people began throwing rocks and bottles at passing cars. This intersection would become the epicenter for the uprising.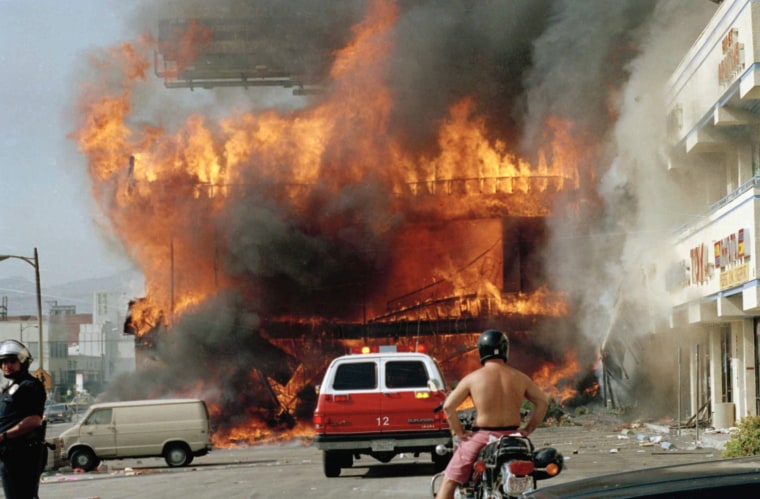 Small groups turned on white and Latino motorists and on Korean-owned liquor stores. Police were outnumbered and quickly retreated. A news helicopter captured the escalating chaos, which culminated with a group of men dragging a white trucker, Reginald Denny, out of his car and beating him unconscious.
O'Bard remembers stepping off the school bus after the verdict and one of her neighbors telling her, "F the police, homegirl." She went home and watched the unrest on TV. She saw the liquor store where Harlins was killed go up in flames. It felt like justice at the time. But her father corrected her: "This is bigger than your friend."
'The Dream Has Exploded'
Ali, who back then was a 28-year-old gang member known as Ronald Eskew, had protested Harlins' killing. But he said he had no intention of joining the post-acquittal unrest. That plan evaporated with the attack on Denny, which jolted him into the streets.
Even then, he said, he was motivated more by Harlins' death than the King verdict. He joined a group of people headed north to Koreatown to wreak havoc. "Latasha Harlins' murder was in our hearts," Ali recalled.
The Harlins case arguably haunted South Los Angeles more than King's beating.
"That case never disappears in the minds of the African-American community," said Brenda Stevenson, author of "The Contested Murder of Latasha Harlins." "There was a sense that neither the police nor the judges were doing their job in protecting African-American residents and consumers within their own communities."
The rioters grew more diverse, with blacks, Latinos and whites breaking into stores and hauling out groceries, beer, appliances ─ anything they could carry. Korean business owners armed themselves against the mobs. Gun battles broke out. Firefighters and arson squads scrambled to keep up with the spreading fires. Dead people of all colors lay in the streets.
The National Guard was called in. By the time authorities regained control of the city on May 3, there were 53 dead, thousands hurt, more than 1,000 buildings destroyed, and over $1 billion in property damage. Dozens of murders remain unsolved. Of the thousands of people arrested, more than half were Latinos, and 38 percent were black.
"What stands out most to me was well spoken and answered by the black poet Langston Hughes. He asks, what happens to a dream deferred, a dream put on hold. Does it dry up like a raisin in the sun, or does it explode," the Rev. Cecil Murray said. "My recollection is from history. A dream deferred tends to explode. On two occasions here in Los Angeles the dream has exploded."
At the time, Murray was the pastor at the historic First A.M.E. church, the city's oldest and most influential black church. For weeks he'd been preparing parishioners and city leaders for what could come if the officers were cleared. So many people showed up at the church that evening that speakers were placed on the roof so the hundreds who'd gathered outside could hear updates.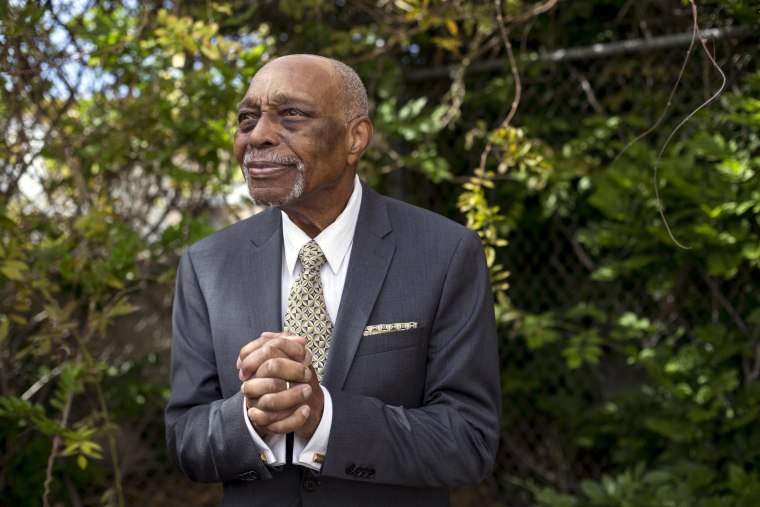 When the verdict was announced, Mayor Tom Bradley was in the church's pulpit addressing an audience of several hundred. Murray said he was pulled outside by a church member, who pointed in the distance where fires burned across the horizon. Murray assembled a cadre of 75 men and set up a human shield between the firefighters and a mob throwing rocks and bottles.
'Can We All Just Get Along?'
On day three of the riots, Rodney King emerged as an unexpected voice of reason.
"People, I just want to say, you know, can we all get along? Can we get along?"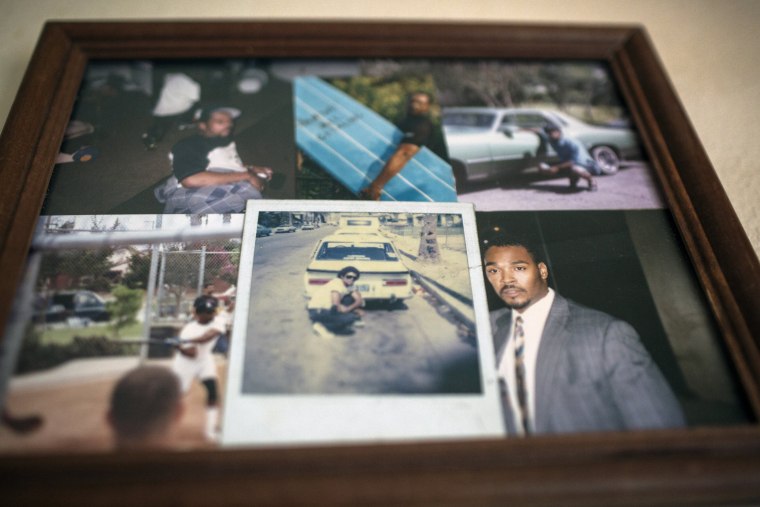 King's words would be widely misquoted, mocked and much later, turned into a meme.
King drowned at his home in 2012. Since then, his family has tried to maintain his legacy.
"It's been tough. We all handle it differently," said Lora King, 33, the middle of King's three daughters. "You have to hear stuff (in the media) and they don't really know your dad. They just know this person that people portray. He had a whole other side to him. And they only portray this part that they pieced together. But he was a father. He wasn't a drunk that never showed up. He came. He was at back-to-school nights."
King was just 7 when her father was beaten. She now has a little girl of her own, a 10 year old, and every time the police kill or abuse someone, she feels a sense of shared experience.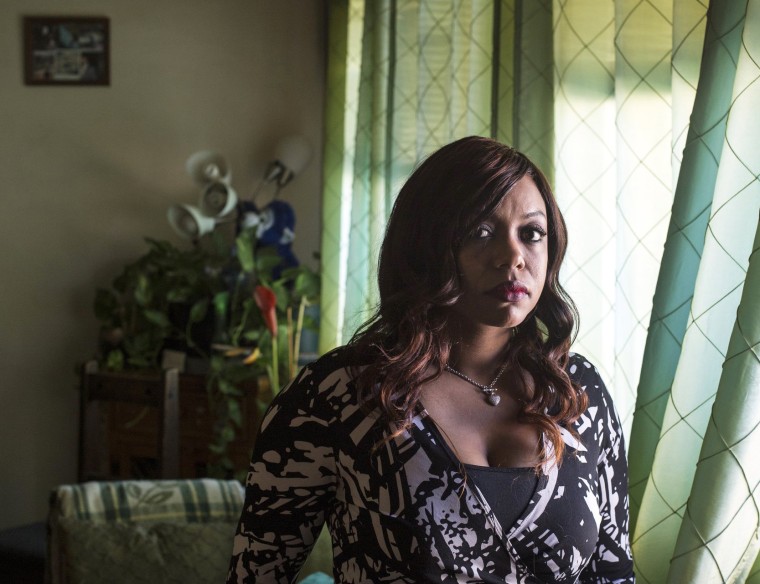 "There were plenty of Trayvon Martins, Rodney Kings before those incidents took place. And I believe that we are connected in some way or another," she said. "Luckily my father wasn't killed, but had it been a couple minutes shy he would've died."
A Change Is Gonna Come
After the mayhem subsided, the hard part began: assessing the damage, figuring out what went wrong and fixing it — starting with the police.
The city formed a commission to study the LAPD's failures, which ultimately found a long history of excessive force that destroyed the department's relationship with the public. This led to the adoption of a federal law that gave the U.S. Justice Department power to investigate systemic civil rights abuses by local police departments. It went unused until 2000, after a corruption scandal in the LAPD's anti-gang unit, known as Rampart. The Justice Department's Civil Rights Division negotiated a settlement, known as a federal consent decree, that forced court-monitored reforms.
By then, the Justice Department had filed federal civil rights charges against the officers who beat King. Two were found guilty and sentenced to more than two years in prison.
It took 10 years for the LAPD to meet its court-ordered reforms, which changed the way it recruited and trained officers and used force against civilians. Crime dropped, and community relations improved. The department became majority non-white, just like the city and is now considered a national model.
"It was important for Los Angeles to change how it policed and treated people," said Gerald Chaleff, who served as the LAPD's civilian administrator for the department's risk management bureau where he oversaw the implementation of the federal consent decree. "Los Angeles today isn't having the same kinds of disruption that other cities have had after incidents because of what we accomplished over the last 25 years."
Phillip Tingirides was an LAPD sergeant during the riots, and today is a deputy chief in command of the force's Southeast Division, which includes South Los Angeles. He said he sees the difference in a multitude of daily police interactions with the public. His officers get invited to cop-appreciation days at local churches, and get warning calls when tempers flare on the street. They explain to people why they're getting pulled over or stopped. They act more compassionately at murder scenes.
"These are things that didn't happen here before," Tingirides said.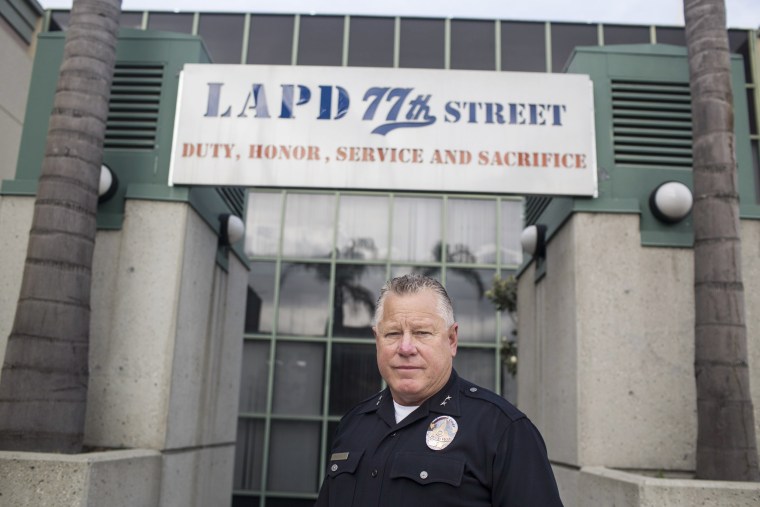 But tensions still exist.
The wave of anger over police shootings that swept the country three years ago included Los Angeles, where police have faced protests for shooting mentally ill men to death. Blacks represent 9% of the city's population but make up 19% of victims of police shootings and 31% of other use-of-force cases, according to the Los Angeles Times. A 2009 Harvard University study showed that while most Angelenos approved of the LAPD's job, the department used force against African-Americans disproportionately, and blacks and Latinos were more likely to see continued discrimination.
In 2016, LAPD officers killed 19 people, more than any other law enforcement agency in the country. Los Angeles County Sheriff's Department deputies killed 16 people, the second-highest tally.
Murray praised the reforms in the police department and its most recent police chiefs for forging inroads into the black community, creating pathways to communication rather than "just being there with your club and your gun and your blue suit."
'We're Still Here'
Soon after peace was restored, the city tried to jump start rebuilding South Central through an array of public-private development projects. All fell short of their promises, according to analysts. South Los Angeles remained pocked with vacant lots, and only during the early 2000s real estate boom did strip malls begin to partially fill the voids.
"The failure to keep the big promises made by public officials and corporations to pour billions of investment dollars into South L.A., housing and businesses has largely been just that, an unfulfilled promise," said Hutchinson, with the urban policy roundtable.
Around the tenth anniversary of the riots, a pair of economists examined the impact and found that it had sapped the city of nearly $4 billion — a far steeper cost than what it incurred from the 6.7 magnitude Northridge earthquake in 1994.
"When it's us against Mother Nature, we're willing to come together and say we're not going to let her beat us. But when it's us against each other, we're not as quick to bounce back," said Victor Matheson, one of the study's authors.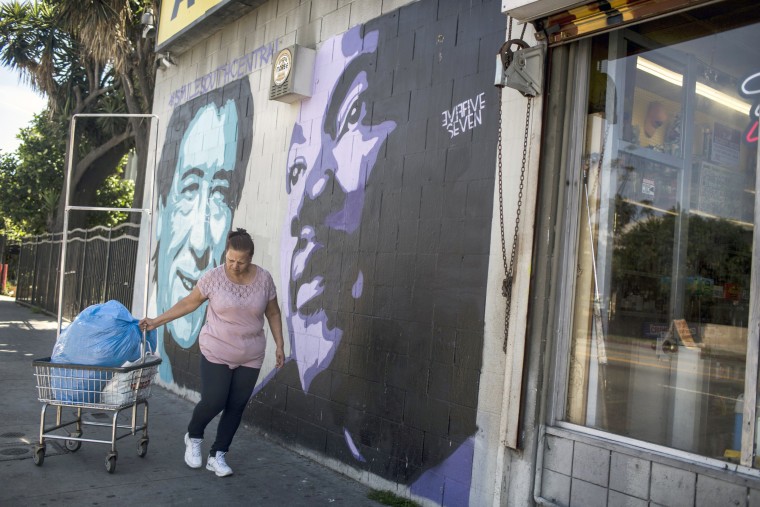 In 2003, the city council changed South Central's name to South Los Angeles, an attempt to bury the neighborhood's stigma. But by then it hardly resembled its 1992 self. The transformation was plainly visible from the street, where blocks that once teemed with black culture now cater to Latino tastes. Billboards that once boasted of black beauty shops and soul food are written in Spanish. Even the liquor store where Latasha Harlins was killed has a new face. Now called the Numero Uno Market, it caters to a new demographic. On a recent afternoon nearly every patron in the store and in the parking lot was Latino.
Jooyoung Lee, a Korean American ethnographer, spent five years researching the hip-hop scene around Leimert Park and found two important developments: a determined celebration of black culture and an increased diversity of the club scene, with Latino, Korean and black rappers befriending each other.
"It's a place that defies a lot of popular stereotypes of South Central's place in the imagination," Lee said.
But the fight for South Los Angeles is only beginning.
"We've lost tremendous ground just based on the numbers. At the end of the day we're holding on by a thread and we're still here," said Najee Ali, standing on the corner of Florence and Normandie, about 15 feet from where Reginald Denny was nearly beaten to death. "Many of us are going to be here forever because this is our home."
As the afternoon sun sat high above the neighborhood, Ali, now 53, looked over his shoulder to his wife, one of his daughters and two grandchildren. "I want a better quality of life for them," he said.
"At the end of the day, those that were actually in it would do every damn thing we can to make sure it never happens again," he said. "I'm hopeful that the lessons that we went through 25 years ago, that my children, my grand-children won't ever have to go through again."