Erricka Bridgeford was 12 when she first saw a man die because he found himself at the wrong end of a bullet on Baltimore's streets.
More than 30 years later, she's pursuing a city-wide 72-hour ceasefire that began midnight Thursday to end a recent wave of violence that's taken hold of her community.
Although it has less than a tenth of New York City's population, Baltimore has suffered 48 more homicides in 2017, according to police statistics.
The Maryland city's murder rate is also on the rise, 20 percent higher compared to the same period last year.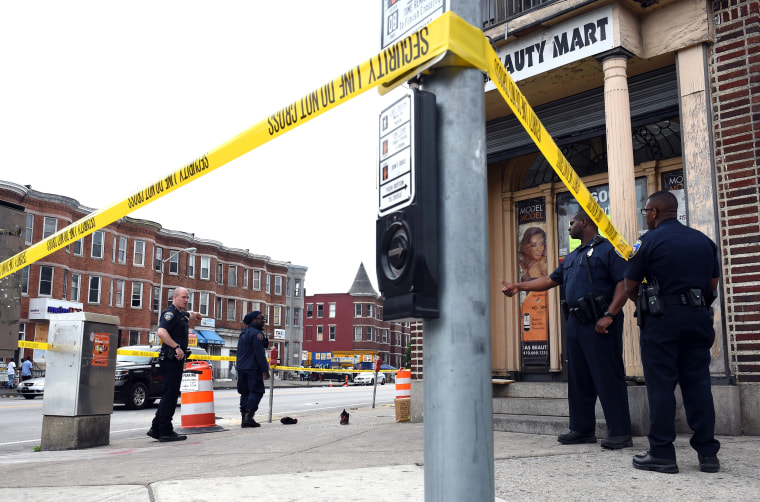 Bridgeford said she decided to pursue the ceasefire after her young son alerted her to the uptick. She's no stranger to the violence; her stepson and brother were both murdered.
"We didn't come up with anything that was brand new but we just had to make a decision that we could at least try," Bridgeford told NBC News.
Hoping to prove that peace is possible, Bridgeford and other activists patrolled the streets of Baltimore and approached people with flyers in hand. She asked them to commit to the "Nobody Kill Anybody" weekend, requesting that they not exacerbate the violent trend in their neighborhoods.
While some people laughed at her, she said most seemed interested and even encouraged the movement. Some even spread the word themselves, and according to Bridgeford, she soon received calls from gang leaders and members who pledged to participate.
The police and city government told NBC News they've endorsed the movement and want to support it as much as they can, but Bridgeford said she purposefully didn't ask for their involvement. The people of Baltimore, especially those in the most violent areas, don't trust them, she said.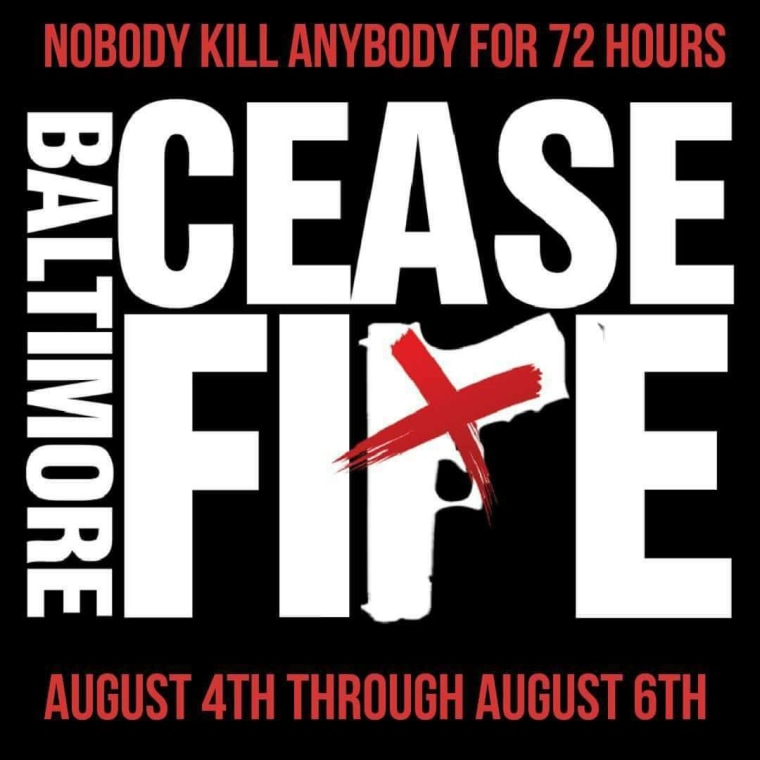 "You don't have to be woke very long in America, especially if you're a person of color, to notice that there are certain parts of the city that get resources that yours don't," Bridgeford said.
The dialogue between Baltimore residents and its police force have been particularly strained since April 2015, when 25-year-old Freddie Gray died after he was put in police custody. Tensions were exacerbated recently whentwo police body-cam videos appeared to show Baltimore police officers planting evidence.
The Baltimore Police Department is investigating the planting evidence allegations, but it has already caused the Baltimore City States Attorney's Office to drop dozens of drug cases.
"At the end of the day we all want the same thing," BPD spokesman T.J. Smith told NBC News. "We want officers to do what they're expected to do, and the community wants officers to do what they're expected to do. But we also all want people to stop harming each other, especially with guns."
Baltimore is nearly one year removed from a damning Department of Justice report that concluded the police department had allowed conduct that violated the Constitution and federal law.
Smith alleges a lot has changed at the department and claims "transparency is our middle name."
He added that this new progress preceded the April consent decree brokered between Baltimore and the Department of Justice, following the August report, which ordered sweeping police reforms.
Ray Kelly, a longtime Baltimore activist and president of the No Boundaries Coalition who was consulted on the decree, said he still wouldn't advise friends or neighbors to call the police in times of trouble.
"I don't have enough trust in the progress to say that they should go to the department and they'll be protected," he said, adding that he'd recently had an uncomfortable run-in with police after he was robbed, "because we know structurally the department hasn't changed at all."
Related: Another Baltimore Police Body-Cam Video Shows Officers 'Plant' Drugs
But Jonathan Smith, former chief of the Justice Department's Special Litigation Section of the Civil Rights Division, encouraged people to take a longer view of the trouble, suggesting that the department's quick response to the video, the charges dropped and the disciplinary action are all encouraging signs.
Nevertheless, he said the distrust of police is directly connected to the violence found on the streets, highlighting the importance of the "Nobody Kill Anybody" weekend.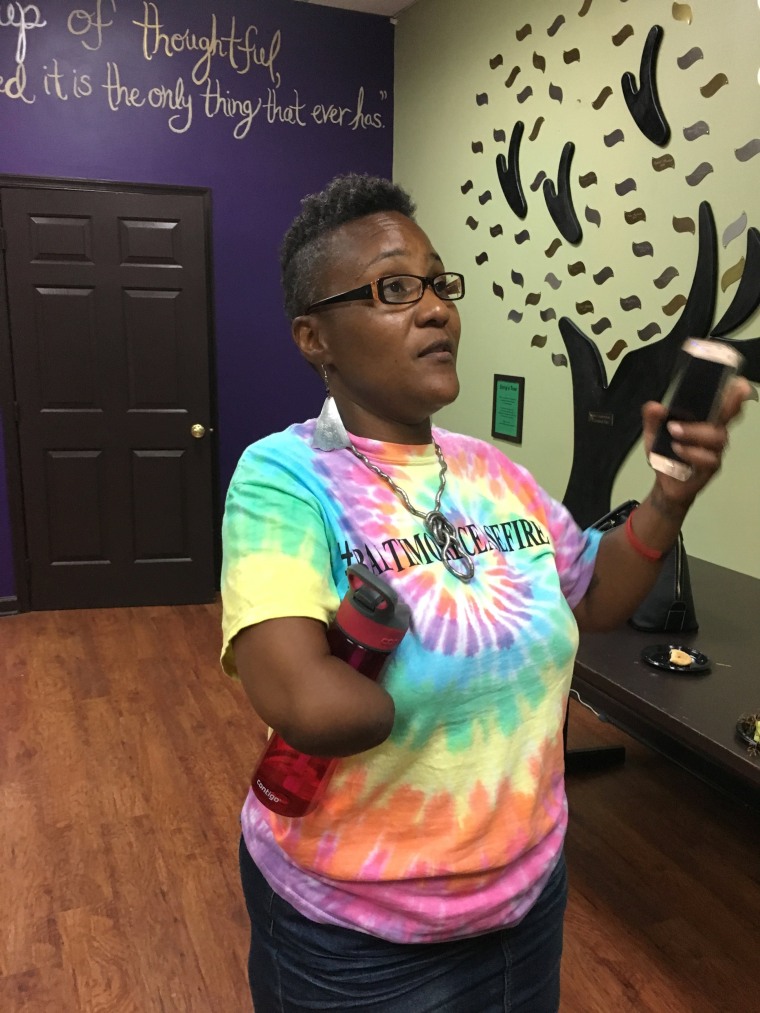 "This is a real opportunity for dialogue with police to occur and address ways that policing creates circumstances for violence," Jonathan Smith told NBC News. "There are many neighborhoods in Baltimore that are over-policed and under-served. Kids are being swept off the streets at the same time that you can't solve a homicide because you can't get anyone to talk about what they saw."
That's only one of the conversations that Bridgeford is attempting to encourage, as she's also hoping for some introspection. But, whatever happens, she knows that she still hasn't found a long-term solution.
That's not the point.
"We don't think this is a cure," she said. "We don't think this will even necessarily stop violence that weekend, but we know that some people have made promises that they won't, and that just might save somebody's life."