One of the organizers of a three-day weekend ceasefire in Baltimore vowed the effort would continue despite a pair of fatal shootings on Saturday.
"The Baltimore #CeaseFire has NOT ended," Erricka Bridgeford wrote in a Facebook post Sunday, in which she wrote the work would continue and urged, "let's face this new day being who we truly are."
Marches, vigils and other events organized around the ceasefire were held this weekend in a city that had already recorded 208 homicides before the weekend began.
The ceasefire effort was promoted with the slogan "nobody kill anybody for 72 hours" and it was to begin midnight Thursday. The first shooting occurred 41 hours later.
Related: Baltimore Activists Pursue City-Wide Ceasefire Weekend
A 24-year-old man was shot Saturday at 5 p.m. in a section southwest of downtown Baltimore, police said. The victim, who was not immediately identified, was later pronounced dead at a local hospital. Roughly five hours later, a 37-year-old unidentified man was shot dead, police said, in an apparently unrelated crime.
In an interview on MSNBC Sunday, Bridgeford said she believed the ceasefire effort had saved lives.
"Gang leaders were calling us saying, 'Well, I don't know where the shooting may come from this weekend, but I can tell you where it's not going to come from," she said.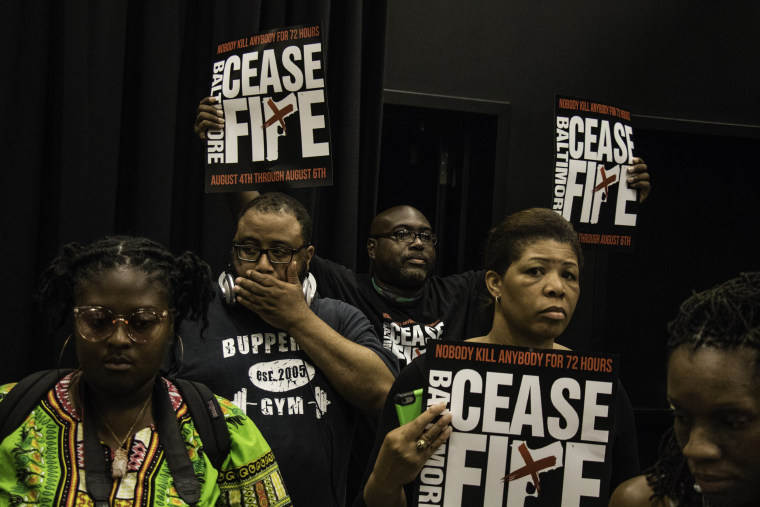 In an emotional video posted on Facebook, Bridgeford added that while she was grateful for those 41 hours, the victims' families "don't have any more hours with their people." She acknowledged her once "numb" response to Baltimore's violence and pleaded with others to pay more attention.
"I want everyone to be honest and use this pain," she said. "That's what this outreach is all about."
On MSNBC, Bridgeford said that plans to expand that outreach were already underway. Activists involved in a more ambitious anti-violence initiative — Ceasefire 365 — are scheduled to meet Monday, she said.