A young suburban Baltimore mom was shot and killed by police and her 5-year-old son was wounded Monday after an hours-long standoff at her Maryland apartment ended in gunfire.
The incident involving Korryn Shandawn Gaines became a flash point on social media Tuesday as video taken by Gaines inside her home before the shooting was shared online.
Baltimore County police said her followers encouraged her "not to comply with negotiators' requests that she surrender peacefully."
Officers opened fire after Gaines, 23, pointed a legally-purchased Mossberg 12-gauge pistol grip shotgun at them and said, "If you don't leave, I'm going to kill you."
She managed to fire two rounds, and during the exchange of gunfire, her son Kodi Gaines was struck, the Baltimore County Police Department said. The boy was taken to Johns Hopkins Children's Center and was in good condition.
It was not immediately clear if her son was hit by a shot fired by his mother or by the tactical officers who had been trying to get her to surrender.
None of the officers involved in the incident were wearing body cameras, police said.
"We are of course extremely upset at an event like this," police spokeswoman Elise Armacost said at press conference. "We do not like to be in a position of having to use lethal force, but this was a situation where our officers exercised patience for hours and hours."
She added: "We are very relieved the child was not seriously injured."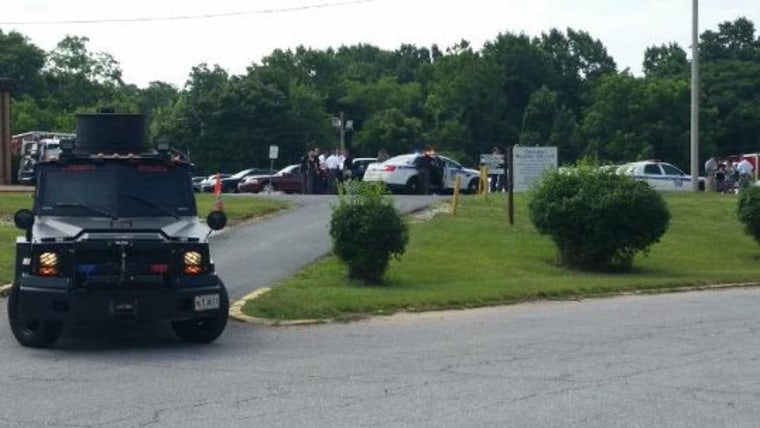 Gaines was wanted on a bench warrant for failing to appear in court on charges related to previous cases of disorderly conduct and resisting arrest following a March 10 traffic stop "and numerous other traffic offences," according to Johnson.
The mom had been pulled over because her Toyota Camry didn't have a license plate, police said. In its place was a piece of cardboard on which was written: "Any government official who compromises this pursuit to happiness and right to travel, will be held criminally responsible and fined, as this is a natural right to freedom."
When the officer gave her a ticket, police said, Gaines threw the citation out the window and declared that officers would have to "murder" her before she got out of the car. And when they went in to get her, Gaines resisted, police said.
Young Kodi and unidentified infant were the in the car with her at the time, police said.
The deadly standoff began at 9:20 a.m. Monday when three police officers arrived at the apartment in Randallstown to serve warrants on Gaines and 39-year-old Kareem Courtney, Baltimore County Police Chief James Johnson said.
Courtney was wanted for assault, police said.
Officers repeatedly knocked on the apartment door and identified themselves as police, Johnson said. They did not receive a response, but they could hear the sounds of a man, woman and crying child from inside the apartment.
After waiting five to 10 minutes, the officers obtained a key to enter from the landlord.
When an officer opened the door, he allegedly saw Gaines sitting on the floor pointing a long gun at him and immediately retreated to the hallway and called for tactical backup.
At this point, Courtney tried to flee the apartment with a 1-year-old child but was apprehended, Johnson said.
Meanwhile, other residents were evacuated from the apartment building.
For the next several hours, officers attempted to negotiate with Gaines by telephone or by shouting to her from across the room.
Gaines, police said, was "up and down," by turns calm and excitable. But after several hours Gaines became "angry and irritated as the afternoon wore on and finally hung up on police."
At that point, police said, the tactical team brought over Gaines' parents to help negotiate. But they too could not get her to give up.
"The barricade's turning point came at about 3 p.m, when she pointed the shotgun directly at one officer visible to her through the doorway and said she was going to shoot him if officers did not leave," police said in their statement.
Police said the tactical officers saw Gaines point the shotgun at the boy several times "but are not sure if that was deliberate or incidental."
The officers involved in the deadly standoff are on administrative leave while the incident is investigated, authorities said.
Gaines, who often posted about racial issues on social media, was remembered by Black Lives Matter activists and others who said they would "say her name" — a refrain used in the deaths of black women killed during encounters with police.