Their choice was stark: Give in to demands for sex or wait forever to get badly-needed repairs done on their units in Baltimore's crumbling housing projects.
But now 20 women who filed a multi-million dollar lawsuit in September are about to get some payback from the Housing Authority of Baltimore City.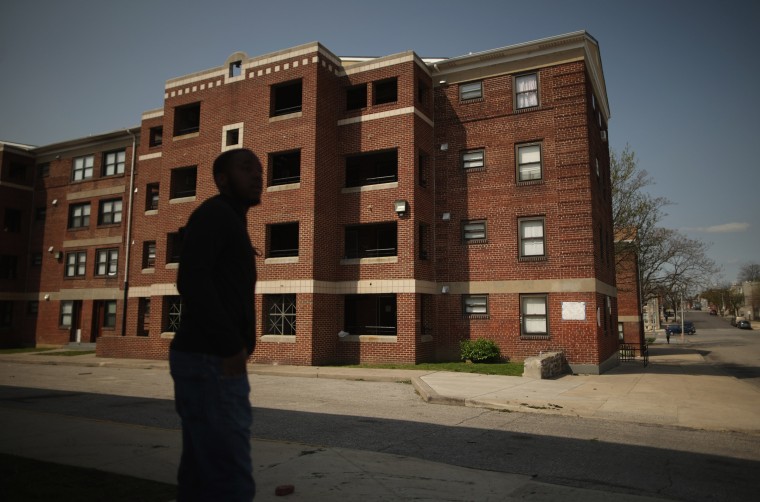 The details of the settlement are expected to be revealed on Friday by the women's attorneys and officials from the troubled housing authority where 20,000 of Baltimore's most desperately poor people live.
"What happened to me was wrong," said one of the women, a 30-year-old who lives in the Westport project — and who NBC News is not identifying by name. "Nobody should have to go through this."
The scandal has led to calls for the resignation of the city's public housing czar Paul Graziano and resulted in an ongoing criminal investigation by the Baltimore state's attorney's office.
"These Housing Authority employees routinely harass and abuse the vulnerable women in public housing," the lawsuit states. "By refusing to perform repairs without sexual quid pro quo, these defendants are subjecting the tenants to to life-threatening living conditions."
In the wake of the sex-for-repairs scandal, Graziano set up a hotline where victims can anonymously report any abuse.
Two of the workers identified in the lawsuit — maintenance supervisor Clinton Coleman and his underling, Michael Robertson — were fired in October.
The charges by the women, laid out in a class action lawsuit obtained by NBC News, make for grim reading.
A single mom who moved into the Gilmor Homes in 2008 described how, when she went to see Coleman "to get things fixed," he exposed himself and said, "What can you do with this?"
The young mother admitted she had sex with Coleman because the conditions in her apartment were abysmal and she feared for the safety of her young daughter.
"I was scared and ashamed," she said in court papers. "I tried to forget about the incident."
But each time she needed to have something repaired, she had to have sex with Coleman. And soon she discovered she was not the only woman on whom he allegedly preyed.
"Mr. Coleman exercises significant control over the community," the woman stated in the papers. "In addition to withholding repairs and making physical threats, his crews can make complaints that may result in residents losing their homes. I have no place to go and my daughter I would be homeless if this happened."
Another Gilmor resident, a 24-year-old woman, said Coleman and Robertson demanded sex in exchange for getting rid of a bug infestation and fixing the pipes. She refused and as punishment, she said, "I have not had any heat for the last two years."
Yet another Gilmor resident, a 38-year-old woman, said that a maintenance worker whom she identified as "Mike" grabbed her breast and when she complained to his boss they began deliberately dragging their feet on repairs to her home. Now the mold in her unit is so bad it is affecting the health of her asthma-stricken children, she claimed.
A 26-year-old woman said Coleman made numerous sexual advances and "also sent me a video of him in the shower naked."
"Before he would fix anything in my unit, Coleman demanded that I send him pictures of me in my underwear," the Gilmor resident, who is the mother of a 4-year-old, said in the papers. "I was afraid of Coleman and worried for my daughter, so I sent him the photographs he requested." He did some repairs after that.
A woman who lives in the Govans Manor Homes development said she was subjected to a campaign of sexual harassment by a worker named Doug Hussy, who at one point threatened to "do a Bill Cosby on me."
"I came to understand that this meant he was threatening to drug and rape me," she stated in the papers.