The women allegedly victimized by Baltimore Housing Authority workers in a sex-for-repairs scandal will split a nearly $8 million settlement — and get new addresses so they won't have to "live where they suffered."
"Every single abuser we could identify has been fired," Cary Hansel, who represents the 20 women, said Friday at a press conference where the terms of the deal were unveiled, according to the Baltimore Sun. Hansel's office confirmed the settlement to NBC News.
Hansel said workers based at the Gilmor Homes, Westport and Govans Manor projects have been sacked by the Housing Authority of Baltimore City. No criminal charges have been filed, but a criminal investigation is ongoing.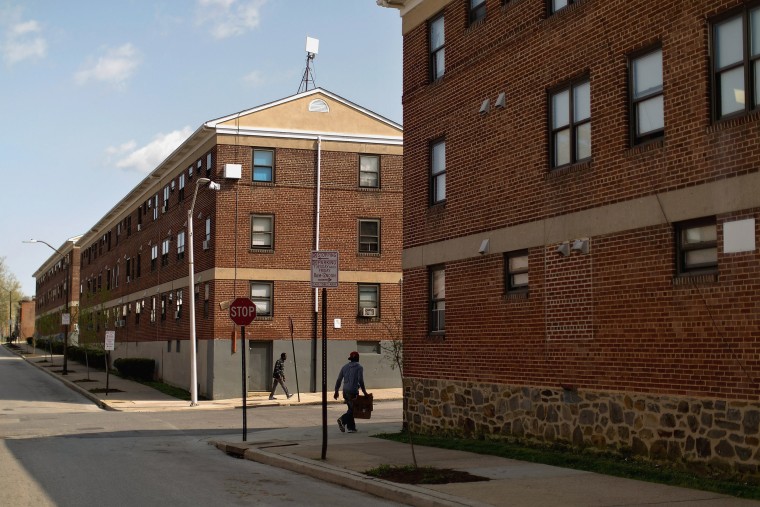 "We are going to make sure this doesn't happen again," Housing Authority honcho Paul Graziano promised.
The women sued in September alleging that they were forced to choose between giving in to demands for sex from maintenance workers or wait years to get badly needed repairs on their crumbling units.
In the lawsuit, the women laid out a litany of complaints about the maintenance men who preyed on them.
"These Housing Authority employees routinely harass and abuse the vulnerable women in public housing," the lawsuit stated. "By refusing to perform repairs without sexual quid pro quo, these defendants are subjecting the tenants to to life-threatening living conditions."
One young mom said she had sex with her building's maintenance supervisor, Clinton Coleman, because the conditions in her apartment were so abysmal she feared for the safety of her young daughter.
"I was scared and ashamed," she said in court papers. "I tried to forget about the incident."
But each time she needed to have something repaired, she had to pay the price with Coleman again, according to the suit. And she later discovered she was not the only woman on whom he allegedly preyed.
Coleman was one of the Housing Authority workers who was fired.
The Baltimore state's attorney's office has launched a criminal investigation into the women's charges.