Onlookers cheered early Wednesday as crews carted away Confederate monuments in Baltimore, where city leaders vowed to remove the four that reside on public property following this weekend's deadly violence in Virginia.
But while Baltimore's decision came "quickly and quietly" — as Mayor Catherine Pugh later told reporters — she couldn't immediately say what's in store for the statues themselves.
For some communities, there remains the struggle of what to do next.
"City and town leaders must think hard about what they plan to do with the monuments if they remove them," said Aaron Astor, a history professor at Maryville College in Tennessee who focuses on the Civil War era. "As a historian, I generally favor preserving the old statues as artifacts of collective memory and placing them in a museum."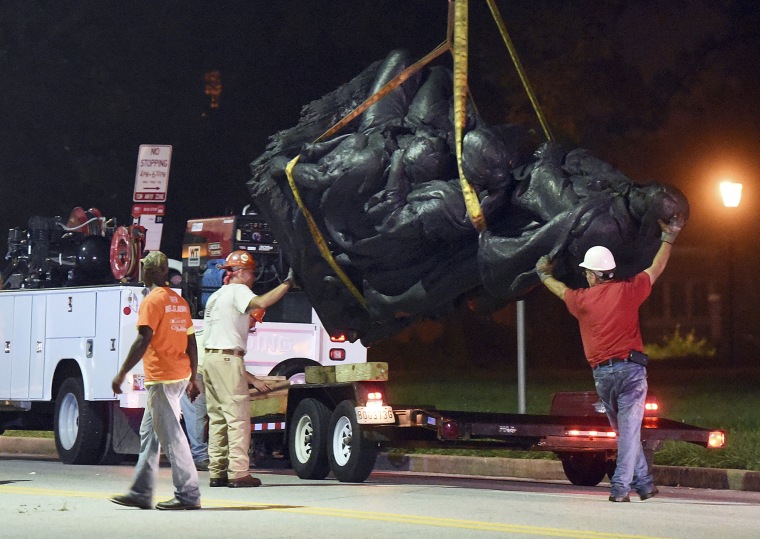 New Orleans, which removed four prominent Confederate monuments this spring and spurred a national debate, appears to remain in limbo over them.
The city has previously said that only nonprofits and government entities could apply to take the statues, which were shipped to city-owned warehouses or secured facilities.
Mayor Mitch Landrieu's office said Wednesday that officials are still soliciting queries.
In Gainesville, Florida, the long-debated removal of a statue dubbed "Old Joe," which is dedicated to fallen Confederate soldiers, only made headway after the local chapter of the United Daughters of the Confederacy agreed last month to take charge of it. The organization had it constructed in 1904 and it was installed in front of the Alachua County Administration Building.
The group did not return a call seeking comment Wednesday, but the statue was removed Monday and has since been placed in a cemetery southeast of Gainesville, according to The Gainesville Sun.
Baltimore's removal of its Confederate monuments began late Tuesday, coming sooner than expected in the wake of a white nationalist rally in Charlottesville, where a 32-year-old counter-protester was killed when a man plowed a car into a crowd. The white nationalists were protesting the planned removal of a Gen. Robert E. Lee statue from Charlottesville's Emancipation Park.
Pugh, who watched as the statues in Baltimore were plucked from their pedestals and tethered to large cranes, could not immediately detail where they were being brought. She again suggested Wednesday that they could eventually be taken to Confederate cemeteries in the state or nation willing to house them.
Pugh added that she moved swiftly because she didn't want to invite the same kind of violence that Charlottesville experienced.
"I felt that the best way was to remove them overnight," Pugh said, adding, "I thought that enough speeches have been made about this. I didn't think I needed to do a big speech about why."
The statue of Supreme Court Chief Roger Taney was taken down from its location in the Mount Vernon Place neighborhood before 2:30 a.m. Wednesday, reported NBC affiliate WBAL. Taney had authored the Dred Scott decision — the landmark 1857 Supreme Court ruling that said blacks were not considered American citizens and the federal government couldn't regulate slavery.
About a half-hour later, crews began removing a monument of Confederate generals Lee and Thomas. J. "Stonewall" Jackson, WBAL reported. Given the monument's size, that took about two hours, Pugh said.
Also removed in the city were the Confederate Soldiers and Sailors Monument and the Confederate Women's Monument.
In their place, Pugh suggested, plaques could be erected explaining what used to be there and why they were gone.
Related: National Battle Over Confederate Monuments Renewed After Violence
Last year, a commission in Baltimore started by the previous administration looked at the city's four Confederacy-linked monuments to consider taking some of them down.
Pugh also began working on the issue in June, when she met with New Orleans' Landrieu. He previously said the 2015 killing of nine black churchgoers by a self-proclaimed white supremacist in Charleston, South Carolina, motivated his decision to have the Confederate statues concealed in his city.
But after the Charlottesville rally Saturday, the Baltimore City Council this week approved completely destroying its Confederate symbols.
City Councilman Brandon M. Scott previously told NBC News that he'd like to see the statues melted down and "re-purposed to honor true American heroes." The final decision will be in the hands of Pugh.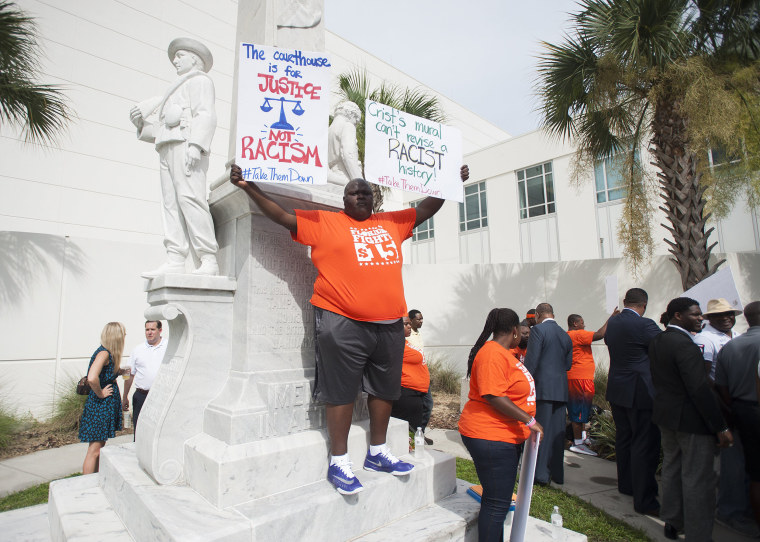 Other cities and states are also weighing what to do with their Confederate figures — caught between what some say is a historic part of Southern heritage and decried by others as racist symbols.
Maryland Gov. Larry Hogan on Tuesday also called for removing a Taney statue from state house grounds.
Protesters in Durham County, North Carolina, decided on their own Monday to yank down a Confederate statue. One woman was charged Tuesday with misdemeanors in the incident after the Durham County sheriff said his office would go after those responsible, reported NBC affiliate WRAL.
Related: Secessionist, Black Nationalist Agree to Peaceful Protest in S.C.
Meanwhile, Los Angeles' Hollywood Forever Cemetery took down a six-foot Confederate monument maintained by the Long Beach chapter of the United Daughters of the Confederacy. The group agreed to take back the stone piece, which had been at the famed cemetery — and is also private property — since 1925, reported NBC Los Angeles.
Astor, the Tennessee professor, said moving statues to Confederate cemeteries seem to be a viable option. In addition, some municipalities are willing to take them, he added, such as the city of Brandenburg, Kentucky, which in May received a memorial to Confederate soldiers that the University of Louisville no longer wanted.
"The way I look at it, it's part of our history," Brandenburg Mayor Ronnie Joyner said at a dedication ceremony for the memorial, according to Reuters. "We need to preserve our history."
Astor said that some monuments do hold artistic value and are worth preserving.
But "most likely," he added, "cities will probably end up selling them to private collectors for money."