A federal judge declared Thursday that Virginia's ban on same-sex marriage is unconstitutional, making it the second state in the South to have restrictions on gay marriages overturned this week.
But gay couples can't get married just yet in Virginia.
Judge Arenda L. Wright Allen, ruling in U.S. District Court for the Eastern District of Virginia in Norfolk, immediately stayed her decision until the case, Bostic v. Rainey, can be heard by the 4th Circuit Court of Appeals.
"Tony (London) and I just want to get married like everyone else can," Tim Bostic said in a statement posted on the website of the American Foundation for Equal Rights, whose lawyers are representing him and the other plaintiffs. "Today's decision gets us one step closer to making that dream a reality."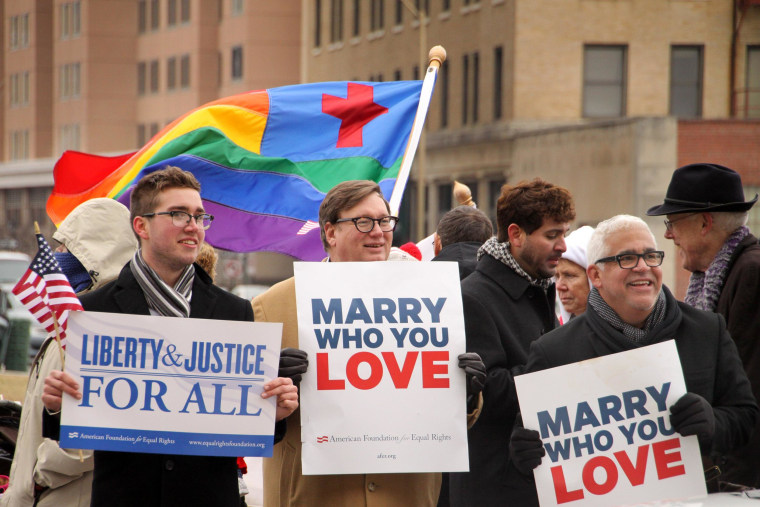 State Attorney General Mark Herring said last month that Virginia had decided to side with opponents of the ban, saying in court documents filed then that the law violated the Fourteenth Amendment to the U.S. Constitution.
Such bans are under attack across the South. A federal judge ruled Wednesday that Kentucky must recognize same-sex marriages performed in other states. Challenges to same-sex marriage bans have been filed in Texas, Louisiana and Missouri.
But Virginia is the first southern state in which a voter-approved ban has been overturned in federal court. This case, and similar ones from Utah and Oklahoma, could wind up in the U.S. Supreme Court.
"Our Constitution declares that 'all men' are created equal. Surely this means all of us," Allen said in her decision. "While ever-vigilant for the wisdom that can come from the voices of our voting public, our courts have never long tolerated the perpetuation of laws rooted in unlawful prejudice."
Ant-gay marriage groups rejected Allen's decision, saying she should have "respected" the vote by Virginians to impose the ban.
"This is another example of an Obama-appointed judge twisting the constitution and the rule of law to impose her own views of marriage in defiance of the people of Virginia. There is no right to same-sex 'marriage' in the United States constitution," Brian Brown, president of the National Organization for Marriage, said in a statement. Seventeen states and the District of Columbia allow same-sex marriage, while 33 states bar it.