Puerto Rico, already trying to dig itself out of a historic financial crisis, is now facing a direct hit by a major hurricane that could destroy any progress the U.S. territory has made under a year-old economic rehab plan ─ and set it back further.
Hurricane Maria is forecast to hit Puerto Rico early Wednesday, testing the local government's ability to respond to a humanitarian disaster. While the Caribbean island of 3.4 million people is accustomed to tropical storms, it hasn't been hit by a Category 4 or 5 hurricane since 1928.
Gov. Ricardo Rossello announced Monday that he had declared a state of emergency and urged people living in flood-prone areas to evacuate.
Related: 'Rapidly Intensifying' Hurricane Maria Takes Aim at Puerto Rico, Virgin Islands
The territory's infrastructure has gone neglected for years, and in July its power company defaulted on a debt-restructuring deal. When Hurricane Irma skirted Puerto Rico this month, more than 1 million people were left without power, and many of them could remain in the dark for months, officials have said.
Maria could wreak a lot more damage.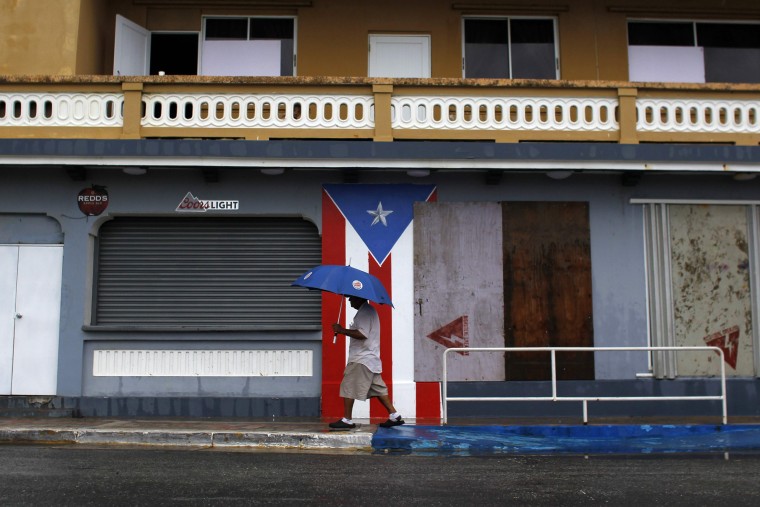 "If Irma shook us up a little bit and gave us a rude awakening as to just how precarious the situation was, something like a Category 5 storm will have us without power for a time that is unimaginable," said Philipe Schoene Roura, executive editor of the San Juan-based newspaper Caribbean Business.
His newspaper published an article in early September in which the head of the power utility said a strong storm could keep the the island in the dark for weeks.
Edwin Melendez, director of the Center for Puerto Rican Studies at Hunter College in New York, said such widespread outages would affect millions of people and deal double blows to communities in the island's mountainous interior whose water systems depend on electricity. Two sectors of the Puerto Rican economy that have shown signs of life, tourism and agriculture, would also suffer.
"It's a grim picture no matter how you slice it," Melendez said.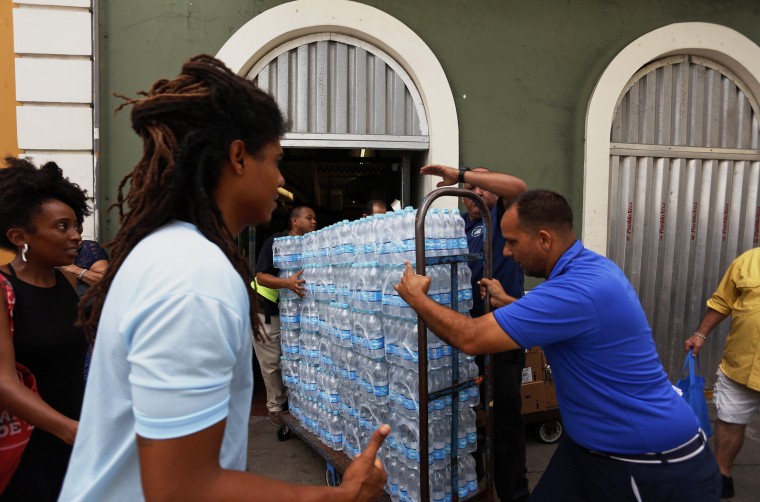 An extended recovery could divert public resources and labor away from economic rebuilding efforts. Puerto Rico, a decade into a recession, is unable to pay its debts, which led to a plan, called Promesa, in which the U.S. government effectively put the territory into bankruptcy protection, with a court-appointed board supervising its finances. The board has emphasized a reduction in government spending.
Rep. Nydia M. Velázquez, D-N.Y., said in a statement that she had asked the Department of Energy and Promesa's financial oversight and management board for help "shoring up the Island's ailing energy infrastructure."
Puerto Rico is also in the midst of a housing crisis, with thousands losing their homes to foreclosure, and many becoming homeless. The local unemployment rate is 10 percent, more than double the U.S. rate.
"The storm compounds already existing problems on the island," said Deepak Lamba-Nieves, research director at the Center for a New Economy in San Juan. "From that perspective, it's a really tense moment and one that places Puerto Rico in a more precarious situation than before."