The retired police officer who killed three people at a popular Southern California restaurant Wednesday shot his estranged wife and another woman and then randomly fired at patrons, the Orange County sheriff said.
The bloodshed unfolded just after 7 p.m. at Cook's Corner in Trabuco Canyon, about 50 miles south of downtown Los Angeles, officials said.
Sheriff's deputies killed the gunman, retired Ventura Police Sgt. John Snowling, after he fired at them with a 12-gauge shotgun, Sheriff Don Barnes said at a news conference Thursday.
Snowling, 59, drove from Ohio, where he had moved, to Southern California before he carried out the deadly shooting, Barnes said. It is believed he went to Southern California and then to Cook's Corner when he determined his wife would be there, Barnes said.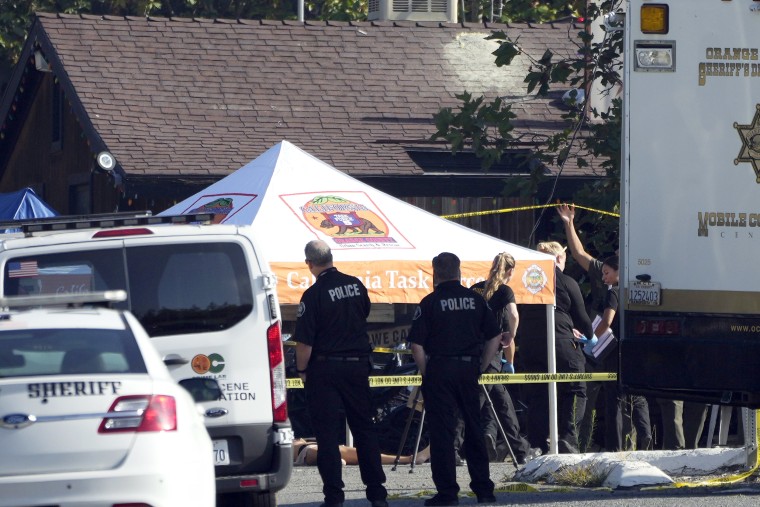 Snowling entered the bar and restaurant with two handguns and immediately shot his wife, who was seeking a divorce, and a woman she was sharing a meal with, Barnes said.
"Mr. Snowling, the suspect, then began randomly shooting at patrons within Cook's Corner," Barnes said. He then moved to an outside area, Barnes said.
The woman who was with Snowling's wife died later. Two other men were also killed, Barnes said. One of the dead was identified as John Leehey, 67, of Irvine.
Six other people were shot, two of whom were in critical condition Thursday, officials said. All are stable.
Snowling's wife was shot and injured, but she was conscious and speaking, Barnes said.
Cook's Corner is popular with motorcyclists and advertises itself as one of the oldest biker bars in Southern California, but officials said it is also a family gathering place and a beloved part of the community.
Bar patron Betty Fruichantie said she and the suspect's wife didn't initially move when the shots were fired.
"We thought, I thought it was just firecrackers," Fruichantie told NBC Los Angeles. "She didn't say anything. People were getting shot. People were getting shot."
Snowling was a sergeant with the Ventura Police Department before he retired around a decade ago, according to the department. He worked in the oceanside town from July 1986 through February 2014.
He was also president of the union and worked a variety of duties for the department, including patrol, traffic and homeless outreach.
"He just had very normal career, nothing really else to report," Ventura Police Cmdr. Sarah Heard said.
A friend of Snowling's wife, who was with her at the bar Wednesday night, said she had filed for divorce against Snowling.
Ventura County Superior Court records show that the divorce proceedings started Dec. 21 and that the matter was still ongoing.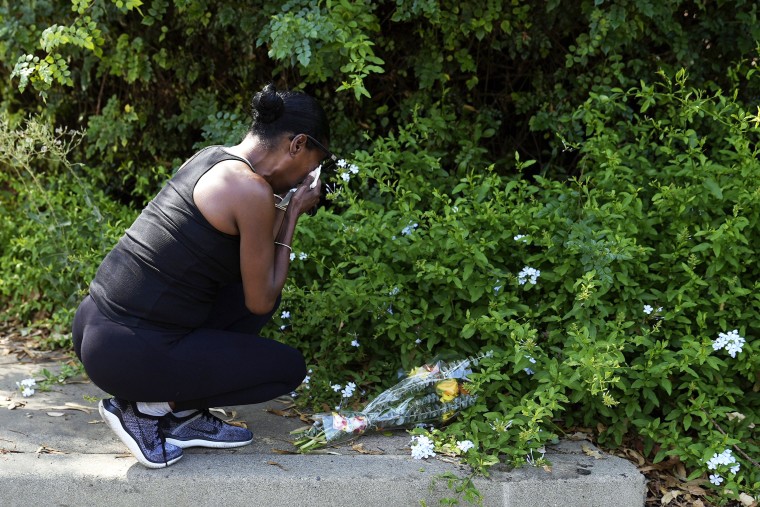 Attorneys for the divorcing pair couldn't immediately be reached for comment Thursday.
Investigators aren't aware of any domestic violence restraining order, Barnes said. Snowling didn't have a criminal history.
Snowling had three handguns — a .380-caliber pistol, a .38-caliber five-shot revolver and a .25-caliber pistol — and a 12-gauge shotgun, Barnes said.
He had two handguns when he went into Cook's Corner and opened fire, and he then went back to his parked truck and got a third handgun and the shotgun, Barnes said.
One of the two men who were killed "made an attempt to encounter the suspect in the back parking lot" to stop the rampage, Barnes said.
After Snowling got the third handgun and the shotgun from the truck in the parking lot, seven deputies either encountered him or fired at him as he shot at them, Barnes said.
It's the second mass shooting at a public place in Orange County since an attack in May 2022 on parishioners at Geneva Presbyterian Church in Laguna Woods, which killed one person and injured five.
In Wednesday's shooting in Trabuco Canyon, deputies had responded to and encountered the gunman within two minutes of the 911 calls, Barnes said.
"Which means that within two minutes, this individual could do that much havoc upon individuals and do that much damage," he said.
Ventura police pledged to assist the sheriff's deputies in the shooting investigation.
"Our hearts weigh heavy with the distressing incident at Cook's Corner," Chief Darin Schindler said in statement. "Our deepest condolences are with the families of the victims, the survivors, and the Orange County deputies who swiftly responded to the scene. This incident deeply affects us all."