Barack and Michelle Obama have signed book deals that may be the most lucrative ever for White House memoirs.
While the financial terms have not been officially disclosed, published reports have put the dollar figure Penguin Random House paid anywhere from $30 million to $65 million for both books.
Even the low figure would blow the doors off the $15 million that Knopf, a division of PRH, paid Bill Clinton for his 2004 tome, "My Life," and the $10 million George W. Bush was paid by Crown for his 2010 memoir "Decision Points."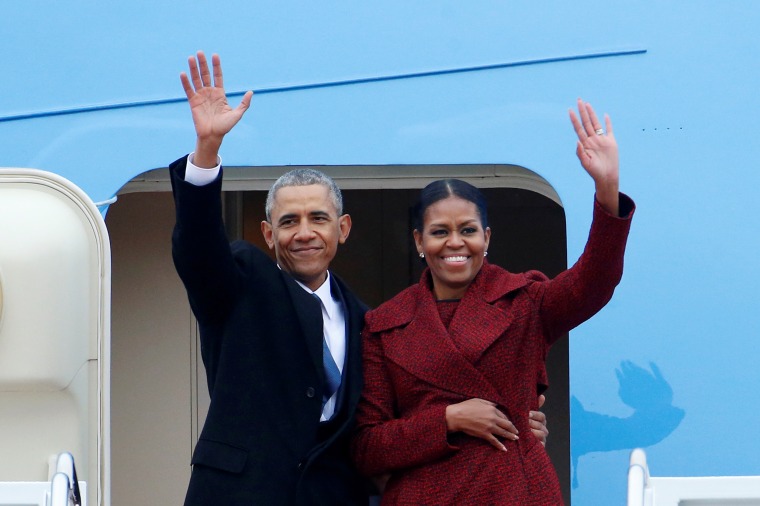 "We are absolutely thrilled to continue our publishing partnership with President and Mrs. Obama," Penguin Random House CEO Markus Dohle said in a statement announcing the deal. "With their words and their leadership, they changed the world, and every day, with the books we publish at Penguin Random House, we strive to do the same."
Dohle vowed their book launches will be "global publishing events of unprecedented scope and significance."
Neither Dohle nor the heavyweight Washington lawyers who repped the Obamas — Robert Barnett and Deneen Howell of Williams & Connolly — dished any details about when the books would be published, what their titles might be, or how much the former first couple are being paid.
Nor would a spokesman for The Office of Barack and Michelle Obama.
Barack Obama's book is expected to be a behind the scenes account of his eight turbulent years in the White House. Michelle Obama's planned book is described by the Associated Press as "an inspirational work for young people that will draw upon her life story."
Publishers Weekly, which is pretty much the Bible of the industry, reported the auction price for both books was $30 million. It cited as its source a "high-ranking publishing executive who had been in on the negotiations."
The Financial Times, however, pegged the figure at a "record-breaking" $65 million and cited as its source "people briefed on the auction."
Obama was a critically-acclaimed writer even before he got to the White House in 2009. His books "Dreams From My Father" and "The Audacity of Hope" were both best bestsellers and earned him millions.
The former first lady is also already a published author. Her book about food and gardening, "American Grown," was published in 2012.
The Obamas are expected to donate what Penguin Random House called a "significant portion" of their proceeds to charity as well as the non-profit Obama Foundation.