A lithium-ion battery fire prompted a cross-country flight's return to California, where four on the aircraft were hospitalized, authorities said.
The United Airlines flight from San Diego International Airport to Newark Liberty International Airport had been in the air for a matter of seconds Tuesday morning when the emergency erupted in its cabin, according to officials and data from the flight tracking site FlightAware.
Seven people reported injuries, four of whom were taken to a UC San Diego trauma facility, the San Diego Fire Department said.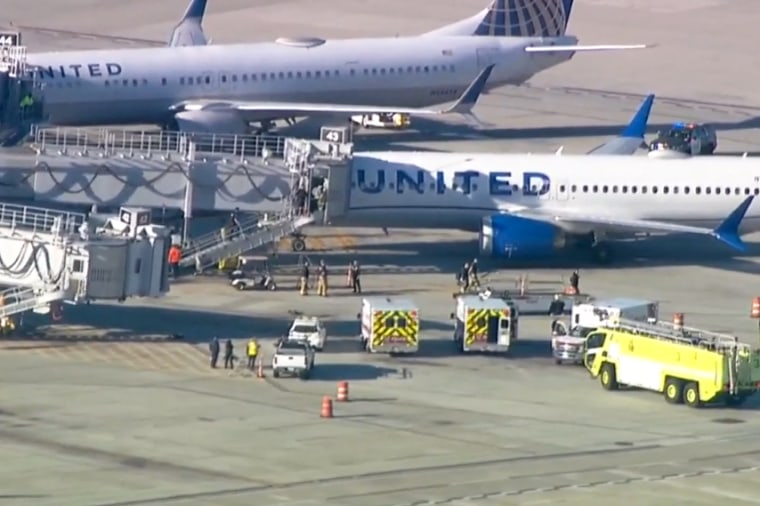 The hospitalized patients were treated for smoke inhalation, UC San Diego Health said in a statement.
United Airlines indicated in a statement that all or nearly all of the hospitalized people are crew members who might have put themselves in harm's way to address the fire. The employees were hospitalized as a precaution, it said.
Three others who were injured refused hospitalization despite the advice of first responders, fire officials said. At least two of those people were passengers, according to United.
The airline said the battery pack belonged to a customer. Its crew members "acted quickly to contain the device," United said. The fire department also credited crew members with preventing the fire's spread to the plane itself.
"We thank our crew for their quick actions in prioritizing the safety of everyone on board the aircraft," United said.
One of the tools employed in the fight was a fire bag, used to keep flames from spreading, fire officials said.
The aircraft, a Boeing 737, landed safety about 7:30 a.m., according to the Federal Aviation Administration, which was investigating alongside the National Transportation Safety Board. The number of passengers wasn't available.
Lithium-ion batteries commonly used in electronics devices and electric vehicles can rapidly produce flame-spreading heat. When they erupt, which is increasingly the case, the fires have proven resistant to traditional firefighting techniques.
Under FAA rules, passengers can take backup or spare lithium-ion batteries, intended for their own use, on flights, but the batteries can't be in checked baggage. They must be kept in carry-on bags, and their terminals must be taped over, protected by packaging or otherwise covered. Large batteries are limited to two per passenger.
The FAA characterizes such batteries as "dangerous goods."