In the summer of 2001, Cincinnati learned how a poorly handled police shooting can tear a city apart.
Those lessons, gleaned from the riots that followed the death of an unarmed black man 14 years ago, are coming in handy now.
Following the death of Samuel DuBose, shot by a University of Cincinnati officer during a routine July 19 traffic stop, Cincinnati has managed to avoid the kind of violent unrest that has gripped many American cities by surprise in recent months.
That has a lot to do with an historic agreement between the city and its black community, forged in the 2001 riots' aftermath, in which officials agreed to react quickly, and candidly, to police shootings.
"We have built relationships that I think are a role model for so many other cities around the country that are dealing with similar issues," Mayor John Cranley told MSNBC after University of Cincinnati Officer Ray Tensing was indicted on murder charges Wednesday. "And we are all at a better place because of what we have been through."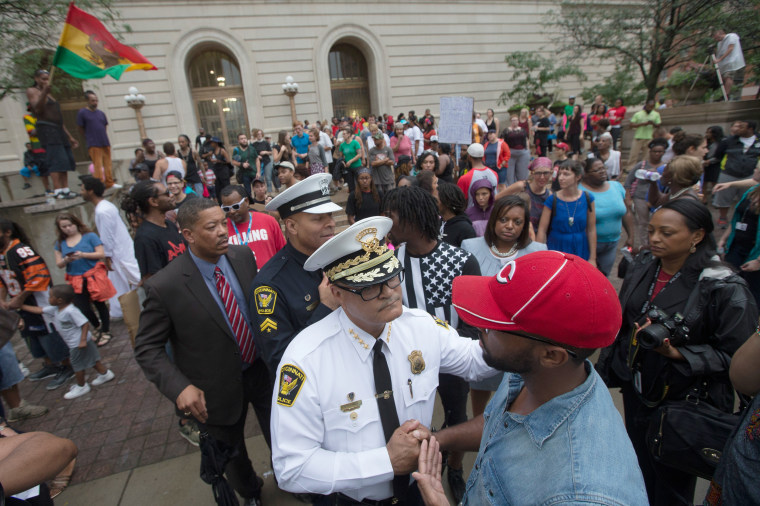 There were number of factors that made DuBose's death comparatively easy for authorities to navigate. The encounter was captured on Tensing's body-worn camera, providing them with a clear account and giving the local prosecutor cause to press for an indictment. Also, the Cincinnati Police Department was not involved in the shooting, allowing it to investigate the case with a measure of distance.
But the city also clearly knew how to avoid a reprise of 2001.
As soon as the indictment was handed down, authorities released the body cam footage the public, lending the process some transparency, a crucial element to the post-2001 reforms.
Hamilton County prosecutor Joseph Deters and Cincinnati Police Chief Jeffrey Blackwell both spoke forcefully against the shooting. Dubose's family urged the public not to revert to 2001-style unrest. Cranley and other elected officials reached out to neighborhood activists for help keeping the peace.
"Let's give Cincinnati some credit," criminologist Dennis Rosenblum told NBC News in an email. He is executive director of the National Police Research Forum, where he advocates for ways to improve trust between police and the public. "They have been deeply involved in a process of community engagement, oversight and healing since the riots."
In a sense, the Dubose killing was a test of Cincinnati's reputation as a model for other cities struggling to move past allegations of abusive policing.
That image was painstakingly built after the April 2001 shooting of 19-year-old Timothy Thomas, an event that marked the boiling point of a long-simmering distrust between police and the black community.
Thomas' death triggered four days of looting and rioting, a boycott of downtown businesses, a police slowdown, a spike in crime and an investigation by the U.S. Justice Department.
Forward-thinking community leaders organized public forums that explored the roots of that distrust. The effort culminated with the Collaborative Agreement of 2002, which outlined a series of penetrating reforms, including the tracking and sharing of data on use of force and traffic stops, the training of officers to be more mindful of citizens' concerns, and a Citizens Complaint Authority to investigate police shootings and accusations of misconduct.
A related deal with the Department of Justice went a step further, adding a federal monitor to oversee compliance.
The federal government stepped away in 2007, but the Collaborative Agreement remains an active document, a guide to continued improvements.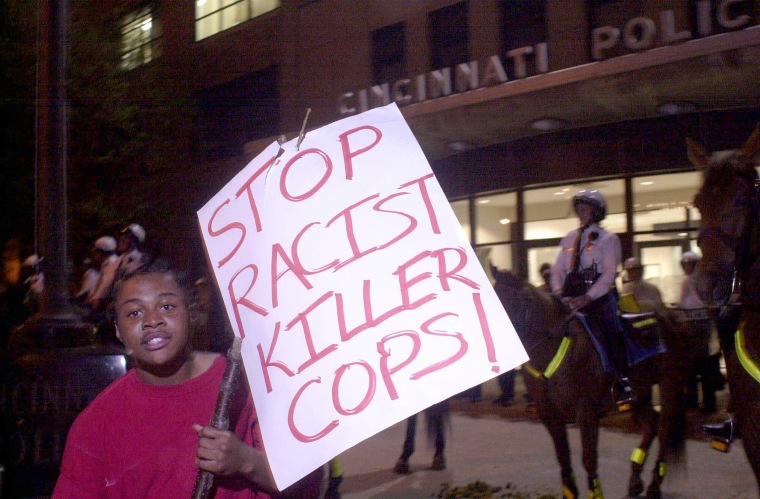 John Eck, criminal justice professor at the University of Cincinnati, said the city has become steadily better at managing the relationship between the police and the public.
But the city remains keenly aware of how fragile that relationship remains, he said in an email to NBC News. Each police shooting is a test, and "with each test passed, the lessons of the collaborative will be strengthened."
DuBose's killing has sparked calls for further changes, including rolling the University of Cincinnati police department into the Collaborative Agreement.
But Eck pointed out that the city has yet to confront the ultimate test: when Tensing goes to trial or agrees to a plea bargain.
Among those who are cautiously optimistic is Iris Roley, a member of The Cincinnati Black United Front, which pressed for the post-2001 reforms. She remains a leading voice on the issue, reminding officials when they fall short.
DuBose's death showed the city, and the nation, "how huge our reforms truly are," Roley said.