SAN DIEGO — Three years ago, Kevin Tate lost his job fulfilling orders at a warehouse. He lived with his ailing mother, but when she died a year later, the 62-year old ended up on the street. He got by riding trains, spending days at a methadone clinic and showering at San Diego's beaches.
But since December, Tate has been living in a tent.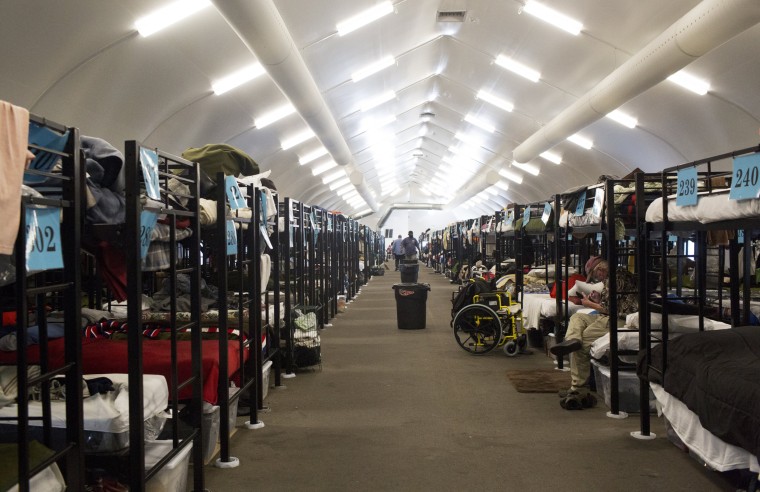 It's not the kind of jerry-rigged shelters made from tarp or cardboard that dominate sprawling skid rows from San Diego to Seattle. This white warehouse-like structure, known as a "bridge shelter," straddles a major city block, and it comes equipped with HVAC, showers, an eating area, informal TV lounges, laundry facilities and round-the-clock security. At least once a week, a visiting mobile medical clinic provides exams, medications and vaccines.
It is one of three semi-permanent structures the city of San Diego put up in December in a desperate attempt at triaging the homeless crisis and the resulting Hepatitis A outbreak. Surging real estate values across the state have decimated affordable housing options, resulting in record homelessness. West Coast cities host growing encampments of people living in the streets, leading to poor sanitary conditions, in which Hepatitis A thrives.
Last year, San Diego was ground zero for a deadly outbreak that spread up the coast to Santa Cruz, leading California Gov. Jerry Brown to declare a state of emergency in October.
By Jan. 24, the San Diego County Health & Human Services Agency reported 577 cases, including 20 deaths and 395 hospitalizations. The Los Angeles County Department of Public Health reported 16 homeless-related cases of Hepatitis A, with 12 hospitalizations. Santa Cruz County Health Services Agency confirmed 76 cases.
Related: Harvey's Destruction Raises Fears of Homelessness in Survivors
The bridge shelters like the one Tate lives in are an attempt to transition people off the streets during the height of the epidemic. They buck the dominant "housing first" policy of getting homeless people into permanent housing as quickly as possible, with services playing a secondary role.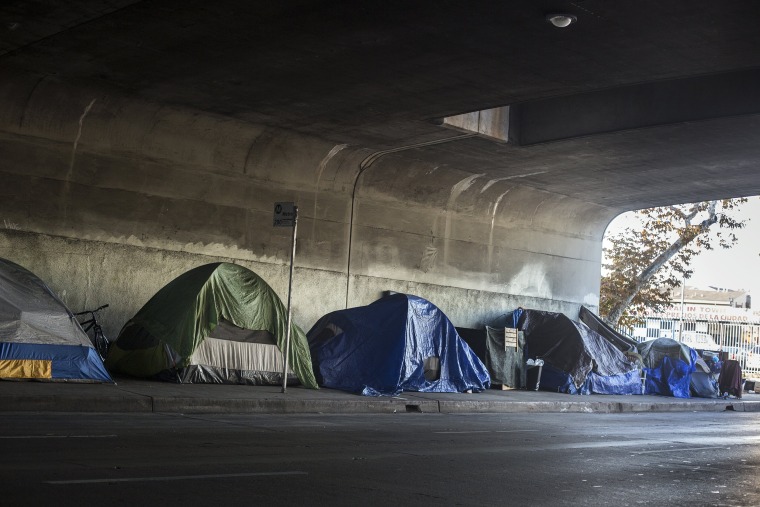 They are also funded by private money, filling a gap created by a lack of a cohesive political solution to the ballooning crisis.
Peter Seidler, the managing partner of the San Diego Padres, has gathered with local business leaders on a weekly basis for more than a year to discuss the city's homeless problem. But it wasn't until the Hepatitis A outbreak that the city implemented one of their ideas, the tents.
"Hepatitis A actually forced the issue of the tents to achieve our purposes," restaurateur Dan Shea, Seidler's partner in the initiative, told NBC News.
The Hepatitis A virus infects the liver and primarily spreads through fecal contamination or contact. It's preventable with a vaccine or good hygiene, which is hard to maintain for people living on the street.
"We took this endeavor on to get homeless people off the street five to 10 years earlier than they would otherwise," added Shea, who was himself briefly homeless in the past. "It's an imperfect system. Given the alternative to being on the streets, it's a better alternative, but it's not a great alternative."
Related: Royal wedding: Call to prosecute or remove homeless draws wide criticism
On Tuesday, Tate is scheduled to move out of the tent, which is operated by the nonprofit Alpha Project, into a room in a three-bedroom house for $600 a month. Despite five previous failed attempts at getting housing, he said he was finally accepted on the sixth try with help from Alpha Project. He also has income through disability benefits the group helped him obtain.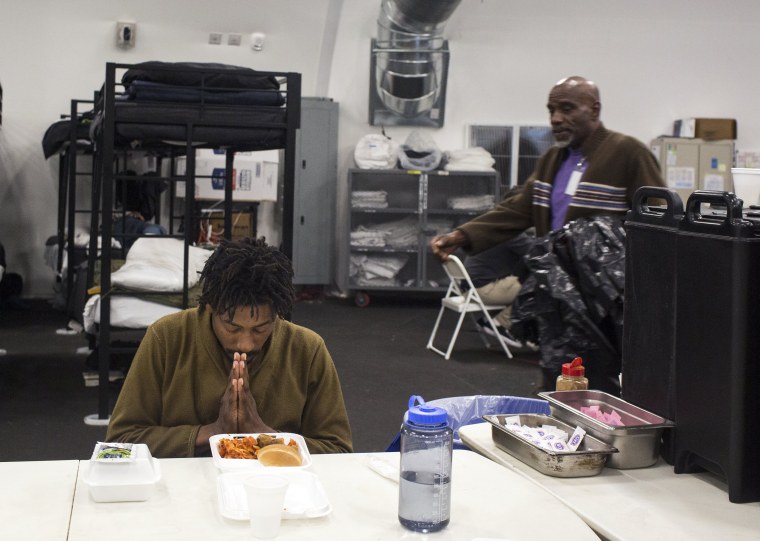 "It's just wonderful. These guys around here, they know that I am eligible to do the right thing and they look out for me. Because being homeless is a crazy, crazy state," Tate told NBC News. "People disrespect you."
Tate's is the type of success story that supporters of the tent projects are banking on. Nicknamed "America's Finest City," San Diego now is home to the fourth largest homeless population in the U.S., despite being the eighth most populated city. San Diego County's homeless numbers increased 5 percent to 9,116 in 2017, according to the Regional Task Force on the Homeless.
The problem is one faced by metropolitan areas on the West Coast and beyond.
In 2017, Los Angeles County saw a 23 percent jump in homelessness to 57,794 people, according to the Los Angeles Homeless Services Authority (LAHSA).
Meanwhile, national homeless numbers increased in 2017 for the first time in seven years, with California accounting "for nearly half of all unsheltered people in the country in 2017 (49% or 91,642 people)," according to the Department of Housing and Urban Development.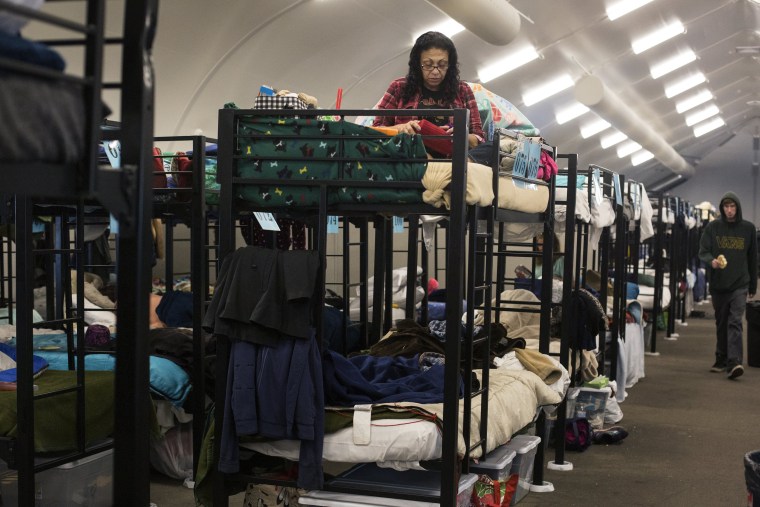 For their part, Seidler and Shea's group put up the $1.6 million to build the emergency bridge shelters, Shea said. The $6.5 million operating costs that cover the first seven months are being paid for by the city.
Since the tents were opened in December, the infection rates have decreased, adding to an ongoing downward trend. Through the crisis, the county and city have distributed vaccines, put in place over 100 hand-washing stations and a dozen toilets, and bleached the streets.
The Alpha Project Tent opened on Dec. 1 and is only a 10-minute walk from Petco Park. Two other tent structures have opened since, one operated by Veterans Village of San Diego, for confirmed veterans and another by Father Joe's Village, which is focused on families with children.
Shea said the group paid for the tents under the condition they stand for at least two years. Collectively, the structures can house up to 700 people at a time, with the goal to perform assessments and move residents who are able into more permanent housing within 120 days.
In the meantime, the tents may seem like an appealing alternative, but they're not for everyone.
"You have to be in the right mindset to come here, if you're coming from the streets. You have to want to follow rules," said Kimberly Mitchell, CEO of Veterans Village of San Diego.
Mitchell said that a group from Portland, Oregon, has already come to observe the tent as an option for their city, which also has a large unsheltered population.
"A year ago, the narrative was 'nobody cares' when Peter and I started, specific to the tents going up," Shea added. "Here are people that care, they just didn't know what to do before."