In a tribute to a beloved son and his grieving father, President Obama delivered a moving eulogy Saturday at the packed funeral for Beau Biden, the oldest child of Vice President Joe Biden.
"Like his father, Beau did not have a mean bone in his body," Obama told the hundreds of mourners and dignitaries at St. Anthony of Padua Roman Catholic Church in Wilmington, Delaware. "From his dad, he learned how to get back up when life got him down."
Beau Biden died of brain cancer a week ago at age 46. Obama called him a "consummate public servant" and a "man of character," adding that Beau always carried around a notebook so he could write down the problems his constituents voiced to him when the former Delaware attorney general ran into them outside of his office.
Photo Gallery: Vice President Bids Farewell to Eldest Son
From the tragedy the Biden family endured four decades ago — a car crash that killed Joe Biden's wife and baby daughter, and injured Beau and his brother — emerged a man dedicated to serving others, Obama said.
"Rather than use his childhood trauma for justification for a life of self-pity or self-centeredness, that very young boy made a very grown-up decision: He would live a life of meaning, he would live a life for others."
Beau "did in 46 years what most of us couldn't do in 146 years," and as a prosecutor, he 'defended the defenseless," the president added. He gave the vice president a tender hug after the eulogy.
Beau's sister, Ashley Biden, spoke after Obama, recalling how in first grade she drew a picture of what made her happy: "It was me holding hands with my two brothers, and I wrote, 'Happiness is being with my brothers.' It was true then, and remained true throughout my life."
Brother Hunter Biden also spoke, thanking his stepmother, Jill Biden, for making their family "whole again" when she married Joe Biden, and said he knew she would make them whole again after this loss.
Coldplay lead singer Chris Martin then performed a song called "Till Kingdom Come." He volunteered to sing after hearing through a family friend that Beau loved his band, the White House said.
The vice president did not take the stage at his son's funeral.
More than 1,000 guests were in attendance at the Wilmington church, with mourners spilling over into an overflow room.
Related: Grief From Both Sides of the Aisle After Beau Biden Dies
"How do you say goodbye to the finest young man anybody has ever known?" Father Leo O'Donovan asked earlier at the service.
Gen. Ray Odierno, the former top U.S. commander in Iraq where Beau was deployed, talked about the bond he formed with Beau when they served together, and described Beau's "natural charisma" that put other soldiers, Delaware residents, and people across the nation at ease around him.
"Beau possessed the traits I have witnessed in only the greatest leaders," Odierno said. "Beau was a soldier and a dear friend and also someone I greatly admired."
"He did in 46 years what most of us couldn't do in 146 years."
Gentle organ music played as guests sat down in the church, leaving no seat empty. Attendees include politicians from both sides of the aisle, such as Bill and Hillary Clinton, Senate Majority Leader Mitch McConnell, R-Ky., and Rep. Nancy Pelosi, D-Calif.
Beau's casket lay in honor in the state Senate chamber on Thursday. A public viewing was held at St. Anthony on Friday.
"The Biden family is Delaware's family," Delaware's Democratic Gov. Jack Markell said at Thursday's memorial, where Vice President Biden was visibly overcome by emotion as he stood by his oldest son's flag-draped casket.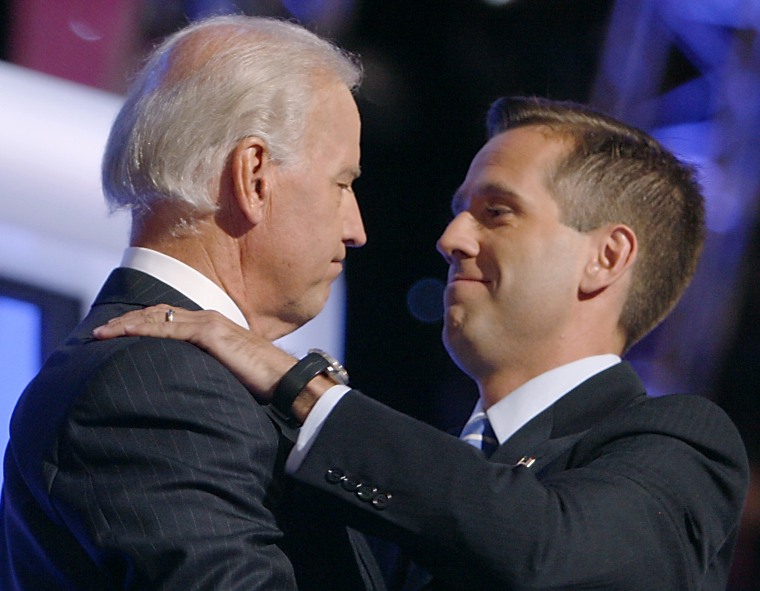 Beau was 3 years old when the car accident took his mother and sister. Since then, Vice President Biden became known for his ability to relate to families in mourning, and has been asked to eulogize many American leaders over the years.
Offering words of comfort to grieving military families in 2012, he spoke candidly about Beau's service in Iraq.
"When he came home — it's going to sound strange to you — we felt almost a little guilty because he came home," Biden said at the time. "Because there's so many funerals I've attended, so many bases I've visited. And you know, not all losses are equal. Not all losses are equal."
Related: Mourners Pay Respects to Beau Biden in Delaware
Beau had a stroke in 2010 and was diagnosed with brain cancer in August 2013. He had surgery and chemotherapy, but after the cancer returned this spring, he again sought treatment, according to the vice president's office. He was hospitalized at Walter Reed National Military Medical Center last month.
Beau was Delaware's attorney general from 2007 until earlier this year. As attorney general, he devoted himself to prosecuting a Delaware pediatrician who was accused of sexually assaulting dozens, if not hundreds, of children.
"The children of Delaware are safer for generations to come," Markell said Thursday.
Last week, the Beau Biden Foundation for the Protection of Children was established to continue his efforts to shield kids from sexual predators.
Beau is survived by his widow Hallie and their two children, Natalie and Hunter. A flag at the White House was at half-staff Saturday in his honor.
Obama joked in his eulogy about how similar Beau was to his father in looks — and his dedication to public service.
"But he was an upgrade: Joe 2.0," Obama quipped.