The JetBlue flight attendant charged with trying to smuggle almost 70 pounds of cocaine onto a flight — and hot-footing it without her Gucci shoes during a security screening — appeared Thursday in a federal court, where a family representative said she is a "good girl" who may have been duped.
"She may not have been fully aware of what was in the bag," Allan Jennings, a spokesman for relatives of Marsha Gay Reynolds, said outside the courtroom.
He could not explain why Reynolds, a former Jamaican beauty queen and NYU grad, bolted from Los Angeles International Airport if she didn't know the two carry-on roller bags she left behind contained $3 million of plastic-wrapped white powder.
The 32-year-old traded designer heels for gray laceless Converse sneakers for the arraignment in Brooklyn federal court. Wearing jeans and a polka-dot sweater, she spoke only once in a barely audible voice to answer a question from the judge.
Prosecutors declared her a "flight risk" and asked the judge to keep her in custody until she is moved to California to face drug charges that carry a mandatory minimum sentence of 10 years in prison.
They said her unnamed co-conspirator has ties to Jamaica and was trying to flee the United States as recently as Wednesday night, possibly with forged travel documents.
Defense lawyers noted that Reynolds — a U.S. citizen born in Jamaica to a nurse and a police officer — surrendered on Wednesday and said she posed no public danger.
The judge approved a $500,000 bail package secured by her mother's and pastor's homes, but her release was put on hold for at least a day to give prosecutors in California a chance to appeal.
If she is freed, Reynolds will be confined to her home in Queens except for nursing-school classes, meetings with her lawyers and court appearances in California.
Prosecutors revealed that JetBlue has suspended her pending the outcome of the case.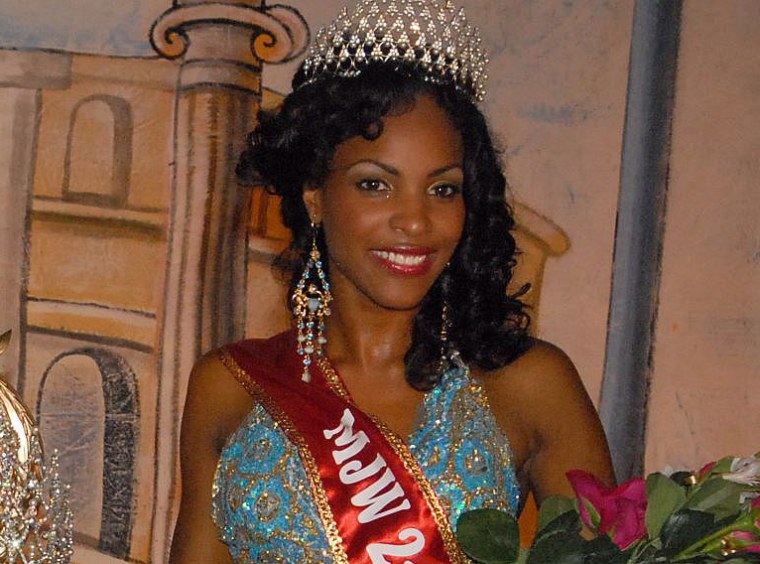 Reynolds' relatives, who prayed outside the Brooklyn Federal Court room where she was arraigned, declined to comment.
"She a good girl who comes from a good family," Jennings said outside the courtroom. "She's done everything right in her life up to this point."
"More to the story is going to come out," he said.
He confirmed that Reynolds was a runner-up in the Miss Jamaica Universe and Miss Jamaica World beauty pageants in 2007 and 2008 and said she ran track at NYU, where she got a bachelor's degree.
She worked for JetBlue for six years, he said, and was working toward a nursing degree.
According to court papers, Reynolds showed up at LAX on Friday evening, flashed her crew member ID to get through security and was randomly selected for a bag check.
She became visibly nervous, made a phone call to someone, and lagged behind the security agents escorting her to a special screening area — before flinging off her designer shoes and running down the up escalator to escape, according to a criminal complaint.
The TSA agents didn't chase Reynolds because they were focused on the bags she left behind, the complaint says.
Reynolds returned to LAX the very next day and was able to board a flight to New York while the investigation was underway.
A police report of the incident shows that even through Reynolds' ID had been scanned, there was initial confusion over her identity. The report suggested she might be an American Airlines employee, which turned out to be wrong.
Reynolds' defense lawyer, Dennis Ring, said that after she got back to New York, she got in touch with federal authorities and made plans to return to California and surrender there.
But the case drew so much media attention, that plan was scrapped and she turned herself in, with her mother in tow, in New York, Ring said.
"She turned herself in because she really thought that was the right thing to do," Jennings said outside the courthouse.