More than a dozen people were injured Friday in an explosion at a Beechcraft aircraft manufacturing plant in Kansas that caused part of a building to collapse, according to officials.
A 3-inch nitrogen line ruptured, causing the 8 a.m. explosion at the Wichita plant, Sedgwick County fire chief Daniel Wegner said during a morning news conference. The rupture only affected Plant 3, although a second vessel was damaged and venting nitrogen gas, according to a Sedgwick County press release.
There were 15 injuries. One injury was potentially serious.
John Gallagher, the county's emergency services director, said 11 people were taken to nearby hospitals and four were treated at the scene. No one was killed, and James Fromme, a chief for the Wichita Fire Department, said there were no reports of anyone trapped in the building.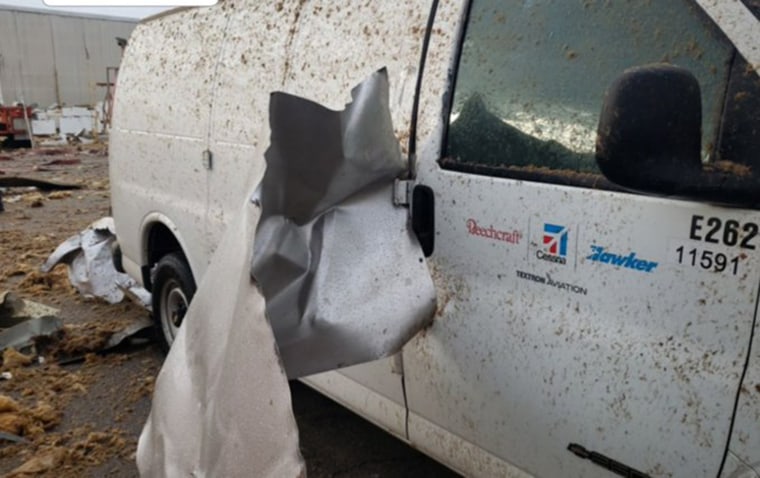 "The plant closed or shut down for the holiday season so the numbers that would have been here, were not, so it was a skeleton crew," Wegner said.
The Wesley Medical Center said Friday that it had treated five patients from the explosion. Two were treated and released with minor injuries and the other three were admitted in stable condition, spokesman Dave Stewart said.
Stephanie Harder, a spokeswoman for Beechcraft's parent company, Textron Aviation, said the building that partially collapsed houses composite manufacturing and experimental aircraft operations.
"Our primary concern is obviously for all of the employees and contractors and visitors on site during this incident," Harder said. "Difficult day. Difficult news," she added.
Officials are investigating the explosion and monitoring for any residual effects. All contractors, employees and visitors to the plant have been accounted for.