SEATTLE — A Washington state woman on Thursday claimed a $90 million Powerball lottery jackpot after buying a ticket for the first time, and said she would quit her job at plane maker Boeing Co and buy a new Subaru.
Lisa Quam, who bought her ticket at a grocery story in Auburn, south of Seattle, had the six correct numbers in Saturday's multi-state drawing, the lottery said in a statement.
"Sent out an email to my co-workers and friends at work this morning and told them what a pleasure it was to work with them and to check the news today, and they'll come to an understanding of why I am writing this note," Quam said to laughter at a news conference in Olympia.
Quam and her husband bought two Powerball tickets on a Thanksgiving Day run to buy a newspaper and pumpkin spice, the lottery's statement said. She posted the tickets on the refrigerator and checked the numbers on Sunday.
"I yelled to my family, 'Get up here!' They all thought I was mad and angry about something," she said in a statement through the lottery. "My daughter asked, 'Is this an emergency?' and I said, 'Yes!'"
Quam has not decided whether to collect the prize as a lump sum, which would amount to roughly $56.8 million, or as an annuity of 30 payments.
The largest-ever Powerball jackpot was for $590.5 million and went to the holder of a single winning ticket last year. Quam is the first ever Powerball jackpot winner in Washington state.
"We have student loans just like every family, house repairs. Maybe we'll buy a house for one of the kids," she said when asked by reporters about her plans.
Quam said she expected to travel more and had already identified her next new car: a Subaru Forester.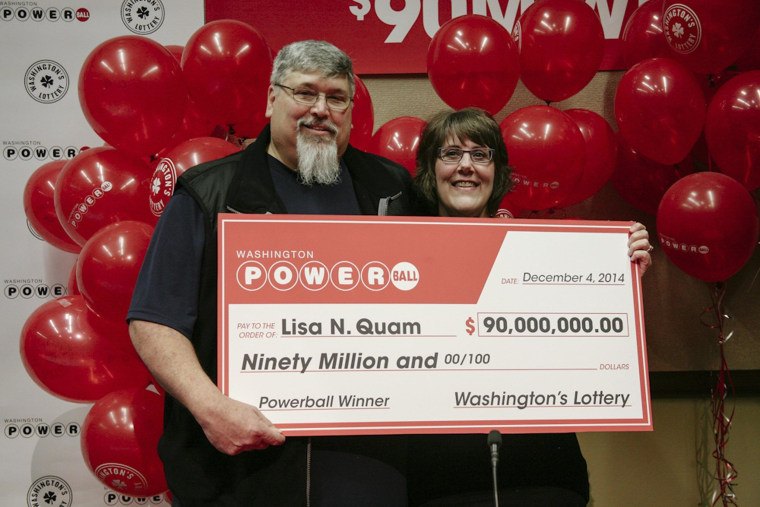 IN-DEPTH
— Reuters