A volunteer for Ben Carson's Republican presidential campaign died Tuesday after a van carrying four staff members flipped over on a patch of ice in Cass County, Iowa, and was rammed by another vehicle, hospital officials confirmed Tuesday night.
Carson immediately suspended his campaign for at least two days to travel from South Carolina to Omaha, Nebraska, where Braden Joplin, 25, was rushed for treatment at the University of Nebraska Medical Center, the campaign said.
Joplin died at 4:30 p.m. (5:30 p.m. ET), the hospital said. The other passengers — Drew McCall, a field director for the campaign, and volunteers Aaron Ohnemus and Ryan Patrick Shellooe — weren't seriously injured and were released from a local hospital, the campaign said.
Joplin, of Midland, Texas, was a student at Texas Tech University, NBC station KWES of Midland reported. The Carson campaign said it would cover travel expenses to Omaha for Joplin's family in Texas.
Speaking to reporters Tuesday night in Omaha, Carson called Joplin "an amazing young man."
"I just hope that maybe his death might help some people to think about the hardheartedness that has infested our land," Carson said. "People are just mean, and they just say things to try to hurt people. They don't care about anybody but themselves."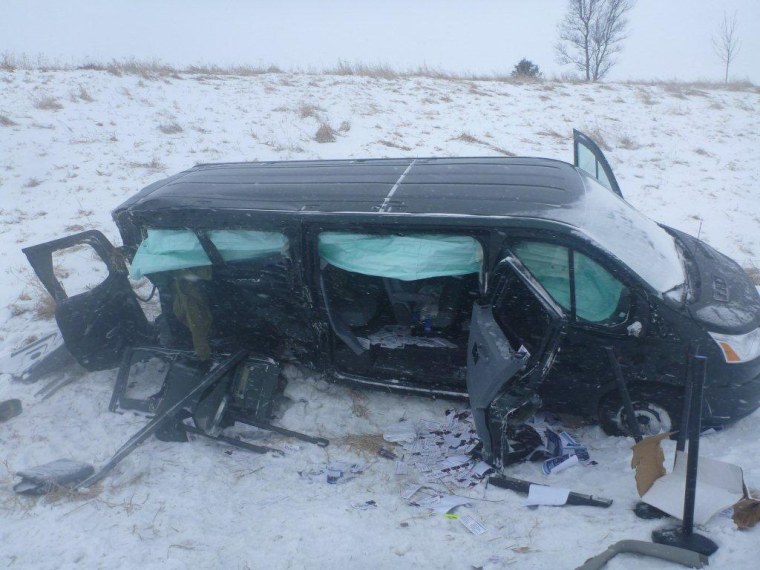 Joplin was "just the opposite of that," he said. "And I hope his death will not be in vain."
Carson was campaigning Tuesday in South Carolina when he got the news and canceled the rest of his schedule for the day, as well a scheduled event Wednesday in California. The campaign projected that he would return to campaigning Thursday in Iowa, where the critical Republican caucuses are scheduled Feb. 1.
Other candidates, including Republican Sens. Ted Cruz and Marco Rubio and Democratic former Secertary of State Hillary Clinton, and Donald Trump's campaign manager sent their prayers and wishes Tuesday: