Everybody's a critic — including Bernie Madoff.
In an email to NBC News, Madoff took umbrage over ABC's portrayal in a recent mini-series of his life and crime. The 77-year-old pleaded guilty in 2009 to running a Ponzi scheme and stealing $17.5 billion from investors. He is serving a 150-year sentence.
"I'm sure it is fruitless to enumerate the numerous fiction and absurd mischaracterization (sic) in the ABC movie," he wrote. "However I have never been one to turn the other cheek. I will just cover those incidents that have drawn queries."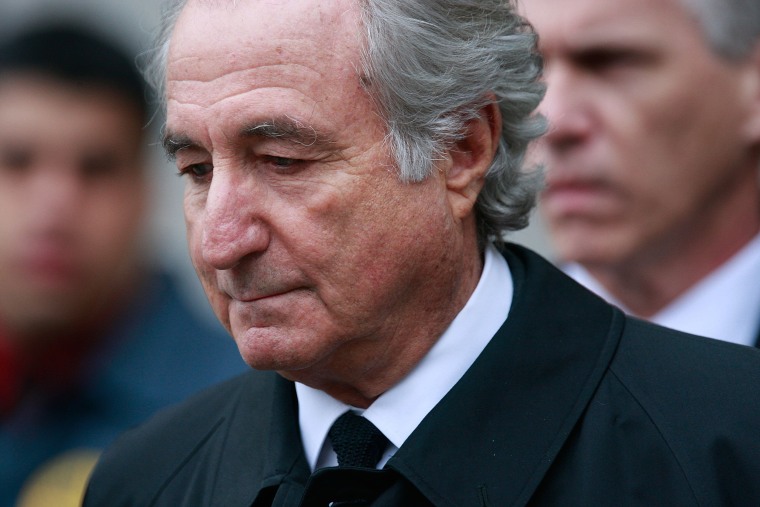 First, "I have NEVER slapped my son Mark," wrote Madoff.
Mark Madoff hanged himself in 2010, two years after his dad was arrested for running the fraud scheme that wiped out the savings of thousands.
Madoff insisted his wife Ruth was never "an officer" in his shady firm and took issue with how his brother Peter came off in the series.
"My brother was improperly characterized as pathetic soul," he wrote. "In reality, Peter was a brilliant and important leader of our market making and proprietary division. His outstanding creation of our technology platform was the envy of wall (sic) street (sic)."
Peter Madoff is currently serving a 10-year sentence for his role in the scheme.
Madoff had other gripes. Once again he denied having an affair with the chief financial officer of a Jewish charity he swindled, dismissing the woman as a "stalker." He said he never bought his brother a car. He also said his parents were never the subject of gossip while he was growing up in Queens.
"In fact they were highly regarded in our community," he insisted in the email. "My father was the president of the temple."
Madoff took no issue with Richard Dreyfuss' portrayal of him in the mini-series, which aired earlier this month. Nor did he try to absolve himself of his crimes.
"Yes I made a disasterous (sic) business mistake that caused unforgiveable (sic) pain to my family, friends and clients, and will continue to do everything in my power to recover their lost investment principal," he wrote.
Madoff is incarcerated at the Butner Federal Correctional Complex in North Carolina where the captured conman now makes $40-a-month pushing a broom in the prisoners' common area. He is also a frequent emailer who has reached out to reporters in the past about how he has been depicted in the media.