NEW YORK — Beto O'Rourke acknowledged publicly on Monday night what polling and outside observations of his campaign have shown for some time: He can and must do better at getting his message out across the country if he hopes to break through in a crowded Democratic field.
"I recognize that I can do a better job, also, of talking to a national audience," the former Texas congressman told Rachel Maddow in an interview.
O'Rourke's breakneck campaign pace — hitting 15 states in his first eight weeks as a candidate — and taking hundreds of questions at more than 100 town hall events have helped him build a loyal grassroots following, but have not sustained the kind of top-tier poll numbers and broad national enthusiasm that greeted his entry to the race, or his Texas senate campaign.
"I hope that I'm continuing to do better over time. But we have been extraordinarily fortunate with the campaign that we have run so far," O'Rourke told Maddow.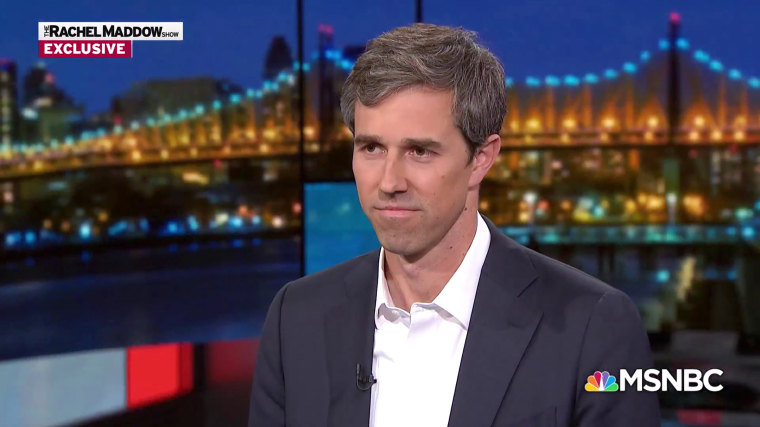 To that end, O'Rourke has embarked on a much more active media and fundraising strategy in recent days: sitting down with Maddow on Monday, the hosts of The View on Tuesday morning and more national media appearances are in the works.
On Monday night, O'Rourke also held his first major fundraising event in New York. A second will follow Tuesday in Houston, with a third planned for Chicago in June — buttressing a formidable online fundraising apparatus already in place.
O'Rourke told Maddow he thinks his style of radical transparency — live–streaming everything from the fundraiser Monday to his drives in a rental car across the early primary states — has given him a connection with voters that he can build on, and learn from. But significant work remains to build his name and brand outside of the Lone Star State.
"It will take a lot of time, a lot of miles. A lot of hours," O'Rourke said. "But I'm willing to put in the work. And so far we have, and I'm very pleased with the results."