Education Secretary Betsy DeVos said Thursday that the Obama administration's guidance for how campuses address sexual assault "failed too many students" and announced that she intended to replace the department's current approach "with a workable, effective and fair system."
DeVos said the system needed to do more — for survivors of sexual assault and to ensure fair due process for the accused.
"Every survivor of sexual misconduct must be taken seriously. Every student accused of sexual misconduct must know that guilt is not predetermined," she said.
DeVos said the department would begin soliciting public comment on how it might change the process, but did not immediately rescind the guidance put in place by the Obama administration.
"The truth is that the system established by the prior administration has failed too many students," she said during remarks at George Mason University in Virginia. "Survivors, victims of a lack of due process and campus administrators have all told me that the current approach does a disservice to everyone involved."
DeVos announced that her department would be launching "a transparent notice-and-comment process to incorporate the insights of all parties in developing a better way."
"We will seek public feedback and combine institutional knowledge, professional expertise and the experiences of students to replace the current approach with a workable, effective and fair system," she added.
The secretary added that there was also a need to be "more precise in the definition of sexual misconduct."
Related: What's at Stake as DeVos Weighs Campus Sex Assault Guidance?
"Schools have been compelled by Washington to enforce ambiguous and incredibly broad definitions of assault and harassment," she said, adding that too many students and faculty had been investigated for "simply for speaking their minds or teaching their classes."
"Any perceived offense can become a full-blown Title IX investigation, but if everything is harassment then nothing is," she said.
DeVos' announcement drew criticism from advocates for survivors, who feared any impeding changes would roll back key gains made by the Obama administration to prioritize combating campus sex assault.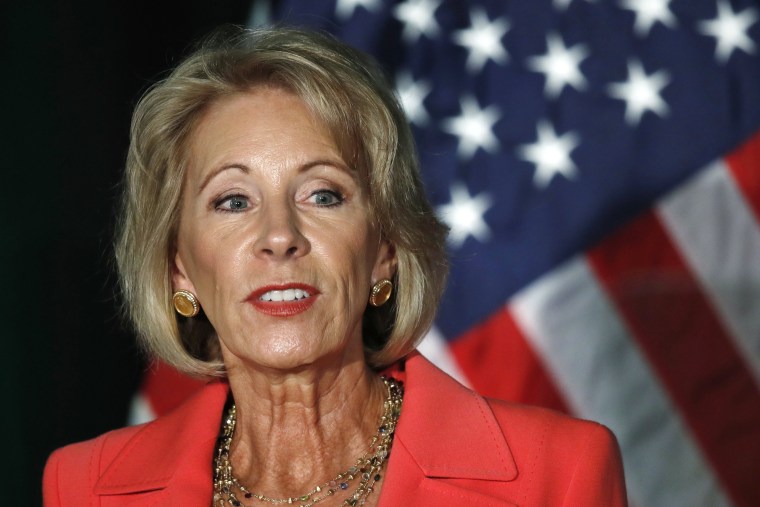 Alexandra Brodsky, a legal fellow at NWLC, told NBC News she felt DeVos made "false equivalencies between the experiences of survivors and the experiences of accused students" and "misrepresented" Obama-era guidance.
Jessica Davidson, managing director of End Rape on Campus, staged a protest outside the event along with a couple dozen survivors, family members and advocacy groups. She criticized that the event was private and that no survivors' groups were invited for the announcement.
Meanwhile, advocates who have argued that the accused do not always receive fair investigations under the previous administration's guidance welcomed DeVos' new approach.
"One of the reasons why we've been so concerned about this is because the current approach has really badly undermined due process on college campuses," said Joe Cohn, legislative and policy director for the Foundation for Individual Rights in Education.
"I think that here we have for the first time in my memory an education secretary who acknowledges that this is an issue that requires us to care about everyone on all sides of it," he added.
Related: Education Official Apologizes for Sex Assault Comments
Cynthia Garrett, co-president of Families Advocating for Campus Equality, said she believed DeVos' remarks showed she was not trying to undermine victims' rights.
"Despite some victim advocates' criticism of Secretary DeVos' remarks, the Secretary exhibited a very clear understanding of the needs of sexual assault victims, and has no intent to deny them the protections they need," she said in a written statement.
DeVos said Thursday the Education Department under Obama had "issued letters from the desks of unelected and unaccountable political appointees" instead of engaging the public on controversial issues.
"Instead of working with schools on behalf of students, the prior administration weaponized the Office for Civil Rights to work against schools and against students," she said.
The Obama administration issued a 2011 "Dear Colleague" letter from the Department of Education's Office for Civil Rights as part of a larger effort to increase schools' obligations under the federal statute Title IX. That letter called on colleges and universities to increase efforts to investigate and adjudicate allegations of sexual assault under Title IX — or risk losing federal funds.
Opponents have taken issue with the letter's call for institutions to use the "preponderance of evidence" standard of proof in such cases, instead of the higher standard of "clear and convincing evidence."
Title IX of the Education Amendments of 1972 is a federal statute intended to protect people from sex discrimination in education programs or other activities that receive federal financial assistance.
Schools are legally required to respond to sex discrimination complaints under the federal civil rights law, which is enforced by the Education Department's Office for Civil Rights.
In July, DeVos held three 90-minute listening sessions with advocates for survivors of campus sexual assault, the accused and officials in higher education.
During DeVos' investigation of the issue, she faced criticism over comments her department's civil rights chief made regarding campus sexual assault.
Candice Jackson, the acting assistant secretary for civil rights, apologized in July for saying in an interview with The New York Times that "90 percent" of campus sexual assault accusations develop out of drunken sex or breakups.
The remarks were published just one day before DeVos' listening sessions on Title IX enforcement.