Education Secretary Betsy DeVos on Tuesday rolled back two Obama-era memos intended to help protect student loan borrowers.
Student loan contracts aren't serviced in-house by the Federal Student Aid Office. Instead, they are managed by third-party companies, which are awarded contracts by the government. Before the Obama memos, those contracts went to companies that were best at collecting debts.
Rather than rewarding companies that cashed in on debts, the now-rescinded Obama guidance incentivized a good track record and sought to award contracts to companies with a history of helping borrowers.
Related: Security for Betsy DeVos Costing Education Dept. Nearly $8M for 8 Months
While the Obama memos sought to give borrowers more options, transparency and better services as a means to prevent them from defaulting on loans, DeVos said that withdrawing the memos is intended to limit "the cost to taxpayers" and "increase customer service and accountability."
DeVos' withdrawal memo cited "a lack of consistent objectives" as the reason for rescinding the previous administration's guidance.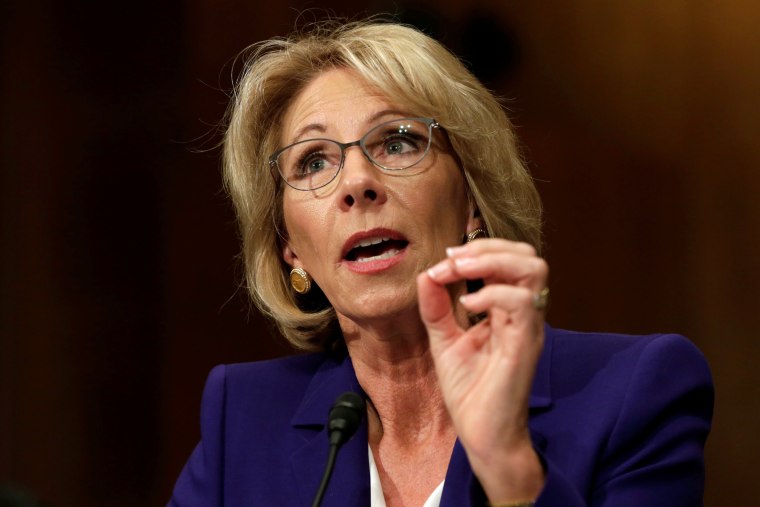 The Department of Education did not immediately respond to NBC News' request for comment.
So what does DeVos' move mean for those who have loans?
Attorney Adam Minsky, who has dedicated his practice to helping those with student loans, said the withdrawal only creates more frustration for the borrowers.
"[The Obama memo] alerted servicers that how they deal with borrowers — the outcomes would be a factor in if they're awarded a contract," Minsky told NBC News. "[The memo said,] 'We're going to consider that.' And the idea there was to incentivize the servicers to work harder to help borrowers."
Now, borrowers are going to have to work much harder to figure out the best way to repay their loan and research programs that might benefit them, he said.
Related: DeVos Slammed as 'Totally Nuts' for Calling HBCUs 'Pioneers of School Choice'
Student loan expert Heather Jarvis said the changes Obama made were long overdue, and walking them back sends a message to borrowers that the government values the businesses over those with loans.
"I don't understand how it's costly to taxpayers — it costs taxpayer money when borrowers default on loans and don't pay their loans."
"Borrowers don't get to decide who their servicers are and [the servicers] can make your life miserable if they're not doing a good job, and they're not," Jarvis told NBC News. "For years, the government was content to award contracts based on the collection success of servicers. But Obama became aware of the problems students and families face and decided we want you to do better."
Jarvis said because the contracts are lucrative, companies will be responsive to the signals the government is sending.
Another issue Jarvis and Minsky took with the DeVos memo is the justification for the withdrawal.
Minsky said DeVos' logic doesn't make sense, as taxpayers aren't affected by the provisions in the Obama memos, but are affected by borrowers defaulting on loans.
Related: Betsy DeVos Cites Grizzly Bears During Guns-in-Schools Debate
"I don't understand her reasoning," Minsky said. "I don't understand how it's costly to taxpayers — it costs taxpayer money when borrowers default on loans and don't pay their loans. She certainly hasn't, I think, made an effective argument to justify saving money."
Jarvis called the withdrawal "ridiculous," adding that student loan borrowers are American taxpayers.
Jarvis and Minsky offered the following advice to those who currently have student loans and could be impacted by DeVos' withdrawal of the Obama guidance:
Do homework to find out what plans you are eligible for; don't rely on your servicer to provide you with the correct information
Don't take advice from your debt collector
Keep meticulous records of your loan
Ask to speak with a member of your servicer's management, rather than the customer service representative who answers your call
If you have a dispute, try to send it to your servicer in writing
Contact the student loan ombudsmen group at the Department of Education — it's their job to resolve conflict between borrowers and servicers
Contact your local representative and make them aware of existing problems with your servicers
In a statement, the Consumer Financial Protection Bureau, a government agency charged with protecting consumers from unfair, deceptive, or abusive practices in the financial sector, said borrowers deserve the best possible service from those issuing their loans.
"Borrowers deserve to be treated fairly and should be able to repay their debt without having to deal with illegal loan servicing practices. The CFPB will continue to find ways, working with all of our partners, to support and protect the 44 million Americans with student debt," a CFPB spokesperson said in an email to NBC News.
Jarvis agreed, saying to treat the borrowers fairly isn't asking for much.
"[Obama's memo] was the least they could do, and it was hardly anything," Jarvis said. "It wasn't a requirement, and I think pulling that back — it's a signal to big businesses that [the government is] on your side. You're more important to us than student loan borrowers."