A planned all-wood replica of Noah's ark got a step closer to its Old Testament ideal on Thursday, when workers lifted yet another rib of the would-be vessel into place in a Kentucky pasture.
The future tourist attraction is called Ark Encounter — centered around a 510-foot-long ark, which the builder, a Christian ministry called "Answers in Genesis," says "will be the largest timber-frame structure in the world" when it's completed next summer.
Builders are betting big that millions of visitors will flood the Williamstown, Kentucky, attraction. Ken Ham, president of Answers in Genesis, told WLWT he expects up to about 2 million visitors per year.
"I believe it will be one of the biggest attractions outside of Disney, Universal, people like that — it's going to be one of the biggest attractions in this country."
Ham said the ark, which is being built according to dimensions provided in the Bible for the vessel that survived the worldwide flood, will house three stories of exhibits, while the fourth floor is planned to be a restaurant.
According to the project's website, "additional future phases for the attraction include a Walled City, the Tower of Babel, a first-century Middle Eastern village, a journey in history from Abraham to the parting of the Red Sea, a walk-through aviary, an expanded large petting zoo, and so on."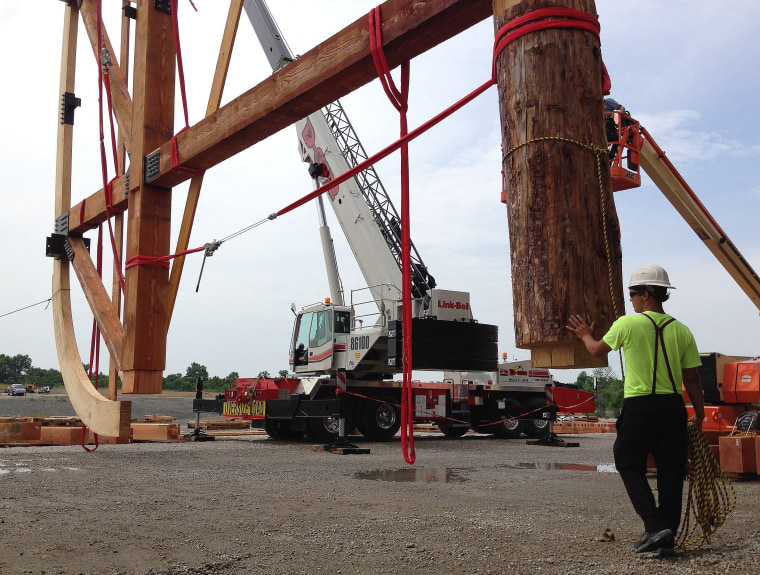 But — not unlike the ark in the Bible — this structure has attracted its own share of criticism. Last year, the state of Kentucky withdrew its offer of tax breaks for the attraction.
"State tourism tax incentives cannot be used to fund religious indoctrination or otherwise be used to advance religion," Kentucky Tourism Secretary Bob Stewart wrote in a letter in December.
And Bill Nye "The Science Guy," who debated Ham about creationism last year, has argued the project would hurt science education.
Answers in Genesis sued Kentucky tourism officials in February, claiming the decision to deny the tax breaks violated the group's First Amendment rights. That suit is still pending, but the construction is moving forward, as organizes plan to open the attraction next summer.