LOS ANGELES — Lighting is everything to Gabrielle Robinson.
Adjusting two bright softbox lights in the space behind her navy blue sofa — the area in her apartment she's designated her "studio" — she prepared to film an unboxing video.
On this day in mid-February, Robinson, 21, propped her camera in the nook of the back of her sofa in order to film the short video of herself opening the package sent to her from the short-form video app TikTok, which contained pink and black swag embellished with the company's logo.
"Light's obviously the most important part," the University of Southern California senior said as she knelt on a white shag rug, wrapping her pink manicured nails around her iPhone. "If you don't have good lighting, like, what do you have?"
The apartment is set up as the perfect backdrop for the social media videos and posts that Robinson, a paid TikTok ambassador at USC, creates. The white walls are decorated with the words "Good Vibes" formed by a string of purplish, blue LED lights, while another string of white lights glimmered around the perimeter of the ceiling.
TikTok is just one of approximately five ambassadorships Robinson has accrued since getting serious about content creation two years ago. In that time, she has built a social media presence, from which she earns enough money to offset some of her college expenses.
At USC, social media influencing and content creation are more than just a hobby for a select group of students — it is seen as a viable career path. While there is no major that focuses on this growing multibillion-dollar industry, USC is ahead of the curve in creating curriculum to bring influencing into the world of academia. The school offers an Influencer Relations class within the school of communications and an on-campus social media influencing club called Reach.
Robinson hopes that one day she can parlay her side gig into a full-time career and she's well on her way, thanks to the guidance and support from her peers in Reach who've already helped her grow her brand.
"Reach has given me a crazy amount and a lot of opportunities in the social media space," Robinson told NBC News. "I'm a college student first and foremost, but everything circles back to Reach for me."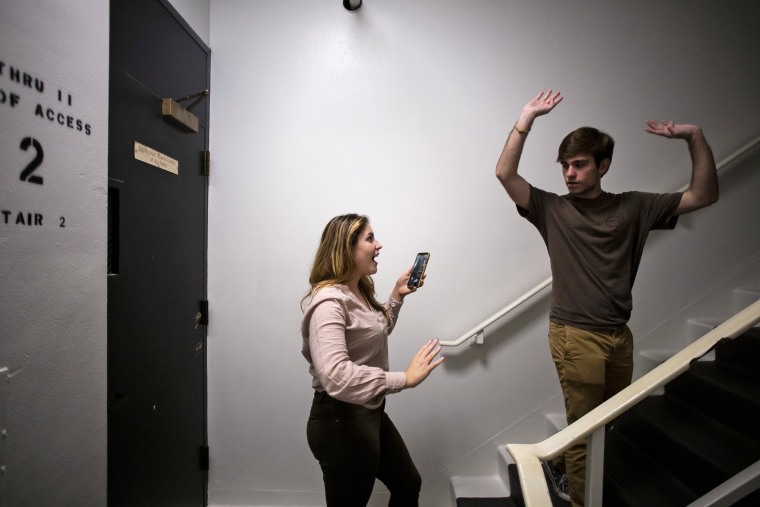 The influencer marketing industry, worth approximately $8 billion in 2019, is projected to be worth up to $15 billion by 2022, according to a Business Insider Intelligence report, which is based on Mediakix data.
With about 59 percent of global marketers saying they've increased their budget for influencers, according to the report, the students at USC are demanding to learn how to navigate an industry that has little academic foundation yet is exploding in growth.
That's where Influencer Relations comes in.
Last spring, Robert Kozinets, a professor of strategic public relations at USC's Annenberg school for communication and journalism, started a full-semester course focused on the influencing industry. The class, which Kozinets believes is among the first of its kind, looks at the industry from the public relations perspective but some students say the skills learned in the class are applicable to the influencing side as well.
"I think we're just starting to see this emerge into the phenomena that it's going to become. So I think this is a huge area. I can tell you the students who are focusing on these areas are not having a problem finding jobs here in Los Angeles and in other places," Kozinets said. "They're in demand."
Despite a former member of the USC community, influencer Olivia Jade, 20, suffering a public scandal when her parents, "Full House" actress Lori Loughlin and fashion designer Mossimo Giannulli, are accused of paying $500,000 to fraudulently get Olivia and her sister, Isabella Rose, 21, admitted to the school, students said the reward of a career in social media is more enticing than the risks.
"I personally don't care about what other people think. So if something bad were to happen, I mean, it's still PR. They say that all the time. Bad PR is just more PR," Robinson said.
A club for content creators
Reach is where student content creators, social media managers and others interested in a career in the social media space meet in order to hone their craft and network.
It is not a club for hobbyists.
The approximately 30 student members were selected following a rigorous application process by the group's board, and only about 10 students are admitted into the club per semester.
"It's not really for somebody who's looking to build social media when they have no knowledge on it. We expect that you already have a level of knowledge going in," Robinson said. "So it can be a little bit competitive."
When Robinson learned about the group in 2017, the year it was founded, from her then-roommate, she could already foresee the opportunities the group could offer.
The first Reach meeting for 2020 was held in mid-February in a classroom in Waite Phillips Hall where students watched a presentation on how to go viral on TikTok.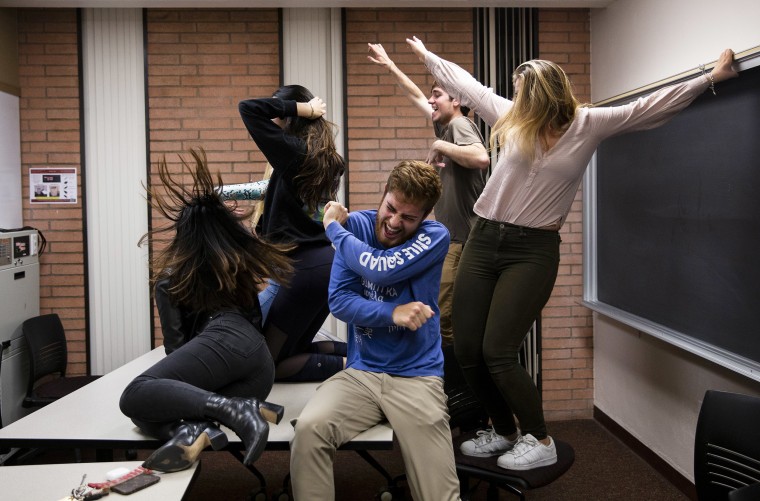 The students filled rows of seats behind long white tables and sat with their eyes fixed on the presentation about the app that was still in its infancy as an influencing platform the year prior.
Alan Chikin Chow, 23, a USC grad and a former Reach member who now works in content creation, and Mia Finney, the current vice president of Reach, opened the discussion by asking the group members their thoughts on the platform.
"I hated it, but now I love it, and I can't get the TikTok viral songs out of my head," one student said.
A chorus of students echoed in agreement and they went on to discuss the marketing and influencing potential of the app.
Robinson said that during her internship with Warner Brothers, she'd observed the company using TikTok to market the music in films.
"It goes to show college kids can use it, and so can big companies," she told the room. "It's interesting for the marketing and money side of it."
During their "TikTalk" presentation, Chow and Finney played a series of viral TikToks that they had either found or created and discussed what they felt had propelled them to success.
Shortly after, members broke into groups to create their own TikToks that would be assessed at the next week's meeting. Some filmed skits, others lip synced to singer Doja Cat's song "Cyber Sex," while others learned the choreography to the wildly viral "Renegade" dance.
In the past, Reach focused on teaching its members how to network, build a personal brand and market themselves on social media. But this semester, club president Kalina Benhamou said, the focus would lean heavily on content creation.
While the teaching elements of Reach are vital to its mission, Benhamou said, in her opinion, the club's most important element is the "community of people who want to learn and who understand the business potential of social media."
"It's really a group of people who want to use social media as a business platform, monetize, make a career out of it and we all work together, teach each other, learn from each other, collaborate," she said. "It's really fun."
Reach is more than a club to learn social media tips and tricks — members also gain access to a host of guest speakers and field trips that can be vital to growing their brands. In the past, Reach has had speakers from social media giant Facebook and social media consultancy Fullscreen and recently took a trip to visit the Google campus.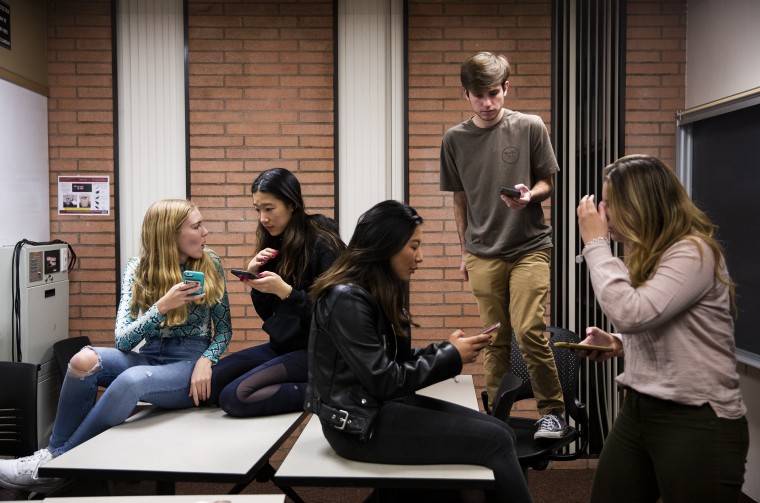 Influencer relations in the classroom
Students shuffled into a lower level classroom in Wallis Annenberg Hall on USC's campus on an evening in mid-February, eager for the fifth lesson from Kozinets in the much sought-after Influencer Relations class.
Kozinets had held the inaugural class a year earlier as a graduate-level course but this semester, undergraduate students were permitted to enroll.
Kozinets is clear — the course doesn't teach students how to become influencers. It is instead about the public relations of influencing and how to manage brands.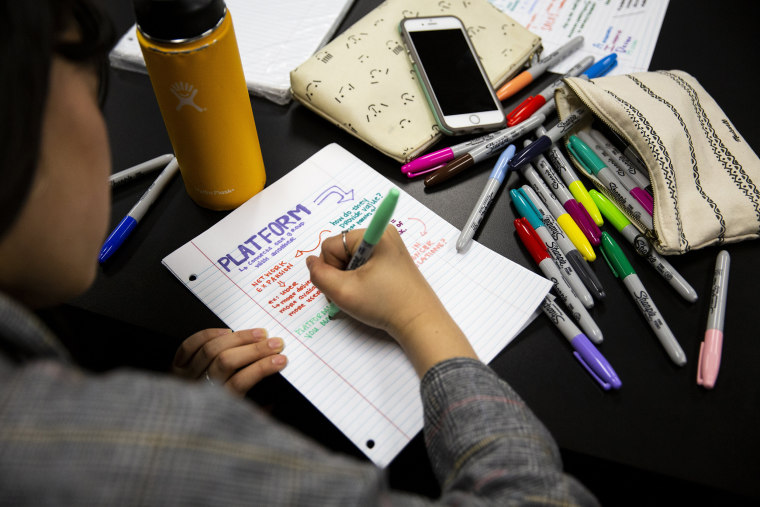 "So we're trying to put together all of these different sorts of tools into a toolkit that students can apply to the question at hand, which is how do you run successful campaigns? How do you find good influencers? How do you manage this? How do you think about it?" Kozinets said. "And, of course, all of that is framed in the world of public relations, which is about crisis communication."
After a lecture by Kozinets on how companies track their social media reach by monitoring analytics, a guest speaker led the class in a discussion about authenticity — asking the class to analyze an apology video by makeup influencer James Charles.
Kozinets has been studying influencers since their inception at the dawn of the internet in the early 1990s. But it was in 2015, when he joined the faculty of USC, that the industry of influencing began to solidify, and Kozinets first started to see the potential to structure a course around the growing market.
"If you look, the growth year over year is substantial and here in America, the latest statistics say that it's somewhere around a $10-to-$15 billion industry this year. It's at least that large in China and worldwide, we have to be talking about an industry that's $50 billion or more," Kozinets said.
The topic of an influencer class first came up during faculty meetings in 2017.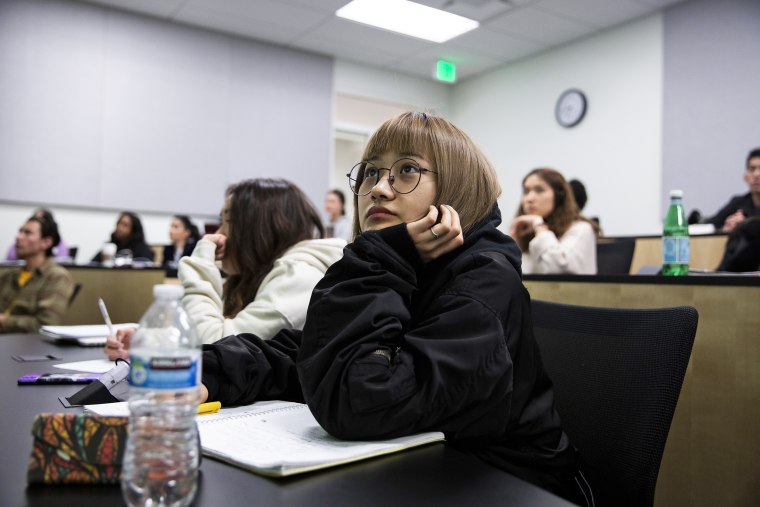 "We kept talking about how this was important and we really didn't have enough material to satisfy the needs of students," Kozinets said. "And so in 2018, I proposed to the school that we have a full length course on, on influencers."
The course was held for the first time last spring, and already Kozinets has had to modify the syllabus to keep up with the ever-evolving social media landscape.
"Last year, we didn't even mention TikTok," Kozinets said. "Now, TikTok is a part of almost every conversation that we have and so the ground has shifted."
To Kozinets' knowledge, his course is among the first to teach students how to manage brands and campaigns from the social media perspective.
The class is less intense when it comes to enrollment than Reach — students taking the class encompass a wide range from those studying public relations to those who are curious about influencer marketing to those already working in the space.
Cosette Rinab, 20, a TikTok influencer with more than 1.6 million followers on the app, said she's already applying lessons learned in Influencer Relations to her career.
"I'm still processing how a college campus offers this kind of course," she said.
Rinab said she initially didn't even think she'd get a spot in the class, knowing how many people on USC's campus were vying to get into what she called the most coveted class.
"It's so competitive, everyone wants to be in this class," Rinab, who is also a former president of Reach, said. "It was also the talk around campus. Everyone was like, 'I want to get into the influencer class!'"
Beyond USC
For Kozinets, the next step for the ever-evolving Influencer Relations course is writing a textbook so that other schools and professors can be privy to the knowledge of social media marketing as demand for the specific education grows.
"We're trying to systematize this knowledge so that other people can teach courses in it," Kozinets said.
Along with continuing to help its members grow their brands, Reach will also be taking on a new project: opening chapters at other schools.
As influencer circles grow on college campuses in California and across the nation, Benhamou said the group has been contacted by other students who want to expand Reach on to their campuses so they can reap the same networking and learning opportunities as the students of USC.
"They're really interested in what we do and I don't really know how they heard about us, but that's great either way," Benhamou said.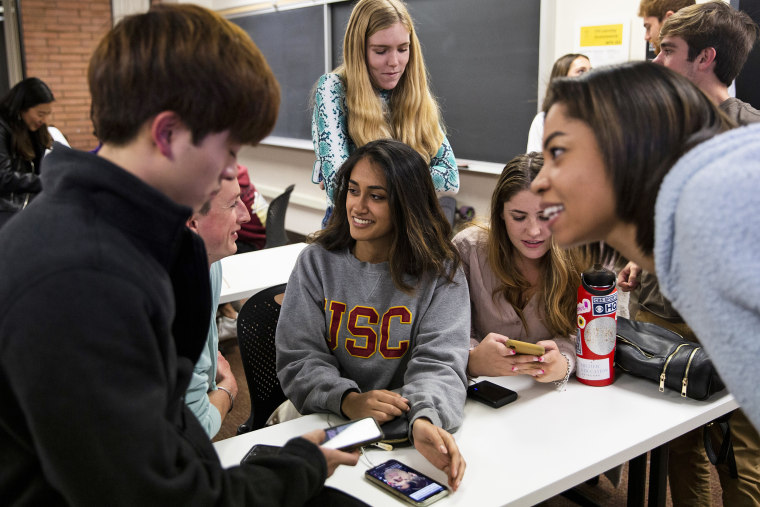 Reach founder Markian Benhamou, who is now a full-time social media content creator, is proud of what he's built at the school.
"It's awesome that the club is still alive even though I'm gone," he said after the February meeting.
Like many alumni of Reach, he still comes back to visit and share what he's learned running his own content creation group SMILE.
But while he is no longer enrolled at USC, he said it's exciting that his younger sister Kalina has taken up the helm of Reach and is continuing his mission of meeting the demand for education and information in the influencing world.
"All of our alumni members still have a very strong presence in what we do and help collaborate with everything that we do. And that's one of the biggest things that I value from Reach on top of everything — that we learn and teach each other," Kalina Benhamou said.