Two of the more than 170 bikers arrested following a deadly brawl and shootout at a Waco, Texas, bar last month are out of jail and speaking out, and their attorney called the mass arrests "un-American."
Husband and wife William and Morgan English posted a reduced bail of $25,000 and were released from jail Monday, but both are still charged with engaging in organized criminal activity, a felony that their attorney said carries a penalty of 15 years to life in prison.
"This whole thing is a sham," William English, 33, who is a former Marine and member of the Distorted Motorcycle Club, said in an interview with NBC affiliate KCEN. "I'm kind of upset that we had to pay to get out of jail when we did nothing wrong."
The couple was arrested along with more than 170 others after a brawl at the Twin Peaks Sports Bar on May 17 that left nine people dead and 18 others injured.
Related: AK-47 Among Weapons Found at Scene of Deadly Waco Biker Brawl
The violence erupted at a lunchtime meeting of motorcycle clubs at the bar, and spilled outside the business and involved chains, clubs and knives before a shooting broke out, police have said. Gunfire was also directed at police, who then returned fire, investigators said.
Authorities have not said what they believe sparked the brawl, but it may have been over a jacket patch, biker gang experts told NBC News. All nine of the dead were members of the rival Bandidos and Cossacks clubs, according to The Associated Press.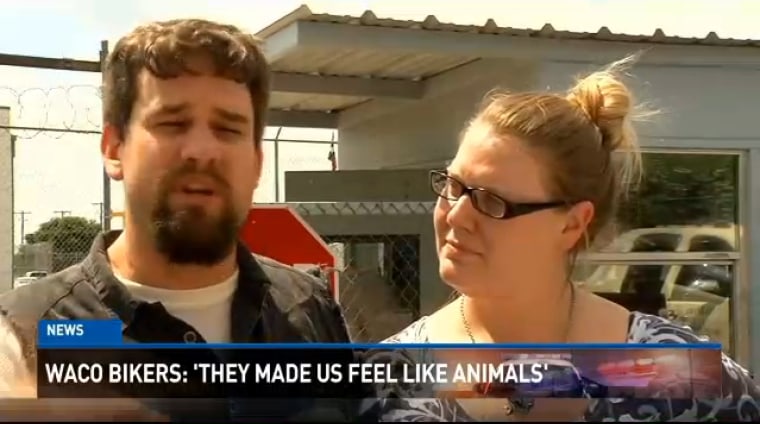 William and Morgan English told KCEN that they did nothing wrong, and arrived to the meeting late and then heard gunshots. "All the sudden I see a sea of people running towards me and we run around the building," Morgan English, 31, told the station.
Their attorney, Paul Looney, said the couple's cases will go to a grand jury. He called the mass arrests "the most un-American activity I've ever seen conducted by a law enforcement agency."
"These are great, salt of the earth people that formerly had the respect of the community," Looney told NBC News. "In their community they have been broadcast as being thugs and members of a secret gang."
Related: Outlaw Bike Gangs Prize U.S. Soldiers, Feds Say
Waco Police Sgt. Patrick Swanton defended the arrests Tuesday. "We wouldn't have a reaction to the opinions of people of which we have probable cause to put in jail," Swanton said in a statement to NBC News.
"It's pretty commonplace for arrestees to complain about being arrested," Swanton said. "Our investigation is continuing, and the justice system is working as it should."
None of the charges against those arrested have been dropped, but bonds have been reduced from $1 million in some cases, he said. The McLennan County District Attorney's Office did not return a call seeking comment.