NORRISTOWN, Pa. — Bill Cosby's retrial on sexual assault charges will be delayed until the spring to allow his new high-profile legal team to get up to speed.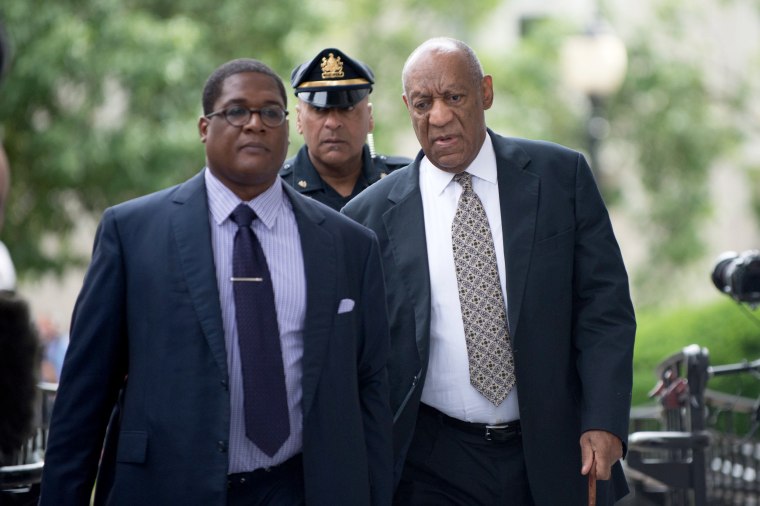 The trial was supposed to start Nov. 6 but the judge postponed jury selection until mid-March after a request from defense lawyer Tom Mesereau, best known for representing Michael Jackson.
In a surprise move, Cosby's attorneys announced in court Tuesday that they won't ask for the jury to be picked outside of Montgomery County, Pennsylvania, where the encounter at the center of the case happened and where trial will be held.
The jury in the first trial was chosen in Allegheny County after the defense complained that pre-trial publicity made a fair trial in Montgomery County impossible. Those jurors deadlocked, forcing a mistrial in June.
Montgomery County District Attorney Kevin Steele, who made the decision to retry Cosby, expressed disappointment at the delay.
"We're ready to proceed," he told reporters outside the courthouse. "It's a case that deserves a verdict."
A lone protester, sexual-assault survivor advocate Bird Milliken, marched in front of the courthouse wit a sign that read "Spring 2018, We're Ready For You, Tom/Cosby," the Guns N Roses song "Welcome to the Jungle" blasting from her megaphone.
"It's disappointing, but it gives the rest of us more time to prepare," she said of the delay, adding that plans to hold nightly vigils in front of the courthouse during the second trial.
Cosby, 80, is charged with giving Andrea Constand pills and then molesting her during a visit to his suburban Philadelphia mansion in 2004. She did not report the encounter to police for a year, and struck a civil settlement with Cosby after prosecutors at the time declined to charge him.
After allegations from other women began piling up in 2014, the DA's office brought charges of indecent aggravated assault against Cosby in connection with the Constand incident.
The case represents the only criminal charges stemming from dozens of accusations ranging from groping to rape and spanning decades. Cosby has denied all the allegations, pleaded not guilty to attacking Constand, and sued some of his accusers for defamation.
He did not take the stand at his first trial, which ended after 52 hours of deliberations failed to produce a verdict. Several jurors told reporters after the trial that the panel was deeply divided throughout the deliberations.
"It was hopeless, from the first time on," one juror said later.
Related: Juror Says Cosby Talked His Way Into Guilty Vote
Tuesday's hearing marked Cosby's first return to court since the mistrial. He arrived on the arm of his spokesman and appeared to be in a relaxed mood, joking around with his new and old lawyers before the hearing got underway.
The attorneys who represented him at the first trial, hard-charging Philadelphia lawyer Brian McMonagle and Los Angeles civil litigator Angela Agrusa, have withdrawn from the criminal case. Agrusa will continue to work on civil matters for Cosby.
Taking their place are Mesereau, former federal prosecutor Kathleen Bliss and prominent Philadelphia attorney Sam Silver.
Mesereau — who bills himself as "unconventional" and "unpredictable" — represented Michael Jackson when he was prosecuted in 2005 for allegedly molesting a child; the star was acquitted. He also represented "Baretta" star Robert Blake, who was acquitted in 2005 of murdering his wife.
More recently, Mesereau defended former Playboy Playmate Dani Mathers after she was charged with taking and posting a photo of a naked older woman at her gym; she struck a no-jail plea deal.
After the hearing, Mesereau declined to answer reporters' questions but did pause to pose for pictures with Cosby outside the courthouse.
Before he was retained by Cosby, Mesereau drew parallels between his prosecution and the Michael Jackson case.
"The worldwide media had already condemned him and basically discarded him as trash," Mesereau said of the pop star last year. "I see something similar happening now."
"I don't know Mr. Cosby," Mesereau said then. "I don't know the evidence. I don't know the accuser. I just think he has the right to a fair trial. And having been through what I went through with Michael Jackson, I'm a little alarmed by the groundswell of opposition [to Cosby]."