Bill O'Reilly, the former Fox News anchor, has been negotiating for a position with the Sinclair Broadcast Group, the nation's largest television-station owner, according to two sources familiar with the talks.
Sinclair, known for its conservative commentary, is continuing with the talks despite the sexual harassment cases that cost O'Reilly his job at Fox this year, the sources said. Last week, The New York Times reported that O'Reilly had settled a $32 million sexual harassment claim against him by a former legal analyst, Lis Wiehl. The sources said the news does not appear to have sidelined the talks.
"They took a pause but it didn't really change anything for them," one of the sources said.
O'Reilly has said the Times article was designed to hurt him in the marketplace. He told The Times that the report was "politically and financially motivated."
One of the sources said Dave Smith, the executive chairman of Sinclair, was introduced to O'Reilly after O'Reilly left Fox in April. A month later, Sinclair denied reports that it was pursuing O'Reilly.
The company did not initially return calls from NBC News about the latest round of talks, but after this article was first published, a spokeswoman denied that Sinclair was in discussions with O'Reilly.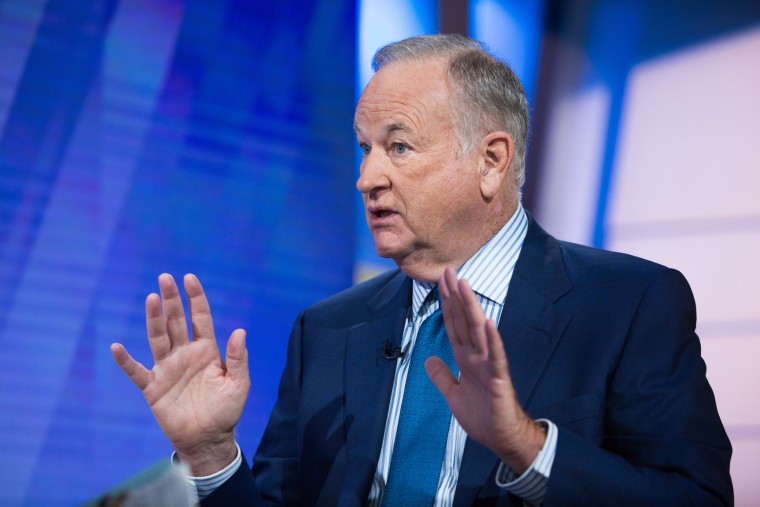 Nonetheless, one of the sources, who is close to O'Reilly, said on Tuesday that the two sides were "about midway" through negotiations. A second source explained that Sinclair is considering putting O'Reilly on its local stations.
Sinclair currently owns or operates 173 U.S. television stations. In May, the company reached a deal to pay $3.9 billion for Tribune Media, and if the deal is approved by regulators, the company would control more than 220 stations.
Many of Tribune's stations are Fox affiliates. It is unclear how Fox would feel about O'Reilly appearing on its affiliated stations.
"What you are going to see is a syndicated show, not a news channel," said a source familiar with talks, "I know they've been talking about doing something in syndication and something that could air on WGN," Tribune's flagship station.
The source said Sinclair is considering a two-hour block for O'Reilly, possibly beginning at 6 or 7 p.m.
"They want to do something anti-CNN, anti-MSNBC," the source said, referring to Sinclair's conservative political bent. Sinclair has faced criticism for telling local news managers that they must run segments featuring the Republican political analyst Boris Epshteyn, a former staff member in the Trump White House.