"We can slay dragons," wrote attorney Lisa Bloom on Twitter Wednesday, shortly after news broke that Bill O'Reilly is out at Fox News.
Bloom applauded O'Reilly's departure at the network just minutes after announcing that she had agreed to represent a third accuser in an ongoing pile-up of sexual harassment claims.
O'Reilly's termination was celebrated by women's rights advocates Wednesday, but they remained critical of the network that has come to symbolize the fight against workplace sexual harassment.
"This isn't over," said National Organization for Women president Terry O'Neill. "Fox News condoned, and even supported, O'Reilly's heinous misconduct for years — along with former chairman Roger Ailes and, reportedly, other Fox News executives."
"The public has the right to know the facts about the toxic culture of harassment that appears to be endemic at the network," O'Neill added.
Related: Bill O'Reilly Officially Out at Fox News Amid Sexual Harassment Claims
Since an April 1 New York Times story first revealed that 21st Century Fox and O'Reilly had settled multiple sexual harassment claims against him for a total of $13 million, the network has been under ongoing public pressure to investigate new allegations. Dozens of advertisers left his show in the ensuing backlash.
According to a statement, 21st Century Fox denied the merit of the harassment claim. O'Reilly also said in a statement that the settlements were made to "put to rest any controversies to spare my children."
The final decision to remove O'Reilly from the Fox News Channel came Wednesday morning in a meeting with 21st Century Fox controlling shareholders Rupert, Lachlan, and James Murdoch, people close to the company told CNBC's David Faber.
In a statement Wednesday afternoon, 21st Century Fox said its investigation had informed the decision.
"After a thorough and careful review of the allegations, the Company and Bill O'Reilly have agreed that Bill O'Reilly will not be returning to the Fox News Channel," read the statement from 21st Century Fox.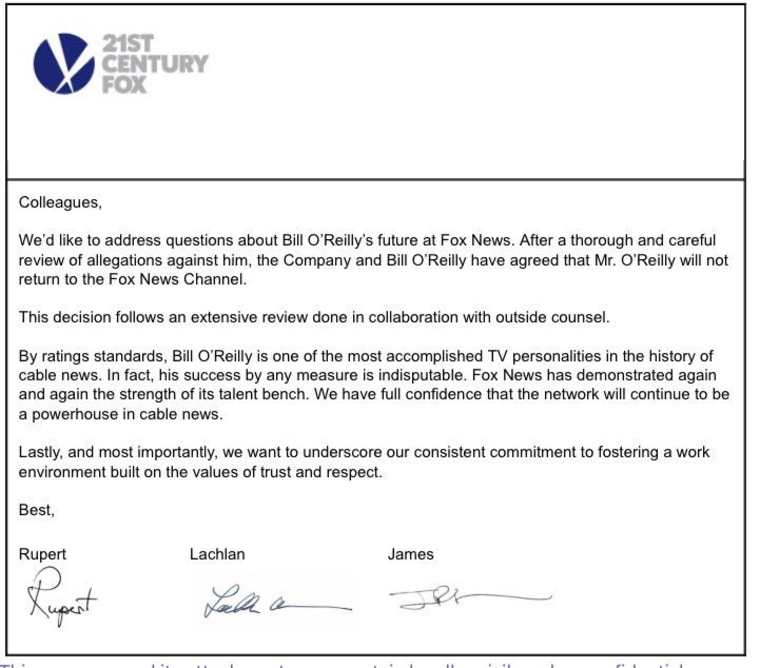 On Tuesday, protesters demonstrated outside Fox News headquarters in New York to demand the network fire the embattled conservative host of The O'Reilly Factor, now in its 20th season on air. Women's rights groups and New York City Public Advocate Letitia James delivered a petition with 480,000 signatures to the network as survivors of sexual harassment and assault spoke just steps from the Fox News studios.
The group that organized that protest, Ultraviolet, announced Wednesday that it will continue to place pressure on the network.
Related: New Bill O'Reilly Sex-Harassment Accuser Announced as Protesters Hit Fox NewsHQ
"Fox News' problem with sexual harassment and assault is way bigger than just Bill O'Reilly," said Ultraviolet co-founder Shaunna Thomas. "For years, Fox News executives, like Bill Shine, have provided cover for systematic sexual harassment and abuse of Fox New's employees. From Roger Ailes to Bill O'Reilly, Fox News has consistently failed to provide a workplace safe from sexual harassment and abuse — and that's a big problem."
Organizers of the Jan. 21 Women's March tweeted a farewell message to O'Reilly, noting the efforts of the racial justice group Color of Change as instrumental in getting advertisers to pull ads from his show.
Daily News columnist Shaun King added a bitter statement to the chorus of responses on social media, tweeting: "If O'Reilly is fired from Fox for sexual harassment it'll basically mean the standard for a Fox News host is higher than President of the US."
The National Organization for Women said Fox News should be investigated by authorities.
"NOW is calling for a thorough, independent investigation by New York City and State authorities into the culture of sexual and racial harassment at Fox News, and for appropriate accountability measures to be taken," said O'Neill. "How else can we be reassured that women will never again be subjected to this inhumane treatment while their harassers continue to pocket eight-figure salaries?"
In a statement released Wednesday, O'Reilly said he was "extremely proud to launch and lead one of the most successful news programs in history."
"It is tremendously disheartening that we part ways due to completely unfounded claims," he added. "But that is the unfortunate reality many of us in the public eye must live with today."