CHARLOTTE, N.C. — Mourners from around the world gathered Friday under a large white tent in what was described as the "last crusade" for Billy Graham, who was revered as "America's pastor" for more than six decades and counseled nearly every U.S. president since Harry Truman.
Graham, who preached his brand of evangelical Christianity to millions at events he called crusades and became one of America's first TV mega pastors, died last week at age 99 at his home in Montreat, a rural town west of Charlotte.
The private funeral service was streamed live and drew some 2,300 guests, including President Donald Trump and first lady Melania Trump. Graham was buried in a simple wooden casket constructed by inmates serving life terms at the Louisiana State Penitentiary in Angola.
After the internment ceremony concluded, Graham's family placed white roses on his casket.
As most of Graham's contemporaries have died over the years, like the gospel singer George Beverly Shea, who sang at the early Graham crusades, the guest list included relatives of his children and grandchildren. The service was a who's who of leading Christian figures from Rick Warren to In Touch Ministries founder Charles Stanley.
The gathering resembled a Graham crusade with a tent symbolic of the "canvas cathedral" that he used in 1949, when he conducted an eight-week event in Los Angeles that propelled him to national prominence. Graham's elder son, the Rev. Franklin Graham, who is president and CEO of the Billy Graham Evangelistic Association and Samaritan's Purse, delivered the sermon.
"There weren't two Billy Grahams," Franklin said. "He left us an enduring legacy: His uncompromising testimony of God's great love."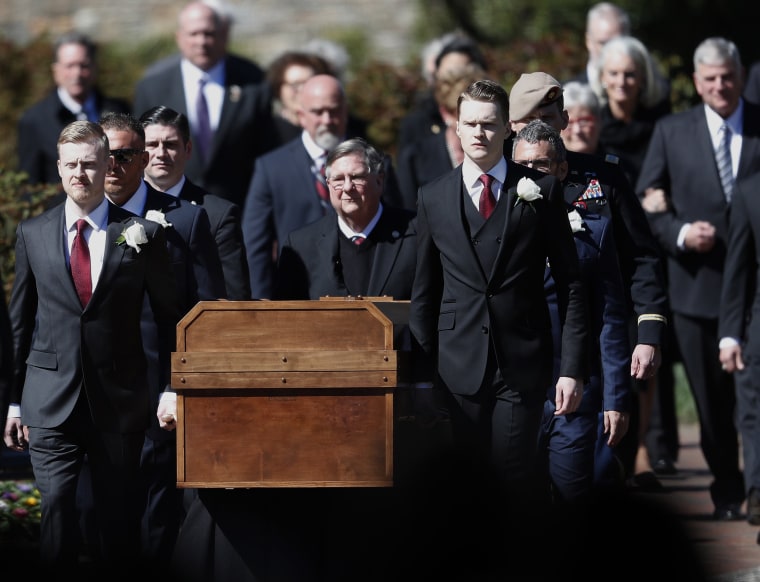 Billy Graham was born the son of a North Carolina farmer. His association estimated that by 2007, after decades spent as America's de facto clergyman relaying an interdenominational appeal, he reached millions in more than 185 countries.
The service began with a moving rendition of one of the late pastor's most cherished songs, "Until Then" performed by Linda McCrary-Fisher.
The funeral was a rallying cry by Graham's children to continue the work that their father began. Each of them eventually took the stage giving a tribute to their late father.
"I will preach the word," said Anne Graham Lotz, the second eldest of Billy Graham's five children. "I will do the work of the evangelist that will spread the Gospel. I will use my life to exalt the name of the Lord Jesus Christ."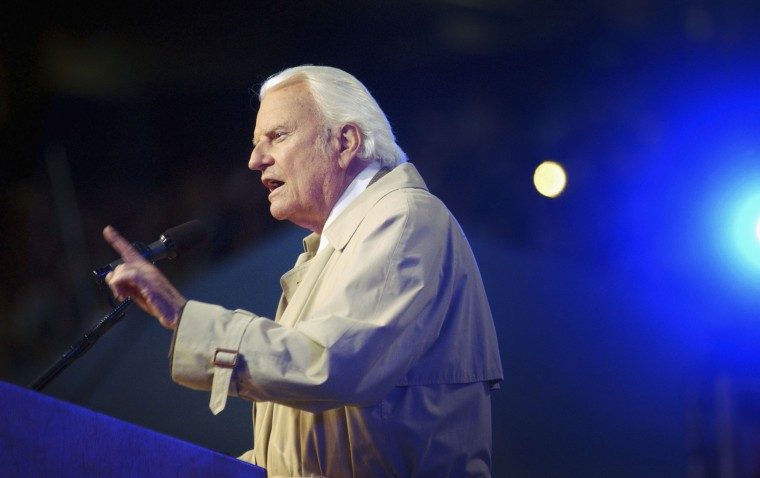 The service is the culmination of a week of mourning that included Graham lying in honor at the U.S. Capitol rotunda in Washington.
Graham was laid to rest next to his wife, Ruth, who died in 2007. A small private ceremony will include family and is planned at the foot of a cross-shaped brick walkway in the prayer garden of the Billy Graham Library in Charlotte.
At his wife's burial service, Graham spoke of looking forward to one day being reunited with her.
"I know God has prepared a home for her in heaven; I just hope she saves a room for me," he said at the time.