LOS ANGELES — There is a historical marker in front of the county courthouse at the intersection of Hill Street and Washington Boulevard in downtown Los Angeles, a city not particularly noted for its long history.
It commemorates the remarkable eight weeks in the fall of 1949 when, night after night, a 30-year-old Southern Baptist preacher named Billy Graham got up in a giant tent and exhorted crowds of hundreds and then thousands of people — almost 400,000 by the time he was through — to confess their sins and accept Jesus as their savior.
The so-called Canvas Crusade made Graham a star and launched him on a six-decade career that sent him to every corner of the world many times over, making him arguably the most famous religious leader of the 20th century.
Today, a McDonald's shares the intersection on Hill and Washington. This is not as incongruous as it may seem. For decades, both pitched a product of remarkable simplicity and consistency to hundreds of millions of grateful customers.
When he died Feb. 21 at age 99 at his home in Montreat, North Carolina, Graham was almost universally cited as one of the most admired men in the world, having counseled countless presidents, celebrities and everyday folk alike, honored by faith leaders who didn't share his core beliefs and untouched by the scandals that tarnished the legacies of so many of his contemporaries.
And he left in his considerable wake a host of imitators eager, but by and large unable, to duplicate his success.
Photos: Billy Graham — the evangelist's life in pictures
Joel Osteen is the senior pastor of Lakewood Church in Houston, a congregation so enormous that every Sunday it fills the arena that once was home to the Houston Rockets basketball team. Rick Warren is the senior pastor of Saddleback Church in Lake Forest, California, not far from Los Angeles, the weekly attendance of which also routinely tops 20,000.
Other than to similarly identify themselves as evangelical pastors, Osteen and Warren could hardly be more different theologically — the non-denominational Osteen, who never attended a seminary, preaches a gleaming version of the prosperity gospel, while Warren, who has divinity degrees, including a doctorate, from three Bible colleges, presents a traditionally conservative Southern Baptist message in the persona of a California surfer dude.
After Graham died last week, both men issued tributes calling him a mentor, a friend and a role model, even though Graham led no church and ministered to no congregation of any size, let alone one of the scale of Osteen's or Warren's.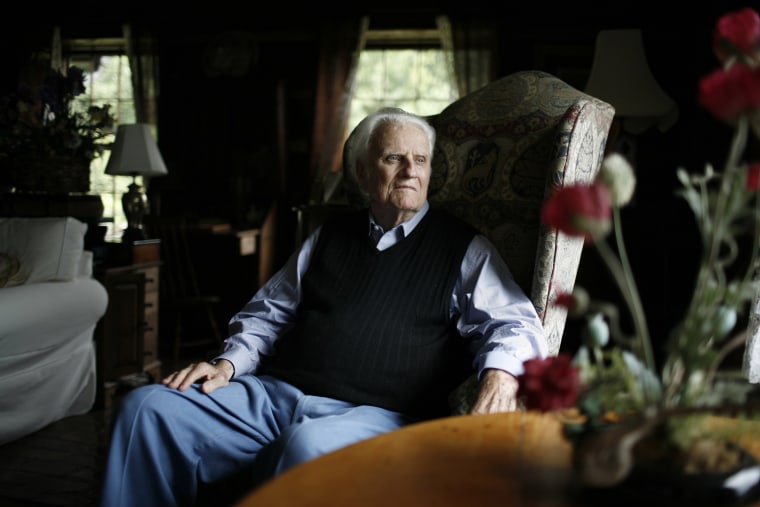 Osteen and Warren, as Graham did, exploit the latest technology to broadcast their appeals to the widest possible audience. Both seek to put a welcoming face on the church as they see it. And both have been criticized by fundamentalist and other more conservative religious thinkers who accuse them of not hewing to the most stringently doctrinaire biblical literalism.
Like Graham, neither has backed down to his critics.
Graham "did sort of set the example for other religious figures to realize they could, too, have a public persona and profile in the world not just based on their denomination or their congregation," said Scott Thumma, director of the Hartford Institute for Religion Research at Hartford Seminary, a non-denominational theological college in Connecticut.
"In some sense, he was a role model of a public preacher in a way that most others weren't," Thumma said in an interview this week.
In his widely praised 2014 biography, "America's Pastor: Billy Graham and the Shaping of a Nation," Grant Wacker noted that American evangelicals shifted political and cultural allegiances in the second half of Graham's career — most notably in the defection of white evangelicals from Jimmy Carter and the Democratic Party to Ronald Reagan and the Republican Party in 1980.
Meanwhile, the scandals of televangelists like Jim Bakker and Jimmy Swaggart left many Americans with a sour view of public evangelicals, many of whom retreated to their historical separation from the sordid complications of politics and the dominant culture.
But they never abandoned Graham.
"Decade after decade, millions stuck with him, come what may," wrote Wacker, a professor emeritus of Christian history at Duke Divinity School in Durham, North Carolina. "The reasons are not hard to find. They lodged in their appreciation for his character, mind, and charisma."
And they stuck with Graham even as he persisted in confronting thorny issues like poverty, racism and war from a centrist, even relatively liberal, perspective.
That was because "he really believed it," and when people listened, they could hear his sincerity, said Leighton Ford, a brother-in-law to Graham who is a prominent Presbyterian evangelist in his own right.
When Graham began preaching, "evangelism had a very bad name back then in some quarters," Ford said in an interview from Charlotte, North Carolina, Graham's hometown.
Related: In Billy Graham's Charlotte, a diverse community of believers
By the late 1940s, "Elmer Gantry," Sinclair Lewis' scathing satirical novel, for almost 20 years had fixed in the popular mind an image of the fundamentalist and evangelical preacher as a "womanizing alcoholic evangelist that was not genuine," Ford said. "And then there were other evangelists who made a lot of money with no accountability."
When Graham came along, "he wanted to change that," Ford said. "He knew it had to be changed."
The product of that determination was the Billy Graham Evangelistic Association, or BGEA, which was founded in 1950 and served as the platform for Graham's ministry for the rest of his life. In addition to its religious principles, the BGEA strongly emphasized economic transparency and austerity.
Graham hired an independent board of directors, which reviewed his expense reports and set his salary — about $158,000 in 2016, according to financial records published by the association (PDF).
Related: Billy Graham 'would want to be remembered as a preacher,' son says
It was a crusade (a word Graham eventually abandoned as he extended his reach into the Muslim world) that he would take up again and again as other evangelists fell prey to scandal. In 1979, Graham co-founded the Evangelical Council for Financial Accountability in partnership with World Vision, the international children's charity. The council — in essence a Better Business Bureau for religious organizations — reported having more than 2,200 member organizations this year.
"We should remember that Graham's principle focus in life was the Gospel," the religious journal Patheos said in a statement marking Graham's death. "He stood in sharp contrast to 'evangelists' ... who brag about their wealth with no accountability or transparency."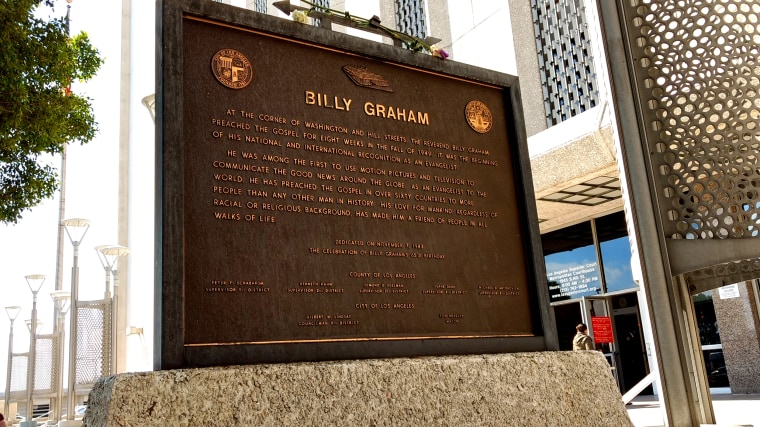 Ford said that Graham's focus on the Gospel was what governed every step he took, and that it was what endeared to him so many millions of people worldwide, regardless of their faiths.
"He said — and he really felt this — 'I'm not a great preacher,'" Ford said. "And if you judge it in classical studies, he may not have been.
"But in terms of communicating with the average person, he was a superb preacher, one that many preachers could learn from."
Alex Johnson reported from Los Angeles. Phil McCausland reported from Charlotte.