The internet was buzzing over the weekend after Bishop Charles H. Ellis III apologized to singer Ariana Grande after he was seen touching the star at Aretha Franklin's funeral in a way that some described as groping.
But many on social media were uninspired by the bishop's response to accusations that he inappropriately touched the pop princess on live television.
"The most important requirement of an apology is accepting responsibility for what you did wrong, and owning up to it. This isn't an apology," Kelly Ellis, a software engineer, tweeted.
On Friday, Ellis, who officiated the Queen of Soul's homegoing services, wrapped his arm around Grande after she finished a rendition of "(You Make Me Feel Like) A Natural Woman."
"Girl, let me give you all your respect," Ellis said, as he put his arm around Grande's waist.
But those watching the funeral couldn't help but notice Ellis' hand climbing higher as he spoke to the petite singer, eventually moving his hand up Grande's waist until it landed on her breast.
On Saturday, Ellis apologized for the accidental touch.
"It would never be my intention to touch any woman's breast. ... I don't know I guess I put my arm around her," Ellis told the Associated Press. "Maybe I crossed the border, maybe I was too friendly or familiar but again, I apologize."
He said he hugged all the performers that day, saying gender wasn't a barrier.
"I hug all the female artists and the male artists," Ellis said. "Everybody that was up, I shook their hands and hugged them. That's what we are all about in the church. We are all about love."
He added, "The last thing I want to do is to be a distraction to this day. This is all about Aretha Franklin."
(The bishop also made a joke about her name sounding like an item on Taco Bell's menu, for which he also later apologized.)
Those on Twitter were lukewarm on Ellis' response to the allegations of groping.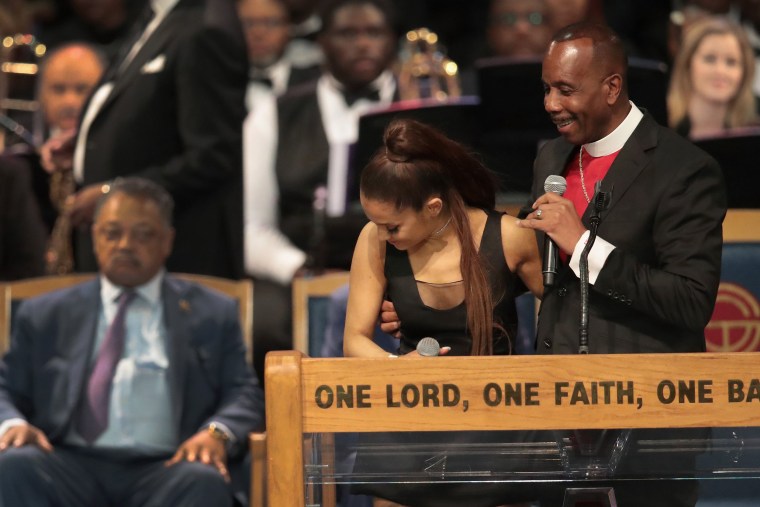 Twitter user Jonah Frank wrote, "Am I the only one who is utterly incensed at how Bishop Ellis both physically and verbally sexually harassed Ariana Grande?? His apology is complete b---s---."
Dani Deahl, an editor for DJ Mag, called the apology "bogus."
"He believes this is friendly? This way of thinking is the problem. That touch was on a sexual spectrum," she wrote.
Several others called the apology, "trash," "half-a----," and "a denial."
The moment birthed the hashtag "#RespectAriana," and on Sunday, many tweeted that Grande should not have had to endure the alleged inappropriate touching.
As of Sunday, Grande had not publicly responded to the apology.