African-American doctors are calling on President Barack Obama to ban sales of menthol-flavored cigarettes, which government data show are heavily preferred among black smokers.
The African-American Tobacco Control Leadership Council, a nonprofit anti-smoking advocacy group, launched a public campaign this week asking Obama to direct the U.S. Food and Drug Administration to remove all so-called mentholated tobacco products from the marketplace.
The FDA found in 2013 that menthol cigarettes likely pose a greater public health risk than regular cigarettes, especially among African-Americans, but it stopped short of recommending a ban.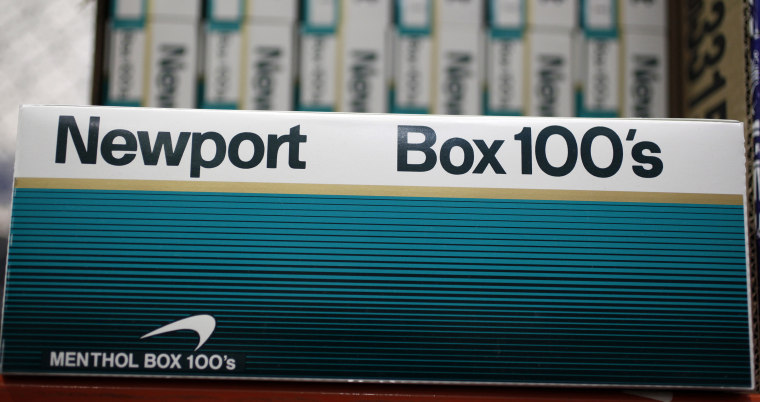 A letter detailing the new request was delivered to the president last month, Dr. Phillip Gardiner, the council's co-chairman, said Wednesday.
"The punchline here about menthol is it allows the poisons in tobacco cigarettes to go down easier," Gardiner said in an interview with NBC Washington.
"Young African-Americans die disproportionately from tobacco-related disease compared to other people in the population," said Gardiner, who is policy and regulatory sciences program officer for the Tobacco-Related Disease Research Program at the University of California-Berkeley.
Government and medical data back him up.
According to the American Lung Association, smoking-related illnesses are the single biggest preventable cause of death among African-Americans, killing about 45,000 a year. And "the key thing that African-Americans smoke is menthol cigarettes," Gardiner said.
The FDA's 2013 review found that menthol flavoring is associated with "increased smoking initiation" by younger people and greater addiction among all smokers. (The FDA banned fruit- and candy-flavored cigarettes for the same reasons in 2009.)
But it didn't ban mentholated tobacco products — the kind preferred by a majority of African-American smokers, according to research published last month in the American Journal of Public Health.
They do so to such a degree, in fact, that nearly three-quarters of all black smokers ages 18 to 25 buy one specific brand — Newport menthols — according to the new research, which adds that Newport menthols are the cigarettes of choice for two-thirds of all African-American smokers ages 12 to 17.
Researchers for the U.S. Centers for Disease Control and Prevention found similar trends in 2010, reporting that 83 percent of black adult smokers and 72 percent of underage black smokers prefer menthol-flavored brands.
"We would point out that menthol is one of the most widely studied ingredients in cigarettes, and based on the best available scientific evidence, menthol cigarettes are not more harmful than non-menthol cigarettes and, therefore, should not be regulated any differently," R.J. Reynolds Tobacco Co., which makes Newports, said Thursday.
"FDA is a science-based agency, and all regulations must be based on sound science," it said. "It is incumbent upon FDA to follow the science by undertaking a thoughtful, rigorous, transparent and complete review."
In its letter to Obama, the African-American Tobacco Control Leadership Council called menthol tobacco addiction "an issue of social justice, one which we have been defenseless in adequately addressing to protect our people."
"What we are asking of you, President Obama, can be accomplished rapidly with the stroke of a pen," it said. "Your strong and decisive leadership can give our community a fighting chance against the number one killer of Black people, tobacco."