A black doctor has accused Delta Air Lines of discrimination after a flight attendant allegedly shooed her away from a passenger in need of medical attention and said "actual physicians" were needed.
Delta said in a statement Friday afternoon that the airline is investigating the incident.
Dr. Tamika Cross, an OBGYN resident at Lyndon B. Johnson Hospital in Houston, wrote in a Facebook post that she was on a flight from Detroit last week when someone two rows ahead her of starting screaming for help.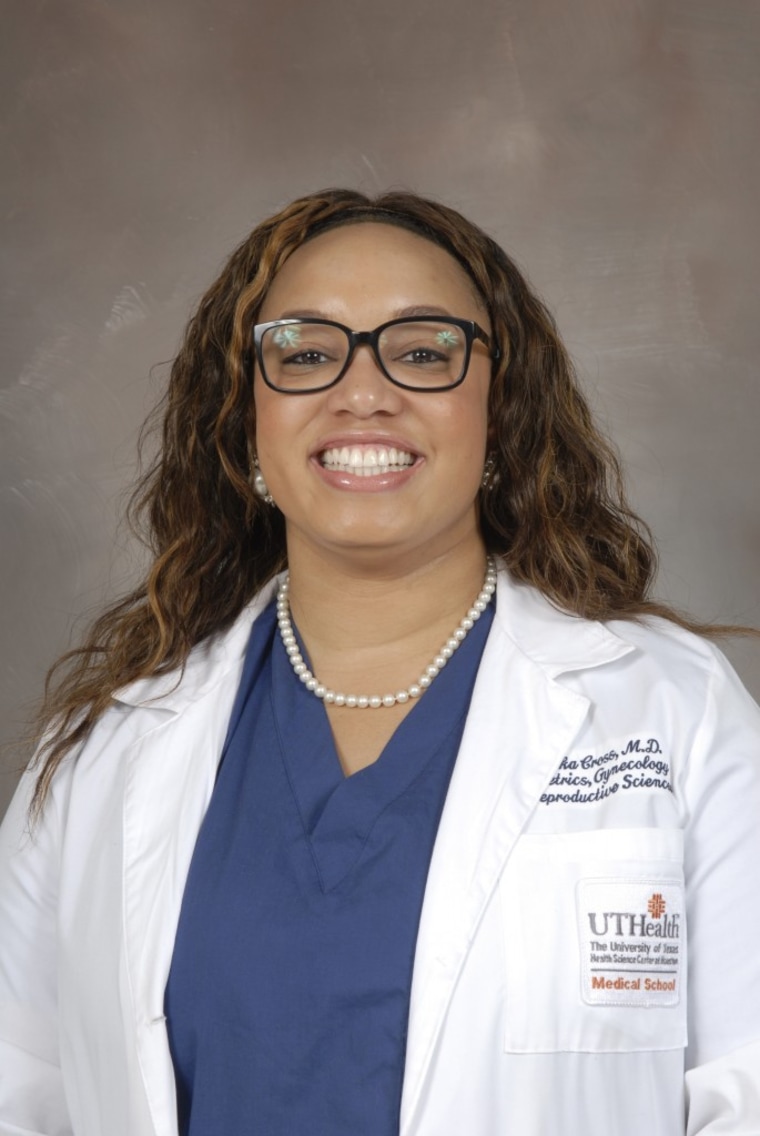 "I naturally jumped into Doctor mode as no one else was getting up," she wrote on Sunday in the account that has been shared more than 35,000 times.
But as she was about to stand, Cross said a flight attendant told everyone to stay calm — the man was just suffering from a night terror. Minutes later, the flight attendant yelled for a physician on board, Cross said.
Cross raised her hand to get the flight attendant's attention, but her help was rejected, she said.
"She said to me 'oh no sweetie put ur hand down, we are looking for actual physicians or nurses or some type of medical personnel, we don't have time to talk to you,'" Cross wrote. "I tried to inform her that I was a physician but I was continually cut off by condescending remarks."
As the overhead speaker called for physicians on board to alert the flight attendants, Cross said she pressed her button, staring at the flight attendant who had just cast her aside.
"She said 'oh wow you're an actual physician? I reply yes. She said 'let me see your credentials. What type of Doctor are you? Where do you work? Why were you in Detroit?'" Cross wrote.
She added: "Please remember this man is still in need of help and she is blocking my row from even standing up while Bombarding me with questions."
Finally, Cross said a "seasoned" white man approached and told the flight attendant he was a physician as well. Without asking for his credentials, the flight attendant immediately accepted his help, Cross said.
"Mind blown. Blood boiling," she wrote.
Delta said three medical professionals offered help on the flight, but only one provided credentials, "and that is the doctor who was asked to assist thecustomer onboard. In addition, paramedics met the flight to assist the customer further."
Related: Majority Think Racial Discrimination Is a Serious Problem: Poll
Later on, the flight attendant started asking Cross for input on how to help the unresponsive man, who was showing signs of improvement, Cross said. She added that the flight attendant had also apologized to her several times and offered her SkyMiles.
"I kindly refused," Cross wrote. "I don't want SkyMiles in exchange for blatant discrimination. Whether this was race, age, gender discrimination, it's not right. She will not get away with this....and I will still get my skymiles."
Delta said it is "in the process of conducting a full investigation" into the incident.
"We are troubled by any accusations of discrimination and take them very seriously. The experience Dr. Cross has described is not reflective of Delta's culture or of the values our employees live out every day," the company said in a statement.
Cross, meanwhile, told NBC News in a phone interview Thursday night she thinks the flight attendant could benefit from sensitivity training.
"Someone's life was on the line," she said, noting that the outcome could have been much worse. "Luckily the man was okay."