A neighbor who's a former firefighter was arrested in a suspicious blaze that gutted the home of Kenneth Walker, the only black firefighter in North Tonawanda, N.Y., police said Thursday The fire erupted two days after Walker reported finding a racist and threatening letter in his mailbox.
North Tonawanda police Capt. Thomas Krantz said at a news conference that the suspect, Matthew Jurado, 39 — who lives across the street from Walker — admitted having set the fire because he'd recently been "removed" from the Gratwick Hose Volunteer Fire Company.
But Jurado, who was charged with second-degree arson, denied that he'd sent the letter and insisted that the fire wasn't race-related, Krantz said.
Walker, 28, his wife, Amanda, and their two kids weren't in their apartment when the blaze broke out Wednesday, police said.
"FBI has received a copy of the note left at Mr. Walker's residence and we were notified of the fire that occurred there," FBI spokeswoman Maureen Dempsey said in a statement. "Our office is conducting a review to determine what investigative steps are indicated under FBI policy with regard to federal jurisdiction in this matter."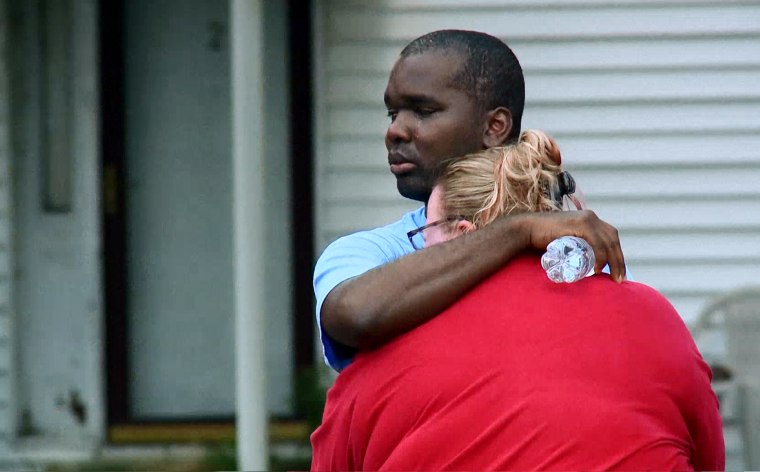 Walker was at work when he got word that his apartment in a four-unit building was on fire. He said that he lost everything and that their two cats were killed.
"It's sad that someone is so offended by my presence that they feel the need to burn my house down, if that indeed is what occurred," Walker said at a news conference at the time.
Amanda Walker added: "I can't believe something like this would happen."
The inferno happened two days after Walker, a volunteer firefighter, turned the letter over to Fire Chief Joseph Sikora, who called the cops and the FBI. It begins with the N-word and goes on to say African Americans "are not allowed to be firefighters."
"No one wants you in this city," the note says. "You have until the end of the week to resign your position or you will regret it."
North Tonawanda Mayor Arthur Pappas condemned the letter Tuesday at a City Council meeting before the fire, and Sikora praised Walker as "a good guy, a good worker," The Buffalo News reported.
North Tonawanda is a 97 percent white city of 32,000 that has a large Polish-American community. A GoFundMe account set up to benefit Walker's family had raised more than $80,000 by Thursday night.