Shoppers took to the streets and scrolled online during the annual Black Friday sales phenomenon as protests were expected around the world over environmental concerns and consumer culture.
The National Retail Federation expects 165 million people shopping in stores and online this weekend as consumers fill their carts with deeply discounted electronics, clothes, home goods and more. Americans spent a record $4.4 billion online on Thanksgiving Day, according to Adobe Analytics. Nearly half of those purchases were purchased on smartphones, up 19 percent from last year.
At some malls, shoppers were surprised at the relatively light crowds, which pointed to the ever-growing popularity of online shopping, the Associated Press reported.
The shopping season is the shortest since 2013 because Thanksgiving fell on the last Thursday in November — the latest possible date it could be.
Shoppers up since the wee hours slept in chairs at Nashville's Opry Mills mall, known for its outlet stores, the AP reported. Outside, deal-seekers were still fighting for parking spots by mid-morning.
Haley Wright left Alabama at 4 a.m. to arrive at the Tennessee mall by 7 a.m. She told the AP she makes the annual trip because she says the stores offer better deals and a more fun environment than the shops back home.
"I let my husband do the online shopping; I do Black Friday," she said.
Asthe sales frenzy has grown and expanded beyond the United States, it has also prompted demonstrations from environmental activists as well as anti-consumerism and workers' rights protests.
Climate strikes were expected to take place in cities across the world Friday, in the latest series of youth-led protests demanding environmental action.
In France, activists held protested against massive online retailer Amazon and consumerism, with some forming a blockade at a Paris shopping mall.
Dozens of others protested outside an Amazon headquarters in Paris, according to Reuters.
Some demonstrators held up signs saying, "No to Amazon and its world."
Manon Aubry, a left-wing member of the European Parliament, said on Twitter the protest was intended to "denounce the social, environmental and fiscal damage from Amazon."
In Germany, workers at Amazon distribution centers have gone on strike for better pay.
Amazon said in a statement that, "Our network is robust and flexible so it is business as usual for us, and our customers will be receiving their orders on time as planned."
"Self-interested critics have a vested interest in spreading misinformation about Amazon, but the facts tell a different story," the company said. "The truth is that Amazon already offers industry-leading pay, comprehensive benefits, as well as a safe, modern working environment. These groups are conjuring misinformation to work in their favor, when in fact we already offer the things they claim to be fighting for."
In New York City, protesters convened at a store and pushed empty shopping carts, weaving through the store aisles and inviting shoppers to take a break from the "destructive frenzy of consumerism," according to the group's Facebook page.
Environmental group Extinction Rebellion NYC posted video showing the lines of people making their way through the aisles with empty carts. The demonstrators then gathered in Manhattan to sit together in meditation and nonviolent protest, according to the group.
Extinction Rebellion called on potential shoppers to boycott Black Friday and join the planned climate strikes instead, saying the sales tradition "may seem like a bargain" but it's "costing the Earth."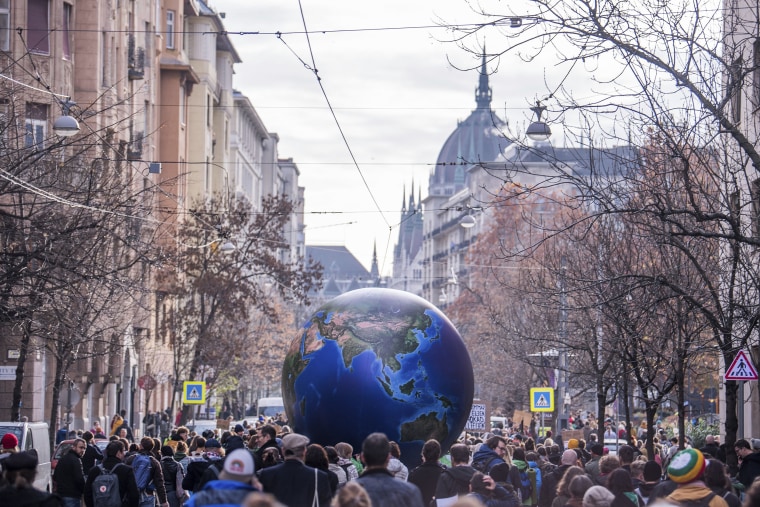 "Consumerism is destroying our planet," the group said in a Thanksgiving Day social media post. "We do not have infinite resources, yet the system continues to persuade us all that we need to constantly buy more of everything."
And in California, protesters in Santa Monica were expected to boycott Black Friday shopping to demand action in response to climate change.