Prominent Black Lives Matter activist DeRay Mckesson was among more than 100 protesters arrested Saturday night during demonstrations over the death of Alton Sterling in Baton Rouge, Louisiana.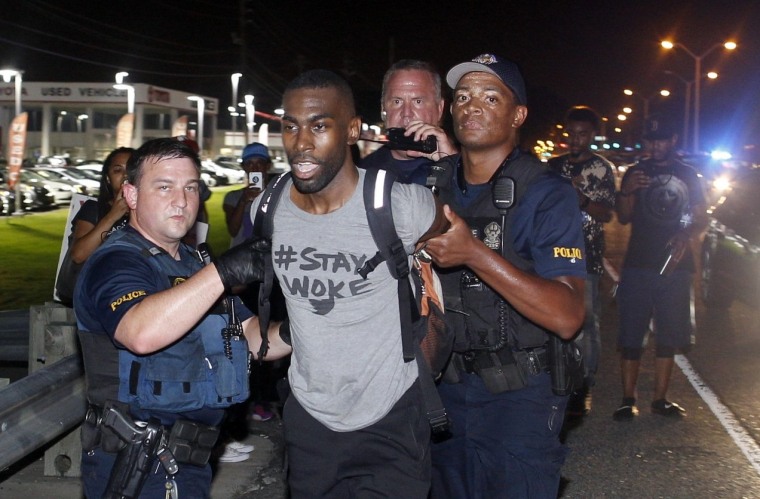 Mckesson, one of the most recognizable faces to emerge from the Black Lives Matter movement, live-streamed his arrest on Periscope.
He was taken into custody while walking along the side of the Airline Highway with fellow protesters and later charged with "simple obstruction of highway commerce," according to court records.
On Sunday afternoon, Mckesson, 31, was released from the East Baton Rouge Parish Jail, according to facility records. The former educator built a national following after he left his then-home and job in Minneapolis in August 2014 for Ferguson, Missouri, to document the rising anger over race relations after the police shooting of Michael Brown.
"I remain disappointed in the Baton Rouge police who continued to provoke protesters who were peacefully protesting," Mckesson told reporters outside the jail, adding that there was "a lot of work to be done with this police department specifically."
"I'm hopeful the Department of Justice intervenes both in the death of Alton [Sterling] and with the way they treat protesters," he said.
Hundreds of protesters angry over Sterling's death at the hands of two white officers took to the streets again Saturday, calling for justice in an often-tense evening that saw police arrest a number of demonstrators.
Related: Protests Continue Nationwide Over Police Shootings
Shouting "No justice! No peace!" roughly 1,000 protesters gathered outside the Baton Rouge Police Department, waving homemade signs as passing cars honked their support. The protests lasted well into the evening but died down a little after midnight.
There were 101 arrests during Saturday's protests in Baton Rouge, officials said, while around 100 were arrested in Saint Paul, Minnesota.
"The police have been provocateurs all night. The protesters have been solid," Mckesson said in the Periscope video just minutes before his arrest.
"The police in Baton Rouge have been truly awful tonight. They've provoked people. They've chased people just for kicks," he added.
A police officer appears to tell Mckesson, who was walking on the shoulder of the road, that he'd been "flagged" for walking on the highway.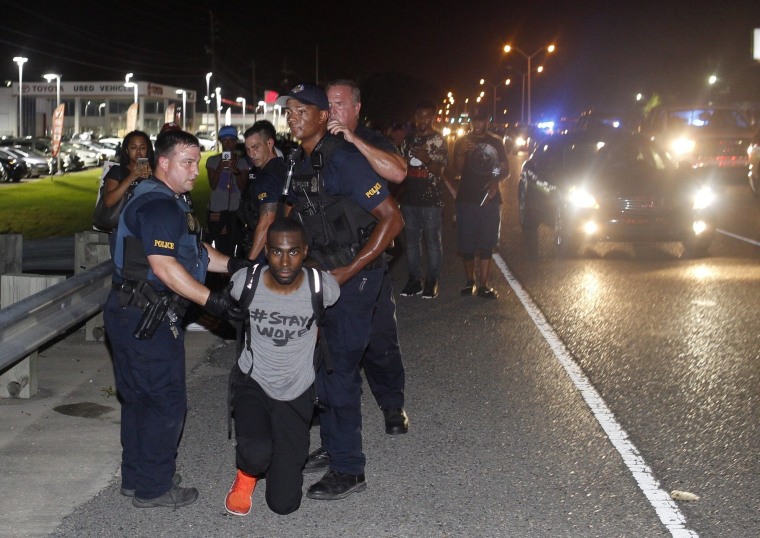 "You with them loud shoes, I see you on the road. If I get close to you you're going to jail. You better keep walking."
Another protester responds: "There's no sidewalk, sir."
Mckesson was filming officers when he appeared to be taken by surprise by his arrest.
"City police, you're under arrest."
"What?!"
"Don't fight me. Don't fight me," the officer said.
"I'm under arrest, y'all!"
Police in riot gear came out numerous times as the demonstration wore on into the evening, facing off against the crowd that yelled slogans and waved signs.
At one point early in the protest, a police officer on a microphone told the crowd that as long as they stayed on the grass and not on the road they could remain. Police eventually pulled back and traffic reopened.
But officers came out again after the demonstration moved to a different area of the street. At one point numerous police cars, with their blue lights flashing, sped off down the street where a smaller group of protesters had walked.
A police spokesman said two firearms were confiscated.