Relatives of a black man gunned down while jogging in southeast Georgia by white men who chased him believing he was a burglar said Thursday they're discouraged by the lack of charges in the case.
Ahmaud Arbery's relatives say the 25-year-old was a victim of "racial violence."
Arbery was killed in Brunswick, a coastal city about midway between Savannah and Jacksonville, Fla., on Feb. 23 as he was running through the quiet neighborhood of Satilla Shores.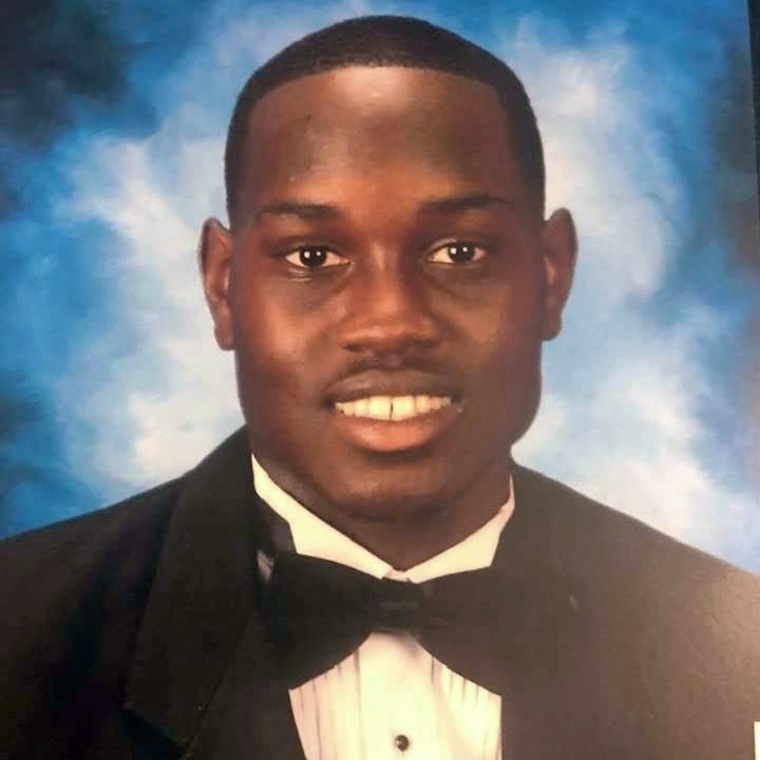 The two men who chased down Arbery, identified by police as Brunswick resident Gregory McMichael, 64, and his son Travis McMichael, 34, have not been charged and the investigation is ongoing.
"I'm feeling very discouraged at this point," the victim's mother Wanda Cooper told reporters. "The tragedy happened back in February ... and there still has not been an arrest."
The case has been referred to District Attorney Thomas Durden, based in Hinesville 70 miles away due to concerns over a potential conflict of interest. Gregory McMichael is a retired investigator for the local prosecutor, in Brunswick.
The case was briefly in the hands of DA George Barnhill, based in Waycross, but he recused himself because his son works for prosecutors in Brunswick.
But in a memo from Barnhill to police, the DA said he believes Gregory and Travis McMichael should not be indicted. He said the father and son had "probable cause" to believe the victim might be a burglar and were within their rights to arm themselves and chase him down.
The prosecutor said video footage of the shooting, made by a neighbor, shows Arbery to be the aggressor.
"Given the fact Arbery initiated the fight, at the point Arbery grabbed the shotgun, under Georgia Law, McMichael was allowed to use deadly force to protect himself," according to the memo, reported in the New York Times.
A Glynn County police spokesman declined comment on the probe and referred all questions to Durden, who has not publicly discussed the case and could not be immediately reached on Thursday.
Arbery's family is demanding that the Georgia Bureau of Investigation take over the investigation and pass on their findings to a special prosecutor.
"There are obviously sensitive aspects about this case, anytime there is a victim of ... racial violence," family lawyer Lee Merritt said.
"We believe that any reasonable fact finder will return an indictment for murder against at least Mr. Travis but likely against the two, Mr. Gregory McMichael to be considered an accessory to murder."
The family fears Arbery's slaying will slip through the cracks, as America focuses on the COVID-19 pandemic that's shut down much of the nation's economy, according to Merritt and Cooper.
The older McMichael first spotted Arbery on foot, "hauling ass" down Satilla Drive, and immediately thought the young man was a burglar who had recently been targeting the neighborhood, according to a Glynn County police report.
McMichael grabbed his .357 Magnum as Travis McMichael took out a shotgun, and they jumped into their truck to give chase, police said.
"'Stop, stop we want to talk to you,'" the elder McMichael told police he shouted at Arbery.
A third man, a neighbor only identified as "Roddy," also joined the chase and jumped into the pair's pickup truck, according to police.
After the men eventually caught up with Arbery, there was a fatal confrontation.
"McMichael stated (that) the unidentified male began to violently attack Travis and the two men then started fighting over the shotgun at which point Travis fired a shot and then a second later there was a second shot," according to the police report.
The report didn't specifically say if Arbery was armed. It made no mention of any weapon being found on his body.
Merritt said the victim was not armed.
"McMichael stated he rolled the man over to see if the male had a weapon," according to the police report.
Gregory McMichael told police he believed he had spotted the victim in his neighborhood days earlier — and that he had "stuck his hand down his pants which led them to believe the male was armed," according to the police report.
The father and son could not be reached for comment Thursday at several publicly listed telephone numbers for the pair.
The victim was a former high school football player and was a health buff who jogged regularly, his family said.
"I knew that at some point he went to that subdivision" as a jogger, Cooper said. "As a mother, I never worried about him jogging or just running as long as he stayed within the streets. I mean, no one should bother him. "
Authorities have not linked Arbery to the burglaries in the neighborhood cited by Gregory McMichael.
Merritt conceded that Arbery might have gone through the frame of a house under construction in the neighborhood -- something that isn't a crime, and definitely didn't justify the deadly shooting, he said.
"That dwelling did not have doors or windows," Merritt said. "Under the law in the state of Georgia, in order to commit a crime by entering someone's dwelling, you have to break a seal, break a door, forcibly enter something that is otherwise locked."