When Daniel Hahn became Sacramento's police chief last August — the first African-American to hold the job — his top priority was to restore faith in a department that had come under fire for police shootings and use of excessive force against black men.
The mayor welcomed Hahn — who grew up in a mostly black Sacramento neighborhood, and spent his career working to improve the black community's trust in the police — as "a new beginning" for Sacramento.
Less than eight months later, the city erupted, adding even more urgency to the challenges Hahn faced.
On March 28, two officers ─ one black, one white ─ shot to death a young black man in his grandmother's backyard in the mistaken belief that he was armed. The killing of Stephon Clark ignited weeks of protests, turning the city into the latest national symbol of police brutality. The demonstrations are ongoing, with protesters demanding that the officers who shot Clark be charged with murder.
"It was another piece of evidence that our relationship with the community was not where it needed to be," Hahn said in a recent interview.
As high-profile police shootings continue to shake the country, Hahn, 49, is among a growing number of black police leaders who are grappling with a crisis in their officers' treatment of young men of color. These police chiefs face high expectations, from their cities at large but particularly from minority residents within, as they work to attract a more diverse team of officers, curb deadly confrontations with the public they serve, and rebuild relationships with black, Hispanic and other minority neighborhoods.
In interviews with NBC News, several black police executives spoke about their personal and professional experience in confronting the problem of police disproportionately targeting minority communities, an issue with deep institutional roots.
"Diversity is important and valuable, but it can't be separated from the police culture, from the way we view what our job is, the way we view the community and the way we are viewed by the community," Hahn said. "It's a complicated problem that takes a nuanced solution."
Confronting a 'dark history'
In recent weeks, the police chiefs in Cambridge, Massachusetts, and Philadelphia — all black and reform-minded, all appointed in the past three years — have faced pressure to answer for their officers' actions.
On April 13, Cambridge officers tackled, punched and arrested a 21-year-old black Harvard student who police say had been acting erratically and resisted attempts to restrain him. In Philadelphia, two black men waiting at a Starbucks to meet a white man were arrested for trespassing.
Video of both confrontations was captured by bystanders and went viral online, prompting outrage around the country. These protests have little to do with the race of the cities' police chiefs, or the race of the officers involved, activists say. The real problem is the systemic police practices that lead to the "harassment and intimidation" of minority communities, said Tanya Faison of Black Lives Matter Sacramento. She wants to see more community oversight of policing, including civilian oversight boards with power to fire officers who act inappropriately.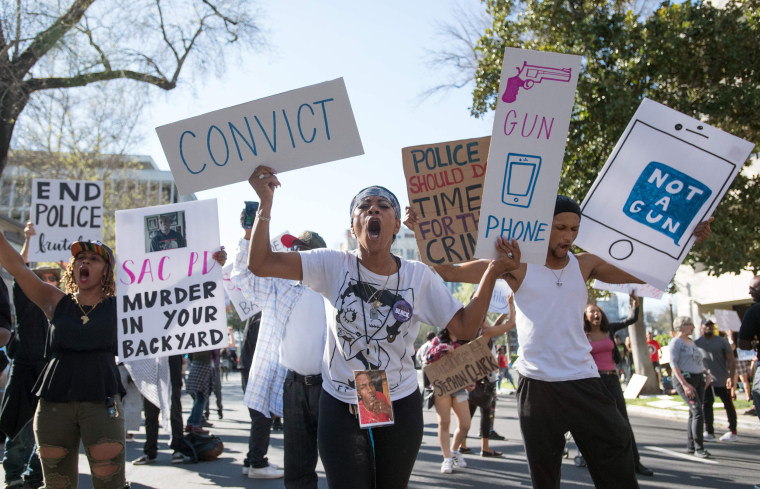 Cambridge Police Commissioner Branville Bard Jr., who arrived on the job last summer, supported the officers ─ two white, one Hispanic ─ saying they were justified in using force to subdue the student.
But Bard, 47, said in a recent interview that he recognized why the incident was being portrayed as part of a "dark history" of police targeting minorities. "Especially in light of what's going on around the country with videos of unarmed minorities being taken down, sometimes without cause or with outright abuses of authority," he said, "it's easy to see it as one in a long line of abuses."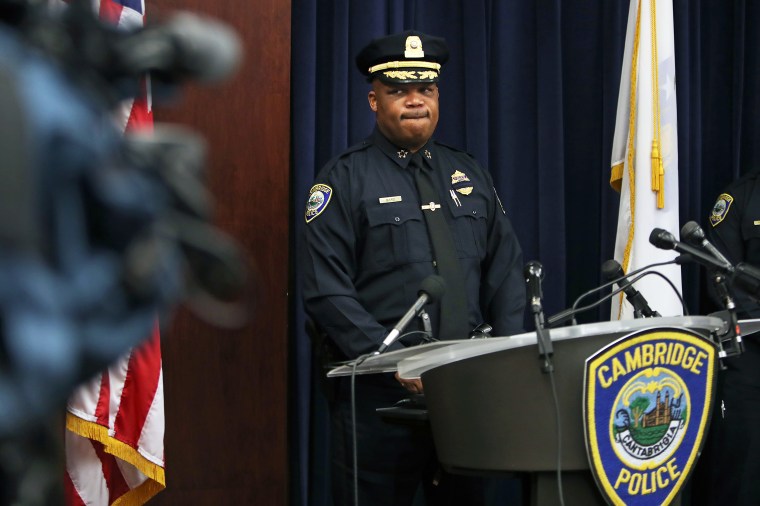 Philadelphia Police Commissioner Richard Ross also defended his officers, saying those involved in the Starbucks arrests "did absolutely nothing wrong."
But after facing a torrent of criticism on social media, he later apologized to the two men who were arrested, and for his choice of words immediately after the incident, saying he had inflamed the situation.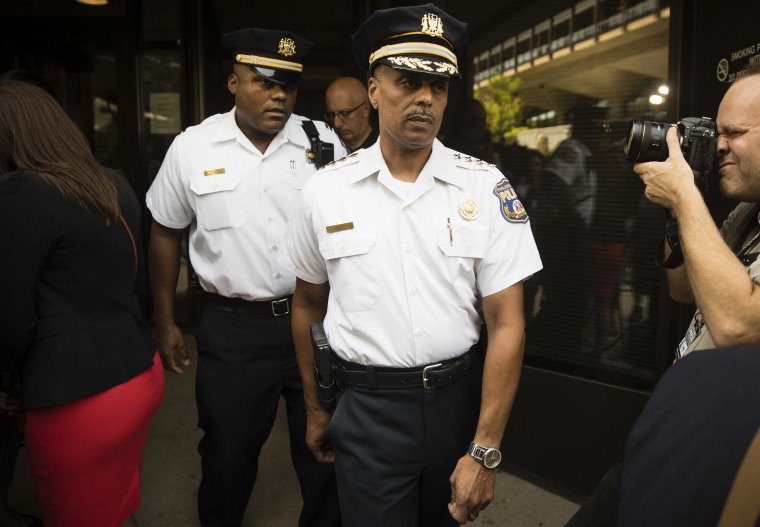 Ross, 54, who became commissioner in 2016, stressed in a Facebook video after the incident that his officers were trained to prevent biased behavior and learn the history of "atrocities committed by policing around the world." He also promised to examine the Starbucks case to see "what we can do better."
Ross declined to be interviewed for this article.
An 'institutionalized' problem
American police departments have been struggling for decades with allegations of racism and issues of brutality and trust — and with becoming more diverse. But protests in 2014 after two black men, Eric Garner in New York and Michael Brown in Ferguson, Missouri, died in confrontations with white officers, and riots a year later after another black man, Freddie Gray, died of wounds suffered in the custody of Baltimore police, touched off a renewed sense of urgency.
In 2015, President Barack Obama's Task Force on 21st Century Policing issued a list of recommendations, including expanding diversity among the ranks, letting outside agencies investigate officer use-of-force cases, embracing community partnerships and collecting better data on the types of suspects who are stopped and arrested.
Researchers also began looking anew into the link between diversity and the use of force, with mixed results: Some found that having significantly more black officers could ease tensions between police and black communities, while others found that increasing the number of black officers may drive down police killings of black people, but only when black representation on the force reached a "sufficiently high" critical mass of 35 percent or more. Nationally, the most recently available government report from 2013 found that local police departments were 12 percent black and 73 percent white.
What diversity alone does not solve are the biases many officers bring to their work — perceptions of black men as more threatening, for example — which are heightened by a police culture that emphasizes strength and power. That drives racially disparate arrests and the use of force, researchers say.
For example: The more an officer feels threatened, whether the officer is in legitimate danger or not, the more likely that officer is to use force on a suspect, particularly if an encounter occurs as part of a "zero-tolerance" approach to crime and disorder.
You have to increase the costs for bad behavior, including use of excessive force.
"It's institutionalized," said Nelson Lim, a RAND sociologist who studies recruitment and diversity. "You can swap out the people but the system itself is set up that way."
Bard, the Cambridge chief, agreed.
"Even if we recruit a diverse population of officers, it's still incumbent on us to train them to be the types of officers we want them to be," he said.
That means training and elevating the types of officers Bard describes as "the social justice promoters" as opposed to "the crime enforcers."
Better training was among the changes Cambridge initiated nearly a decade ago after the national uproar over the arrest of Harvard Professor Henry Louis Gates Jr. in 2009 outside his own home on suspicion he was breaking in. The police department now trains officers to de-escalate tense situations, and embraces what's called "procedural justice," which involves managing rather than controlling situations, treating people with dignity and respect, and giving citizens a voice during encounters.
Bard, who holds a doctorate in public administration and has written about eliminating racial profiling, said that police culture has to change to send a message to officers that departments "won't tolerate the slightest amount of abuse" of civilians.
"And then you have to increase the costs for bad behavior, including use of excessive force," he said.
Diversity's limits
Critics say change within departments across the country has been too slow, despite all the focus on high-profile accusations of police violence.
Benjamin Crump, who represented the family of Michael Brown and who now represents Stephon Clark's family in Sacramento, said he has found poor training to be at the root of many cases of police abuse. Crump and other activists want to see more departments address "implicit bias" ─ the subtle or unconscious discrimination that can taint officers' interactions with young black men.
Crump is also concerned about an ingrained police culture in which officers "shoot first and ask questions later" — including black officers who use deadly force on black suspects, he said.
Just because you're a certain race or have a certain experience doesn't automatically mean you have the character to be a good police officer.
He cited Cameron Brewer, a black sheriff's deputy in Harris County, Texas, who was fired in April after fatally shooting an unarmed black man, Danny Ray Thomas, in Houston (Crump is also representing the Thomas family).
Crump also pointed to the Freddie Gray case in Baltimore, in which six officers, three of them black, were charged in his death, but all were eventually cleared.
African-American police chiefs told NBC News that their personal experiences helped them understand the need to earn trust from the public. But they also cautioned against giving race too much weight.
"I don't see any correlation between the race of these chiefs and these recent incidents," said Vera Bumpers, the chief of Houston's transit police and first vice president of the National Organization of Black Law Enforcement Executives. "We all wear uniforms." She warned against drawing quick conclusions about encounters captured on video.
Gina Hawkins, the police chief in Fayetteville, North Carolina, said her ability to empathize as an officer stems from her struggles growing up black and Hispanic, including encountering discrimination. And while that alone doesn't mean she's going to solve her department's problems, she does see it as her purpose.
"It's an extreme honor and opportunity, and I know the weight that comes with it," Hawkins said of the expectations she feels as an African-American police chief. "I know people are always watching."
Hahn said he was troubled by the notion, expressed in many black neighborhoods, that "when you're blue you're not black anymore." That "erases" his upbringing and identity, he said, and undermines the goals of increased diversity.
At the same time, he sees diversity "for diversity's sake" as worthless.
"There are bad black officers, bad gay officers, bad female officers," Hahn said. "Just because you're a certain race or have a certain experience doesn't automatically mean you have the character to be a good police officer."
An unclear path
America, Bumpers said, still doesn't understand a fundamental question about its police: Why, and how often, officers use force. She repeated a call, often heard during the Obama administration, for a central national database that keeps track of incidents of police use of force by the race of officers and suspects and other demographic indicators. "We don't know the totality of the situation," Bumpers said.
The Justice Department says it is reviewing the proposal for such a national data collection system, even as it has backed away from Obama-era efforts to investigate and sue police departments for violating minorities' civil rights.
Vanita Gupta, who ran the Justice Department's Civil Rights Division under Obama and oversaw a post-Ferguson report on police diversity, said more research is also needed to understand the impact of diversity on police culture. "But I'm not sure there remains a commitment to do that kind of research in this Justice Department," said Gupta, who now heads The Leadership Conference on Civil and Human Rights, a coalition of civil rights groups.
Gupta also led with the Obama administration's efforts to investigate and reform police departments. She negotiated dozens of court-enforced "consent decrees" with local departments aimed at improving how cops dealt with citizens, including use of force, stops and searches and discriminatory enforcement.The Trump administration has said local departments should control their own affairs.
With efforts stalled at the federal level, overhauling police practices remains, in many ways, a local issue.
Hahn sees his own story as a lesson on how police departments can rebuild trust.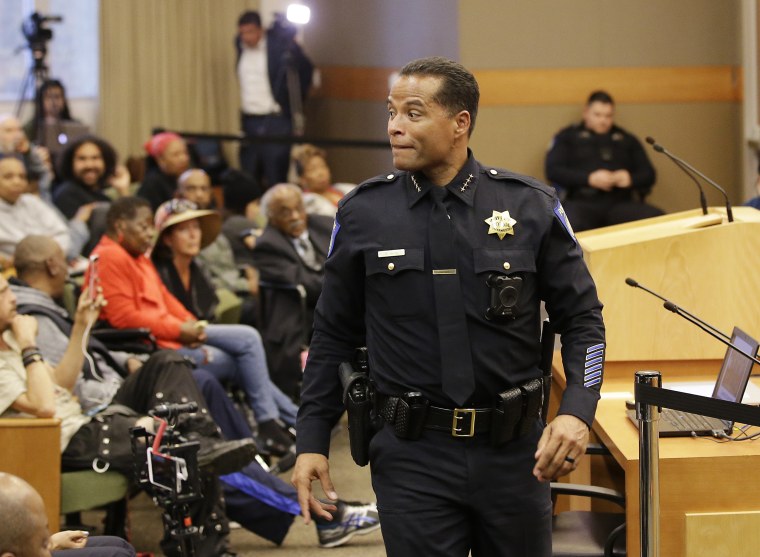 In the largely black Oak Park neighborhood of Sacramento where he grew up, no one talked about becoming a police officer. He says he was arrested at 16, for assaulting an officer. Three years later, he became an officer there himself.
"Someone gave me a chance," Hahn said.
He led efforts to bring more officers into neglected neighborhoods, and after a stint as chief in a nearby suburb, Hahn was asked to return to his hometown to continue that work.
By then, the city had embraced reforms aimed at reducing the use of force, including expanding the use of body cameras, and had increased transparency by quickly releasing video of serious incidents. The department has also emphasized using non-lethal weapons, trained officers to de-escalate situations and focused on recruiting more minority applicants, by visiting local high schools.
Clark's killing, however, showed that Sacramento "still has a long way to go," Hahn said.
"We have to work really hard to change the way we partner with communities, or we will still struggle," he said.
"If things don't get better," he added, "my being black doesn't make a bit of difference."