As the high-profile criminal trial of rapper Young Thug began this week, Black rappers who have had their lyrics used against them by prosecutors as evidence of criminal activity have renewed calls to end the practice, saying that although violence and other dark themes are frequently referenced in many artistic works, they are weaponized only against hip-hop artists.
Young Thug, whose legal name is Jefferey Lamar Williams, is one of 28 people named in an indictment in May that accuses them of violating Georgia's Racketeer Influenced and Corrupt Organizations (RICO) Act by engaging in gang activity allegedly connected to multiple murders, shootings and a string of home invasions over almost a decade. Several of the men, who are affiliated with the Atlanta rap crew YSL, have pleaded guilty, with 14 of them — Young Thug being the most widely known —  left to face charges. The trial is expected to last six to nine months.
Young Thug and the other defendants maintain that YSL is a collective of rappers; prosecutors, however, say the group is a gang that has committed numerous crimes and plan to use lyrics that reference crime and violence as evidence in court.
The ongoing case has dredged up painful memories for McKinley Phipps, a hip-hop artist known professionally as "Mac." He was signed to No Limit Records before he was convicted of manslaughter, for which he spent two decades in prison.
"Hip-hop itself is just a medium, a predominantly Black medium, and it can be expressed negatively or positively, but I would argue that over 99% of the artists that are writing these songs are either highly exaggerated or downright fiction," Phipps said.
In 2001, Phipps was sentenced to 30 years in prison after being convicted for the killing of a 19-year-old at a Louisiana club where he was scheduled to perform. 
Authorities had no physical evidence or weapon that linked Phipps to the shooting, and the then 22-year-old had no criminal record. Yet Phipps' trial was largely focused on lyrics used in his rap songs, which prosecutors likened to a likelihood of violence, he said. 
"Murder, murder, kill, kill," and "pull the trigger," were some of the lyrics cited by prosecutors, he said. 
The Office of District Attorney of the 22nd Judicial District in Louisiana did not immediately return a request for comment. 
"This idea that it is autobiographical is not true, it's pretty much a marketing strategy because, unfortunately, the audience has an appetite for that edgy and violent material, just like people like movies with a lot of action," Phipps said.
He was granted clemency by Louisiana Gov. John Bel Edwards in April 2021 and released from prison on parole two months later. Though his conviction still stands, Phipps has maintained his innocence and remains critical of the evidence used against him at trial.
Phipps said seeing what he believes is a story similar to his own play out again in the case of Young Thug has dug up painful memories of years lost behind bars over creative expression.
"I would like to think that prosecutors have more than just song lyrics to use against someone in court and if there is actual evidence, why does the song lyrics even come into play?" he said. "This just has to stop at some point."
A bias against rap music
It's not uncommon for prosecutors to use rap lyrics as evidence in criminal trials, according to researchers at the University of Richmond, who documented at least 500 cases from 2009 to 2019 in the book  "Rap on Trial: Race, Lyrics, and Guilt in America."
Prosecutors use the tactic because it's effective in getting convictions, said Charis E. Kubrin, a professor at the University of California Irvine, who has researched the use of rap lyrics in the justice system. 
Criminal cases where lyrics are being used to prove intent or show motive is the latest manifestation, but there's a longer history of social control or policing of rap music and hip-hop more broadly, she said. 
Through her research Kubrin has found bias against rap music and artists, she said, adding that much of that bias is racialized. 
In a 2018 study conducted by Kubrin and other researchers and published in the Journal of Experimental Criminology, different sets of participants were presented with identical music lyrics and were told they were either from a country, heavy metal or rap song. The participants gave the perceived rap lyrics a higher overall negative score, determining that the writer of those lyrics was more likely to have bad character and to engage in criminal activity.
When race information was not provided, participants who inferred the songwriter was Black judged him more negatively than participants who inferred the writer was white on the same scale. 
"Rap and race are so intertwined," Kubrin said. That means using lyrics from rap music, a historically Black genre, can infect jurors with anti-Black racism regardless of whether the defendant himself is Black, she said. 
Defending the practice 
Fulton County prosecutor Fani Willis, whose office is trying the case against Young Thug and other YSL members, has defended using music lyrics in trials.
"I think if you decide to admit your crimes over a beat, I'm going to use it," Willis told reporters at the news conference in August. "I'm going to continue to do that; people can continue to be angry about it. I have some legal advice: Don't confess to crimes on rap lyrics if you do not want them used — or at least get out of my county."
"You do not get to commit crimes in my county and then decide to brag on it, which you do as a form of intimidation, and not be held responsible," she said. 
Willis' office did not return a request for comment from NBC News.
Willis has said that courts are on her side, but Black artists who have been convicted of crimes through their music say the practice impedes on their First Amendment rights and also misunderstands and criminalizes a predominantly Black form of art. 
San Diego based rapper Tiny Doo, whose legal name is Brandon Duncan, was arrested in 2014 for alleged conspiracy to participate in gang activities, which included shootings.
During his preliminary hearing, prosecutors presented his rap lyrics and social media pictures to demonstrate his participation in a gang even though there was no evidence connecting him to the shootings.
Duncan was jailed for seven months before a California judge dismissed the charges against him, citing a lack of evidence to bring him to trial.
The ordeal still haunts Duncan, who calls his experience "an injustice."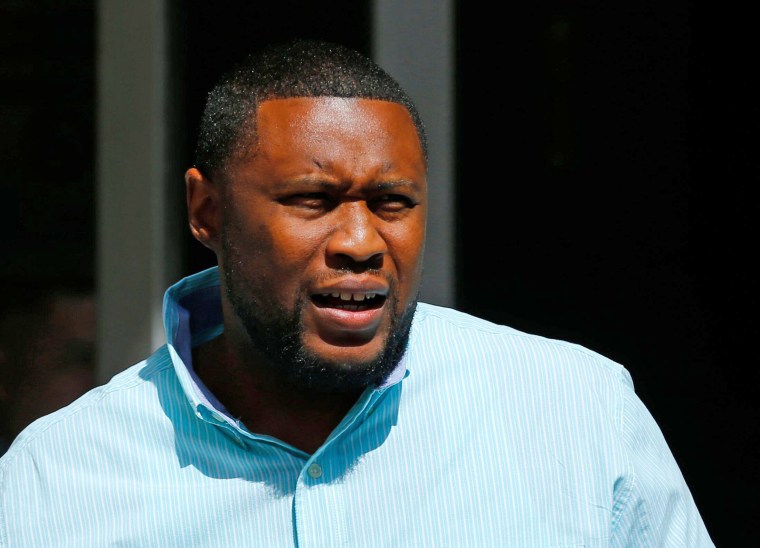 "It's racism to me at an all-time high, I know that because I went through the same exact thing, " he said. "People can make movies about the mafia or killing others and profit from them but not us? Where is our freedom of expression," he said. You're not putting the writers of the movies in jail, you're just doing it to inner city people who are actually using the lyrics as a way to get out of the environments that were pretty crappy."
Duncan said the artistry of hip-hop is based on Black life but that is not necessarily autobiographical and is calling on the Georgia prosecutor to withdraw the use of lyrics in her case against Young Thug. 
The push to end the use of lyrics has gained some momentum over the last year. 
Last September, California Gov. Gavin Newsom signed the Decriminalizing Artistic Expression Act, which made it the first state to restrict the use of rap lyrics as evidence in state court. 
In New York, SB S7527, which limits the admissibility of evidence of a defendant's creative or artistic expression in a criminal proceeding, failed to pass the state's Assembly last year and will be reintroduced for voting in the next legislative session. 
At the federal level, a bill entitled the Restoring Artistic Protection or RAP Act, was introduced in the House in August and is still making its way through legislative channels. 
Emerson Sykes, an attorney for the American Civil Liberties Union who specializes in First Amendment cases, said courts have been reluctant to embrace these issues, partly because they "rarely cut a break to criminal defendants and partly because we think that in this situation they have a particular misunderstanding of the artistic expression in question, and may have some particular bias against these defendants."
With rap music, there is a propensity to skip the full analysis of whether it's truly relevant and whether there's "really a clear nexus between the content of the expression and the specific crime at hand," Sykes said, adding that the introduction of lyrics is both an evidentiary problem and a free speech problem. 
"Nobody thinks that Johnny Cash really shot a man in Reno, right? There's a lot of really dark country music and other genres about all sorts of treacherous things that are a part of human existence, but nobody interprets that as an admission of some kind of criminal liability," he said. 
"And what we've seen time and time again is that certain kinds of lyrics are interpreted by courts as being incriminating, while others similar types of artistic expression does not carry the same sort of connotation of being truthful or incriminating."
Sykes argued that the criminal legal system is deeply unfair and biased against defendants, especially young Black and brown defendants, and its approach to hip-hop is "perhaps a willful misunderstanding" of the idioms and way that the genre uses certain language. 
"Hip-hop often describes, in vivid terms, the good, the bad and the ugly of Black life," he said. "The criminalization of Black life is certainly a theme there and you see it reflected in the use of these lyrics and sort of reflexively as evidence of criminality."