The first black teacher hired in more than 25 years at an elementary school in southern New Jersey says she was discriminated against daily and suffered retaliation when she complained, according to a federal lawsuit.
She quit after her second year.
When Tammy Jordan began as a second grade teacher at Larchmont Elementary School in Mount Laurel in 2016, she was the first full-time black teacher to be hired since 1990, according to the suit she filed May 29 against the school, the school district and the board of education, and four former colleagues.
"Defendants have avoided hiring black, African American teachers due to the discrimination and harassment to which black, African American teachers are subjected to at Larchmont Elementary School," the suit filed in U.S. District Court in New Jersey says. "Accordingly, there are almost no black, African American teachers at Larchmont Elementary School."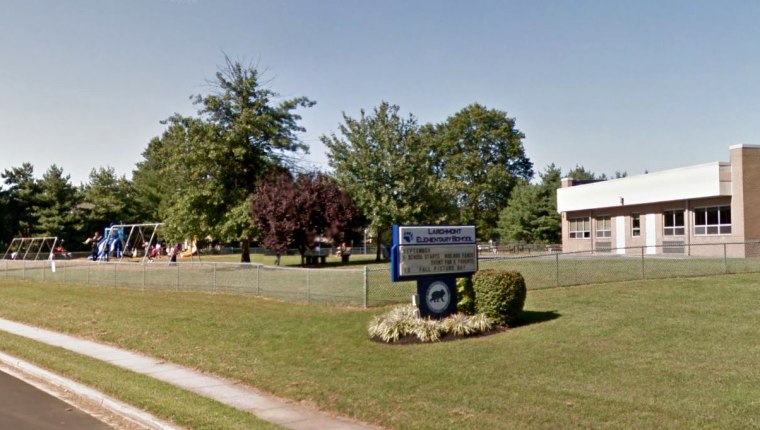 Of the approximately 400 students enrolled at Larchmont in 2017-18, about 22 percent were black and 41 percent white, according to the New Jersey Department of Education. Among the school's 39 teachers, 87 percent were white and 10 percent — about three teachers — were black.
Jordan claims she was subjected daily to racist comments and exclusion by the white teachers in her grade, facing "a daily fight for the opportunity to perform the duties of her employment like" her "similarly situated white" co-workers.
She alleges in the suit that the white teachers accused her of getting her job as a result of affirmative action.
They also spoke to her like she was less intelligent than them, the suit claims, saying things like: "I would show you my lesson plans, but you won't understand them anyway" and "can you even understand me?"
The suit says one white colleague asked Jordan once: "Do your grandchildren have the same mother?"
The other second grade teachers, who are named as defendants — Kim Billings and Maira Medina, and substitute teacher Victoria Ascuitto — would exclude Jordan and refuse to talk to her or acknowledge her "even when Ms. Jordan attempted to speak with them," the suit alleges. When Jordan sat down at a table with the other teachers in her grade, they would get up, the suit says.
"Jordan stopped leaving her classroom, as every time she left her classroom, she was "subjected to abusive and hostile treatment," the suit alleges.
The other teachers in the grade also excluded her from an online signup sheet for classroom equipment or would remove her name, "denying Ms. Jordan and her students access to equipment," such as televisions and laptops, the suit says.
Jordan repeatedly reported the harassment to the school principal, George Jackson, who is black and who regularly acknowledged "issues of systemic racism at Larchmont Elementary School," the suit says.
Instead of addressing or investigating the discrimination, Jordan claims that Jackson told her "that she had to be like the movie 'Hidden Figures,'" a movie about three African American female NASA employees who are forced to put up with segregation and pervasive discrimination at work.
Jackson told Jordan that her white co-workers "don't know what they are doing," "don't know what they're saying" and "don't mean nothing by it," the suit says.
He told her, "'off the record, I see what you are talking about,'" but "he still refused to initiate prompt remedial measures," according to the suit. "We have to be like Jackie Robinson," he said.
When Medina told Jordan that "we don't have time in the curriculum to teach students about Black history," even though the teacher had spent a week teaching about Dr. Seuss, Jordan went back to Jackson.
"They are not ready for all of that yet," Jackson said, admonishing Jordan for "thinking too much with the emotional part" of her brain, according to the suit.
Jackson once cried to Jordan about the way she was being treated and said he had her back, but still "no investigation was performed and no corrective action was taken."
In June 2017, Jordan decided to report the harassment to the teachers' union and the district assistant superintendent Dr. Sharon Vitella.
Days after she reported, she was told that she would be moved from teaching second grade to teaching first grade, the suit says. Her replacement was a white teacher.
"This decision was made in an effort to segregate plaintiff Tammy Jordan from the white, Caucasian second grade teachers who did not want to work with Ms. Jordan," according to the suit.
Her first grade class going into the 2017-18 school year was "stacked" with students who had learning and behavioral issues, the suit says. Her classroom was referred to as the "boiler pot mix."
"Traditionally, defendants attempted to spread children with behavioral issues among the various classes, thereby avoiding conditions precisely like those forced upon Ms. Jordan," the suit said, alleging that Jordan's student assignments were made in an effort to retaliate against her.
Jordan's classroom also had the majority of the black first graders, the suit says. Jackson told her he "was afraid to put African American students in the white Caucasian teachers' classes" because they speak to the black parents the same way they speak to Jordan, the suit says.
"The way I was raised, white is always right," Jackson said in his defense, according to the suit.
When Jordan told him she couldn't handle another year of abuse, he told her, "I can't be worried about that," and accused her of being "somehow responsible for the very discrimination and harassment to which she was subjected," the suit says.
Jordan resigned at the end of the 2017-18 school year.
"Jordan's working conditions were so onerous, abusive, and hostile that no reasonable person in plaintiff's shoes would have been expected to continue her employment and such that plaintiff's decision to discontinue her employment was void of free will," the suit says.
Jordan claims she sustained permanent psychological injuries, and suffered from loss of income and benefits. The suit says she was made to feel "extremely humiliated, degraded, victimized, embarrassed and emotionally distressed."
Billings, Medina, Ascuitto and Jackson, who are listed as defendants in the suit, did not immediately respond to requests for comment.
A statement from Mount Laurel School District said that the allegations in Jordan's suit were "untrue and attempt to paint a portrait of the Mount Laurel Schools and community that is completely false and misleading."
"We intend to vigorously defend this baseless attack on our entire school community and demonstrate that one inaccurate and false accounting is not in any way representative of the Mount Laurel Township Schools," the statement said.
About 41,000 people live in Mount Laurel Township, which is in Burlington County, New Jersey, about 16 miles from Philadelphia. Less than 9 percent of the residents are black and about 78 percent are white, according to the most recent census data.