SUGAR LAND, Texas — Orjanel Lewis had been asleep for less than two hours when her alarm went off Saturday morning. 
The 35-year-old attorney and mother of two had been out past 4 a.m., crisscrossing the sprawling suburbs southwest of Houston to put up last-minute campaign signs outside almost 40 voting locations.
Now, as the sun rose on election day, Lewis slipped on a bright green campaign T-shirt, got her children, ages 5 and 7, dressed, then loaded them into the car.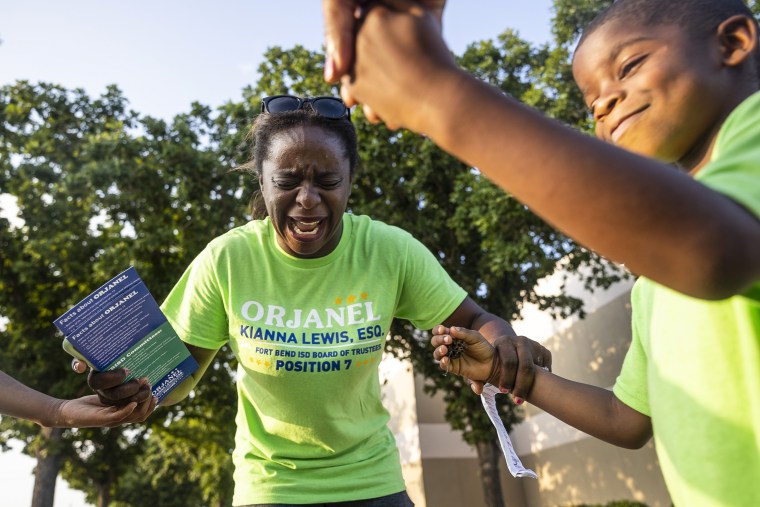 "Lord God," she prayed aloud as she pulled up to a voting location a few minutes later, "allow me to win this victory today for the people of Fort Bend County, and for all of the students who are counting on us."
"Amen," her kids said from the back seat. 
Lewis believes that God hears all prayers, but still, she knows the answer isn't always yes.
By sundown, she and other Texas school board candidates would have the results of what have become increasingly contentious races — centered on culture war battles over the ways schools address racism, gender and sexuality. The results that night would be mixed: Conservative candidates would sweep to victory in several races where they'd received support from right-wing political action committees, while falling short in some suburban contests in which progressive candidates ran well-funded campaigns. 
Lewis was hoping she would be among those celebrating.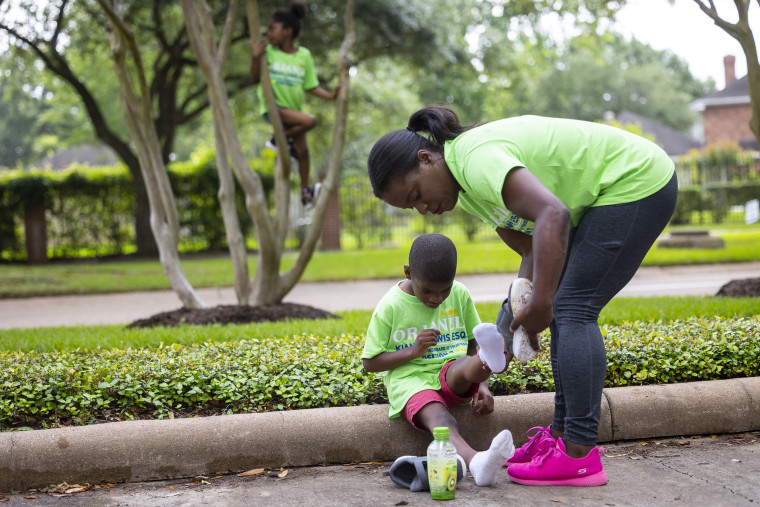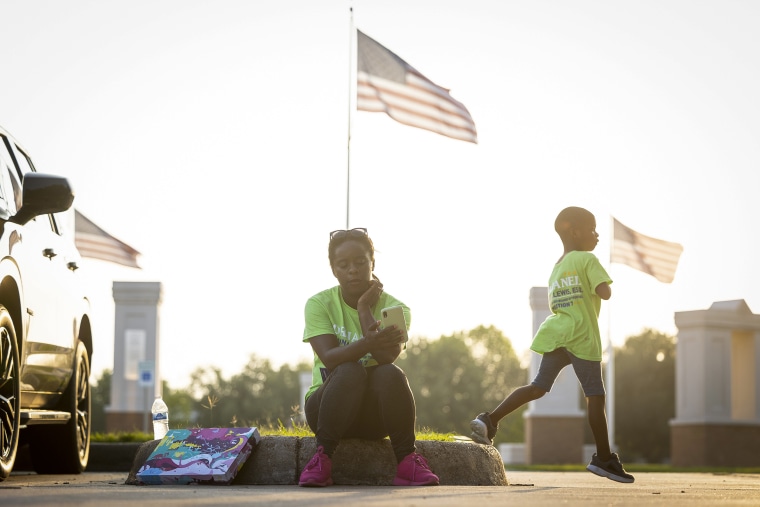 She hadn't expected to be so nervous when she signed up to run in a nonpartisan local election. But like many school board candidates across Texas this year, she'd come to view these elections as something bigger. The results, she said, would be a major statement about her community's core values and about the future of the Fort Bend Independent School District — one of the most racially diverse suburban school systems in America.
"The partisanship and the politicization of the race here in Fort Bend County has caused so much division that we've lost sight of what this is all about, which is supporting teachers and providing the best possible education for all students," Lewis said early Saturday as she prepared to greet voters.
One of her opponents, a 38-year-old insurance agent named David Hamilton, promised he would keep "critical race theory" out of Fort Bend schools, referring to the academic study of systemic racism, which conservatives have redefined to criticize lessons on race. Hamilton, who's white, also made headlines last month after a group of parents publicized several controversial posts he'd made on his personal social media pages, including a tweet that accused liberals of wanting to "sexualize kindergarteners."
Hamilton's campaign didn't respond to messages requesting an interview, but in an earlier statement shared with reporters, it said he was "committed to equality and justice for all people."
With conservative groups spending hundreds of thousands of dollars to win seats on school boards across Texas, Lewis tried to position herself as a stark alternative: a Black mother who ran a campaign openly defending the types of diversity and inclusion efforts that have come under attack from Republicans over the past year.
Outside the polling site Saturday morning, Lewis said she hoped her message was resonating.
"Hi, my name is Orjanel Lewis," she shouted to an older couple before they headed inside to vote. "I hope I can count on your support for school board today."
The couple glanced toward her, but didn't respond. Lewis sighed.
"It's not a good sign," she said, "when they avoid making eye contact with you."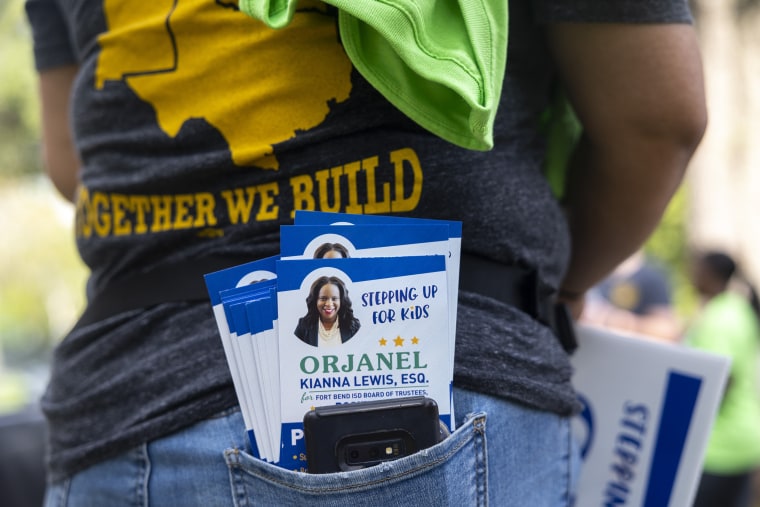 Late nights, personal attacks
Lewis decided to enter the race after a white school board member in a nearby district implied during public comments that hiring more Black teachers would lead to higher student dropout rates. The school board member had run on an anti-critical race theory platform last fall, and Lewis was worried that movement might also be gaining a foothold in Fort Bend County.
"I knew this election was going to be hard," she said, "but I had no idea it was going to be this hard."
All of the candidates running for a pair of seats on the school board, including Hamilton, said they believed the district's diversity is one of its strengths. (Just 15 percent of the district's students are white. The rest are split evenly among Black, Asian and Latino.) But only Lewis was outspoken in her support of district policies implemented in recent years with the goal of reducing racial disparities in student discipline and academic outcomes.
That position drew progressives to her side, while also making her a target. 
Last month, some community members circulated digital flyers, designed to look like candidate questionnaires, falsely claiming that Lewis supported giving students "easy access to porns," seeming to reference Lewis' opposition to attempts to ban books that contain descriptions of sex and LGBTQ storylines. 
Freedom Action Matters, a local conservative activist group that had endorsed Hamilton, separately posted a video last month in which one of its members accused Lewis of wanting to teach that some children are inherently oppressors. 
"They're going to push CRT, they're going to push the gender agenda, the LGBTQ agenda," Hamilton, who was interviewed in the video, said. "All of that stuff is coming to Fort Bend ISD if I lose."
Lewis called those accusations "ridiculous."
"Nobody is trying to teach kids that they're oppressors or victims because of their race," she said. "Nobody is saying that."
For weeks, Lewis sacrificed time with her husband and children to make sure her message was reaching Fort Bend residents. With help from her parents and other campaign volunteers, she spent several hours each day phone banking, fundraising and going door to door to ask for support.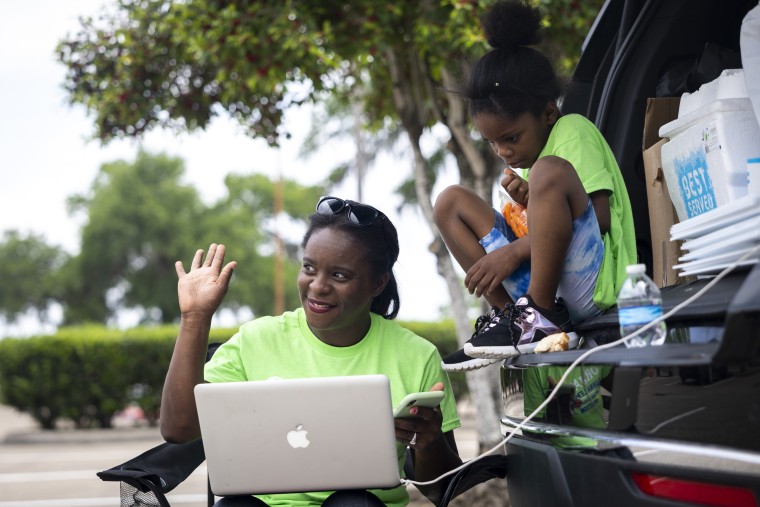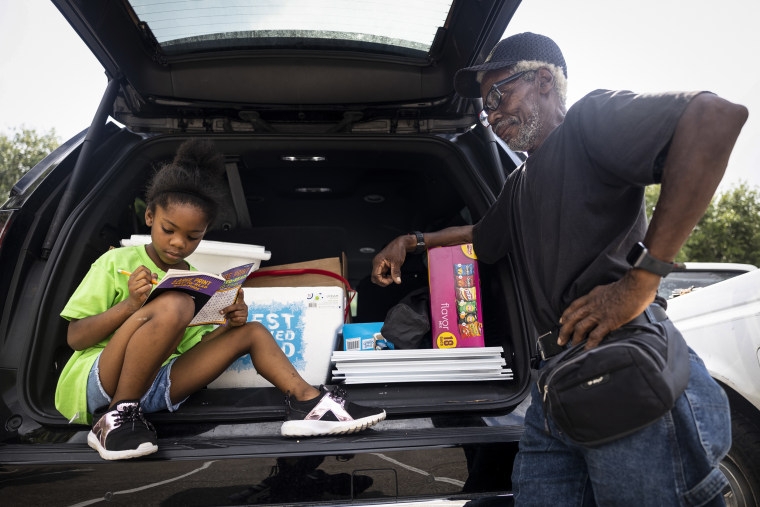 She raised more than $21,000 for her campaign, including a $3,000 donation from a local teacher's union — far more than what school board candidates have typically spent in years past, according to financial disclosures. Hamilton raised about $14,600, including $5,000 from a wealthy Republican donor who previously ran for Congress. A third candidate, another Black woman named Shell McClue, loaned herself $2,500 to print T-shirts and yard signs.
Even with the fundraising advantage, Lewis was feeling uneasy Saturday afternoon. She'd been hoping for a bigger election day turnout from neighborhoods where she'd been expecting significant support.
So, with hours to go until the polls closed, her campaign fired off a text message to thousands of likely voters in the area.
Writing in sharp, partisan language that Lewis had avoided up until that point, the text blast called Hamilton a "Trump wannabe" and told voters this was their last chance to stop him: "If you haven't already voted and don't vote today, you'll have a Trump-style radical right-wing trustee and there won't be anything else anyone can do about it."
Soon, Lewis' phone was buzzing with responses from some of the people who'd received the message. Most of the replies were supportive, but not all of them.
"Don't message me again with your critical race theory bulls---," one person wrote.
Someone else replied by calling Lewis an anti-gay slur. Another wrote, "Kill yourself," and used the N-word. 
Lewis' children, oblivious, giggled and ran circles around her feet as she scrolled through the replies.
"It's OK," she said, shutting off her phone screen. "I just have to remind myself that I'm out here for the students, and that's all that matters. Those messages don't represent the people of Fort Bend County."
Lewis spotted another voter across the parking lot. 
"Excuse me, ma'am, can I count on your support for school board today?"
The voter, an older Black woman,  smiled and shouted back: "Yes ma'am! I've got you."
"See," Lewis said, "that's what keeps me going."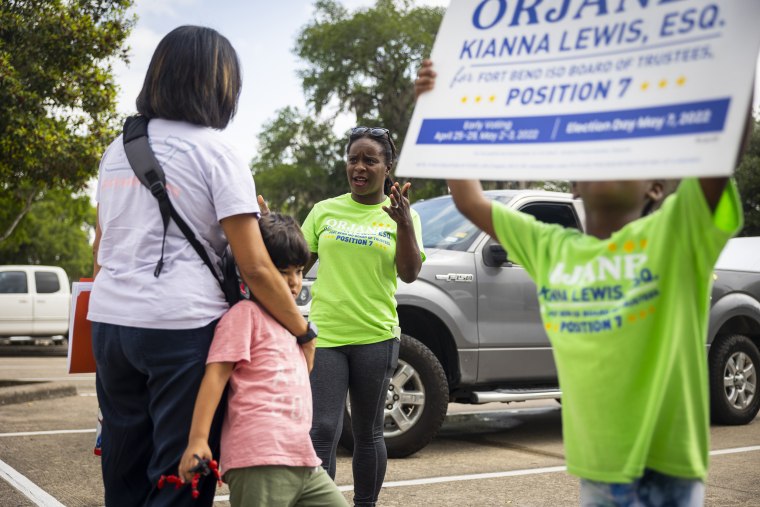 'These people are going to be emboldened'
Around 7:40 p.m., just as Lewis arrived at a community center where she was hosting her campaign party, the first batch of election results appeared on the county's website. She studied the numbers on her phone.
"It's tight," she said, biting her lower lip.
Among the 11,750 residents who cast ballots during early voting, she was trailing Hamilton by only a few hundred votes. McClue, the third candidate, was in a distant third, with less than 8 percent of the vote.
It was far from the decisive victory Lewis had been hoping for. 
"I'm down by 400," she announced to the small group of friends, family members and campaign volunteers who'd been waiting for her inside.
"It's OK," one of them replied. "You've still got this."
While Lewis sat at a table, obsessively hitting refresh on the county's election website, results began trickling in for school board races across Texas. In several suburban communities, it was looking like a good night for the wave of candidates running campaigns focused on conservative culture war issues, especially those supported by political action committees.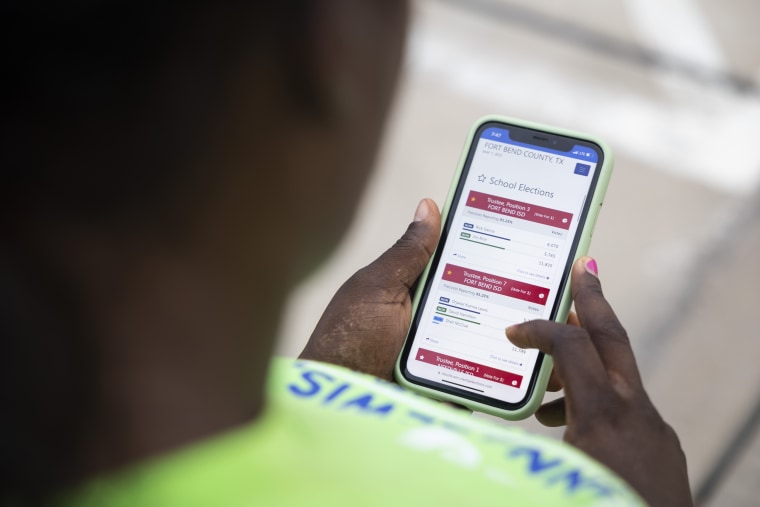 Patriot Mobile Action, a PAC run by a cellphone company that markets itself to Christian conservatives, had spent $400,000 backing 11 school board candidates in the suburbs surrounding Fort Worth who, the group said, would "protect our children" and "keep critical race theory out of our classrooms." All but one of the 11 candidates won their elections, including a couple who claimed more than 70 percent of the vote. The only Patriot Mobile-supported candidate who didn't win outright advanced to a runoff election in June.
Elsewhere, the results were more mixed.
In Dripping Springs, a fast-growing Austin suburb, a pair of conservative candidates who were endorsed by Rep. Chip Roy — heralded by one of their campaigns as "America's most conservative congressman" — won two school board seats, narrowly defeating an incumbent and another challenger.
In Katy, a Houston suburb, a mom who'd sought to ban graphic novels about Black middle school-age boys and falsely accused another school board candidate of being a child "predator," lost her race. But another candidate in Katy who said he was running to stop schools from teaching critical race theory and sexualizing children won a different seat on the school board.
Meanwhile, in the affluent Eanes Independent School District in Travis County, an incumbent school board member who'd received support from liberal groups narrowly fended off a challenge from a conservative candidate who raised a staggering $160,000 for his campaign.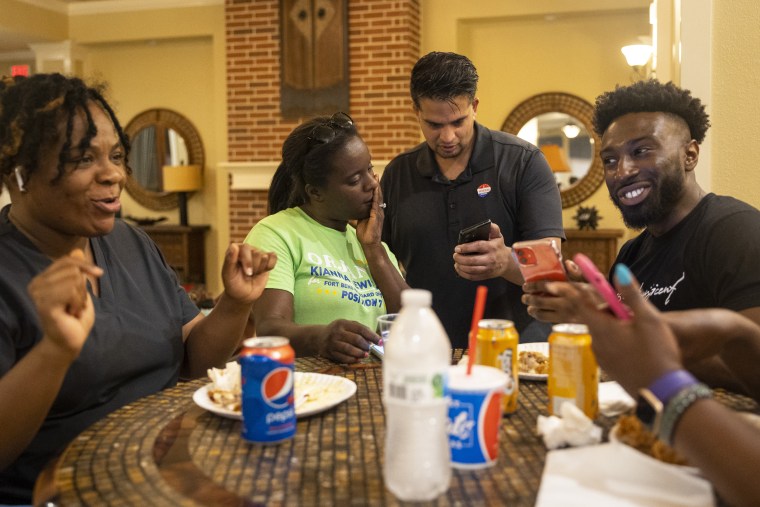 Lewis was still hoping she could do the same in Fort Bend County. 
The second batch of votes were counted and posted to the county's website around 8:40 p.m., and the numbers were promising. Hamilton's lead had shrunk to about 300 votes.
"The gap is closing," Lewis called out to her supporters.
"All right, let's keep it going," someone responded.
It was the last bit of hopeful news they would receive. With the next update an hour later, Hamilton's lead jumped to more than 600 votes, and for the first time, Lewis — exhausted after campaigning all day on little sleep — was getting frustrated.
"What I'm worried about is what happens if we don't win," she said, to no one in particular. "These people are going to be emboldened."
An hour later, the numbers weren't looking any better, and although neither candidate had declared victory nor conceded, Hamilton's supporters began to celebrate on social media.
Soon, Lewis' friends and family started to head for the exit.
"Keep your head up," a friend said on her way out. 
The final update of the night came around 11 p.m. In a school district that serves 78,000 students, Lewis lost by 544 votes.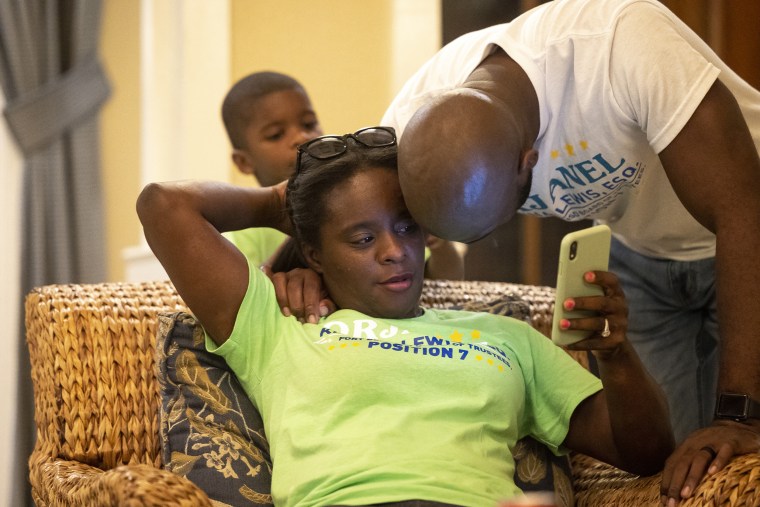 She thought of all the hours she'd put into campaigning. The insults and racist accusations from strangers. The nights away from her children, who were passed out on a pair of armchairs in the community center. 
Despite the outcome, Lewis said she was proud of the race she ran.
"I think I did everything that I could."
And yet, as the last of her supporters headed for their cars, she couldn't help but cry.