Most references to Blackbeard point to his pillaging and rape. But now a new perception of the notorious pirate arises: a Blackbeard who may have been an avid reader, according to a discovery in a cannon chamber of his ship.
Although researchers found thousands of artifacts in the 1996 salvage of Blackbeard's shipwrecked barge, no artifact was as unusual as their most recent discovery: 16 fragments of paper with still-legible print that is believed to have come from a 1712 book on nautical voyages.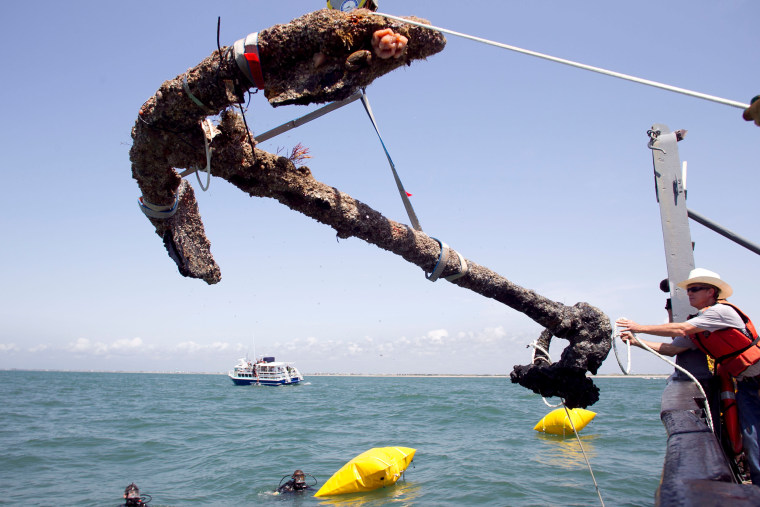 Researchers and conservators from the Queen Anne's Revenge Shipwreck Project, or QAR, a division of the North Carolina Cultural Resources Department, found the fragments inside the cannon of a breech chamber, according to a Facebook post from the organization. Two QAR conservators, Kimberly Kenyon and Erik Farrell, cleaned the breech chamber and found the papers wadded up in one, Kenyon said in an interview with NBC News. "We rinsed the dirt off and we realized there was printed text," she said.
"We were both extremely astounded. We weren't exactly sure of the material [at the time of discovery], so we did consult with some paper conservators to verify that it was actually paper," Kenyon said. "For paper to survive in an archaeological water site is extremely rare."
Archaeologists from Florida-based research firm Intersal Inc. uncovered the vessel in 1996. It was shipwrecked in North Carolina, where it is believed that the ship's crew engaged in fierce battle in 1718 with volunteers from the British Royal Navy who killed Blackbeard.
The papers — the largest of which was the size of a quarter — were discovered in May 2016, Kenyon said. But the conservators sent them off to a specialist for examination. The process took more than a year to yield results.
Words like "south" and "fathom" suggested that the scraps were from a maritime or nautical work. But the biggest clue was the word "Hilo," which led Kenyon to consult with Johanna Green, a lecturer in information studies at the University of Glasgow in Scotland, to conclude that the scraps originally were part of a book called "A Voyage to the South Seas, and Round the World, Perform'd in the years 1708, 1709, 1710 and 1711" by Capt. Edward Cooke.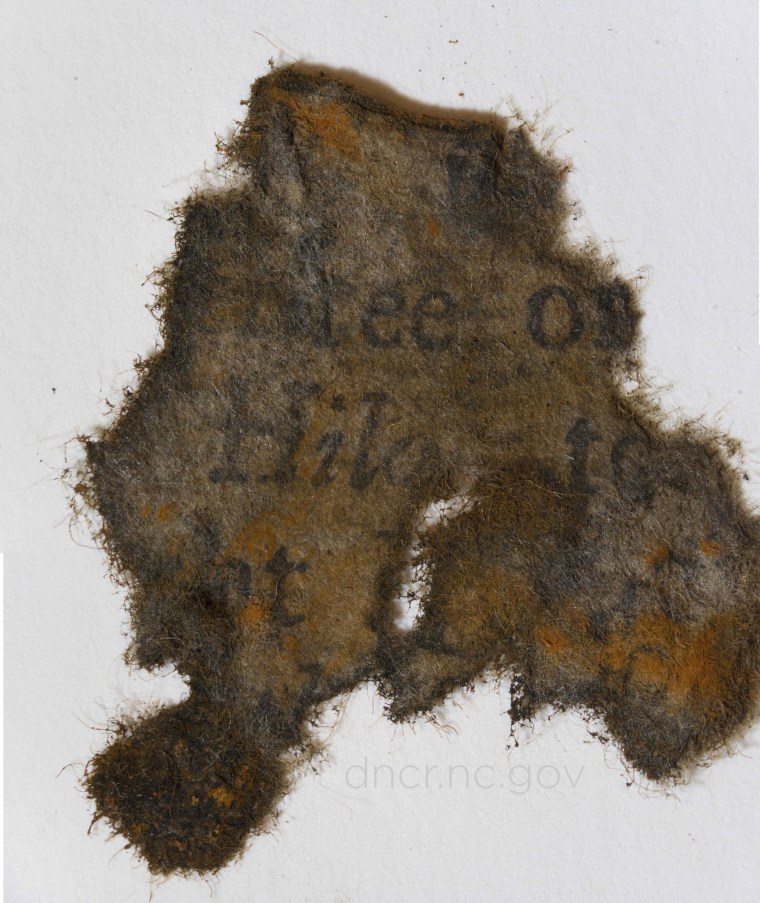 Blackbeard captured a French slave ship called La Concorde in 1717 and renamed it the Queen Anne's Revenge, according to QAR. It would become the ship that battled the Royal Navy and suffered shipwreck.
Although some knowledge on the pirate and his ship exists, the book's origin is still unclear. QAR conservators speculate that the book could have belonged to one of Blackbeard's crewmen or to one of the crewmen who surrendered the ship to him.
Though conservators are still trying to precisely identify the book's origin, Kenyon said that the biggest takeaway may not be where the book came from, but what its presence says about pirates.
"In researching the presence of the papers, there's a lot more evidence on literacy among ordinary sailors than we can expect," she said. "It looks like — from wills and court records — sailors would leave their sea chests with members of their families, and inside were books. It looks like literacy levels were higher than expected [among pirates.]"
The shipwreck is regarded as a national treasure, particularly because it is one of the oldest uncovered shipwrecks in North Carolina, according to QAR's website.